Ragdoll Run on Windows Phone and Windows 8 adds carrier billing for In-App Purchases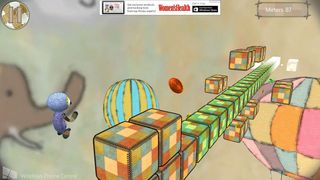 Earlier this year, we brought news of a mobile payment system called Fortumo extending its support to Windows Phone and Windows 8. Fortumo allows developers to add mobile carrier billing to their games and apps, even on platforms that don't normally support In-App Purchases like Windows Phone 7. Fortumo's carrier billing can allow users living in countries where credit cards are uncommon to make online purchases that they would otherwise miss out on.
Fortumo support on mobile Windows Phone platforms is still fairly new, but one popular game has already integrated it: Ragdoll Run from Swedish developer Dawnbreak Studios. Ragdoll Run is a free to play game that also happens to be exclusive to Windows Phone 7, 8, and Windows 8. Just how well do the game's the Fortumo payments work, and what made Dawnbreak decide on Fortumo integration? Head past the break for the full story.
Creating Ragdoll Run
Dawnbreak consists of two people: Mikael Litendahl and Sebastian Cederholm. The when the two started their studio in 2012, they decided to side with Windows Phone because it gave them a better chance at visibility than other mobile platforms. Both Mikael and Sebastian had experience with XNA and C#, which made it easy for them to start coding for Windows Phone 7.
Bringing Ragdoll Run from Windows Phone 7 to Windows Phone 8 and Windows 8 could have presented a real challenge if not for MonoGame. Using MonoGame, Dawnbreak quickly got the game up and running on the new Windows platforms. Of course, they also reworked the save system, screen resolution, 3D models, and textures to take advantage of Windows 8 in particular.
In-game payments
On Windows Phone, Ragdoll Run is sold both as a free, ad-supported game and an ad-less version for 99 cents. The Windows 8 version only comes in the free variety. Regardless of version, players earn a currency called Ragdollars by collecting coins and jewels as they play. Ragdollars can be spent on characters, upgrades, and themes.
As with Temple Run and other endless runners, Ragdoll Run players can also buy more currency as In-App Purchases (IAP). Naturally the game supports the standard integrated Microsoft payment (credit cards and other payments users have on file with Microsoft). But it also supports PayPal and Fortumo payments.
The Fortumo payment process
Ragdoll Run's mobile carrier billing screens
The game describes the Fortumo option as "Pay by Mobile." Once the user selects that option, they must then select a quantity of Ragdollars to purchase and their country of residence. Finally, the user inputs his or her mobile number and completes the payment process.
Fortumo supports carrier billing in a lot of countries, but not all. Most conspicuously, Ragdoll Run does not offer mobile billing in the United States. It's not that Fortumo doesn't support US billing, just this particular game.
Fortumo tells us that US carriers manage the mobile payment ecosystem more than carriers in other parts of the world. Adding US payment support to Fortumo integration extends the time to market from one day to about a month. Credit card penetration is high enough in the US that developers like Dawnbreak often opt to support international carrier billing first and then add US billing down the road.
Fortumo integration versus PayPal
Fortumo supports US carrier billing, though Ragdoll Run does not.
Fortumo prides itself on providing easier integration for developers than PayPal. How much easier though? Sebastian Cederholm of Dawnbreak tells us:
"In [our point of view] as .NET developers PayPal was a bit off a hassle. Most of the examples [provided by PayPal] regarding .NET related to old technologies like WebForms.
Fortumo was easier to work with since the examples they provide are built by a clear step by step system that is easy to understand regardless of what language you as a developer choose to work with.
Another important reason why Fortumo took less time was that we pretty much [copy and pasted] the examples, tried them on our page, and then modified as we went along. PayPal required a greater understanding of the process. That being said, PayPal was not that hard to get up and running. It's just that Fortumo was much easier."
A cuddly-cool runner
Ragdoll Run is an endless runner that stands out with its bright, adorable visuals and multitude of unlockable characters. It uses an angled perspective that we don't see in most 3D runners. Players can even rotate the level geometry in order to find safer paths or collect more treasures.
My only complaint is the UI looks a bit scattershot on Windows 8, with an abundance of clutter and buttons spaced oddly around the screen in most menus. But if you're looking for a running game that isn't just a Temple Run clone, Ragdoll Run is definitely worth a try.
As for Fortumo, another Windows 8 game called No Brakes Rally has already integrated their mobile carrier billing. Fortumo tells us that several more developers have signed up, so we should see carrier billing become more common as time passes. Developers can sign up with Fortumo at Fortumo.com/windows8 or browse the Fortumo technical documentation.
Ragdoll Run – Windows Phone 7 and 8 – 24 MB – Free – Store Link
Ragdoll Run (Premium) – Windows Phone 7 and 8 – 24 MB – $.99 – Store Link
Ragdoll Run – Windows 8 and RT – 51 MB – Free – Store Link
Get the Windows Central Newsletter
All the latest news, reviews, and guides for Windows and Xbox diehards.
Paul Acevedo is the Games Editor at Windows Central. A lifelong gamer, he has written about videogames for over 15 years and reviewed over 350 games for our site. Follow him on Twitter @PaulRAcevedo. Don't hate. Appreciate!