Rainbow Six Siege Clash removal was 'a difficult decision,' rework likely
Ubisoft talks Rainbow Six Siege's recent exploits, Clash's removal, and what comes next.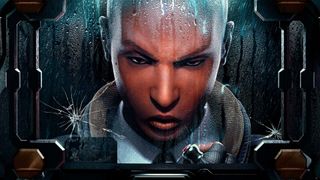 (Image credit: Ubisoft)
Ubisoft took a firm stance on a recent surge of exploits in Tom Clancy's Rainbow Six Siege, temporarily removing shielded-defender Clash and two gadgets across its Operators. The move stems from the discovery of three nasty game-breaking glitches that rapidly propagated among its multiplayer playlists last week. Ubisoft blocked the required steps to execute them, a short-term remedy ahead of a fix slated for late May 2019.
With Operation Phantom Sight on the horizon, we sat down with Alexandre Remy, Rainbow Six Siege brand director, to further discuss the emerging challenges and the company's plans to combat future exploits and balancing upsets.
Related: Hands-on with Rainbow Six Siege Phantom Sight's Nokk and Warden
Eyes on target
Tom Clancy's Rainbow Six Siege
Addictive, challenging shooter action.

Ubisoft's hit shooter is hotter than ever, touting tense tactical gameplay, and regular free updates. With millions of players in 2019, Rainbow Six isn't slowing down.
Clashing with exploits in Rainbow Six Siege
The dynamic nature of Rainbow Six Siege delivers an experience always undergoing change, maintaining a shifting gameplay "meta," where new content and tweaks rework how the game plays. However, problems can (and will) occur, underlined by the recent exploit epidemic.
As the first Operator pulled from the Rainbow Six roster, Clash's ongoing quarantine offers a glimpse at newly-adopted failsafe procedures. With all three issues deeply tied to "core systems," the temporary removals provide the time to engineer a formal patch.
"Already, we have faster patch frequency than we used to have before on PC, so that allows us to be much more flexible, at least on the PC platform," Remy said. "And then deploying afterward on the consoles. We've tweaked a lot of the production pipelines so that we can have [more] flexibility and faster patch frequency."
In light of recent developments, Remy expanded on an unexpected benefit of Rainbow Six's ever-expanding lineup. With multiple Operators spanning shared roles, removing Operators now comes with reduced gameplay implications. In turn, the team can address issues head-on, instead of waiting for a new season. "A couple of years ago when an Operator or a gadget, for instance, was broken, it was much more impacting because you had a much more limited pool of Operators. So out of 20 of our original Operators, when one is broken, that's five percent of the game that is broken. We're now reaching 50 Operators. You can [make the game] live and survive with one or two Operators that are actually on quarantine or that you need to fix. As we grow the scale of the game, it's easier for us to take some of the content, maybe that needs tweaks or rebalancing, [and] put them outside for a couple of weeks or even a month."
Although the Rainbow Six team was fast to crack down on recent glitches, it still promises to streamline processes further. The May 16 "Live Exploits" blog post relayed ongoing efforts, though admitted fixes would take "longer than we consider acceptable to address."
As for which traits Remy sees the team improving, timing is critical to success. "The faster the reaction, the better it is for everyone," Remy said. "When you do have a piece of gameplay that is broken or that can be exploited ... whether it's influencers and YouTubers, they see that exploit, they obviously, and it's absolutely okay, record it, for the sake of education, whatever. And then people are exploiting in-game. The faster we can detect and fix any issue, the better it is, because you avoid toxicity to deploy and invade the game."
The future of Clash in Rainbow Six Siege
With three seasons since her August debut, Clash's removal wasn't an easy decision. She's the first (and only) shielded defender on the roster and puts a fresh spin on entry denial. Between the high-voltage CCE Shield to complementary secondaries, her departure hasn't gone unnoticed.
However, as recent reports of exploits hit, an unforeseen Clash bug surfaced. Players could fire weapons while raising her full-body bulletproof shield, which is detrimental to Rainbow Six's tactical gunplay. While the accompanying glitches could be prevented by pulling smaller gadgets, Clash's issues are baked into her defining shield. Ubisoft decided on temporarily pulling Clash entirely, while work is underway on a formal fix. "[R]emoving a character, that's a big decision," Remy said. "It has an impact on the role, on the gameplay, and the meta, obviously. The amount of work that you have put in creating and developing an operator, the moment that you feel you have to remove him or her, everyone feels that it's a failure on our part."
But sometimes it's a move that needs to be made, Remy said. "We've learned a lot when doing Operation Health back two years ago. [We] need to take sometimes harsh and hard decisions that may not be to the direct benefit of the player, but it's a good decision long-term. Removing Clash and the deployable shield, for instance, was, I think, a good decision."
While Clash packs promising abilities in concept, public reception has proven split. Ubisoft's data has shown the Operator's pick rate and win delta far below allies, suggesting underlying issues with both her contributions and popularity. Early 2019 Y3S4.2 Designer's Notes saw Clash's win delta drop to -10.9 percent, similarly positioned in April after several upgrades. Other shield Operators maintain a healthy balance, but Clash simply fails to resonate with defenders in 2019.
With Clash on the sidelines, the period could be a prime opportunity to get her right. When pushed for the team's current stance and plans for Clash, Remy admitted she hadn't met initial expectations. Hoping to shift Clash into a "better place," there's a hint of a rework in the pipeline. "This is not where we want her to be," Remy said. "Glaz is coming with a rework, and there's going to be others, obviously. Clash is likely to undergo some modifications and tweaks, which we're excited about obviously ... [t]he shield has always been, in any shooter, and in Rainbow Six, in particular, a fine balance to find. It's very difficult to find that sweet spot where her shield is satisfying to play but not overpowering or underperforming."
The recent exploits extend beyond moment-to-moment gameplay, also touching on Rainbow Six Siege's ranked play. This year has introduced "Match Making and Rating (MMR) Roll Back," a system where, upon identifying cheaters, the game automatically adjusts player skill rankings. However, despite ongoing frustrations, it doesn't appear compensation is on the table this time. "I think what you expect as a player is the dev team and the publisher to react as quickly as possible so that they fix it," Remy said. "But I'm not sure compensation is a part of it."
With work underway on a patch for Rainbow Six Siege's recent glitches, Ubisoft is slated to provide more information on May 21, 2019. Once an update releases, expect Clash, deployable shields, and claymores to all resurface in-game.
In the meantime, don't miss our new hands-on preview with Operation Phantom Sight, diving into the latest covert Operators, Nokk and Warden.
Eyes on target
Tom Clancy's Rainbow Six Siege
Addictive, challenging shooter action.

Ubisoft's hit shooter is hotter than ever, touting tense tactical gameplay, and regular free updates. With millions of players in 2019, Rainbow Six isn't slowing down.
Rainbow Six Siege accessories you'll love
HyperX Alloy FPS Pro Keyboard ($70 at Amazon)
The HyperX Alloy FPS Pro is a reliable mechanical companion, primed for responsive FPS gaming. It boasts strong build quality, the Cherry MX Red switches are snappy, and textured WASD keycaps accommodate shooter fans. It's an essential and affordable piece for any setup.
SteelSeries Rival 310 Gaming Mouse ($40 at Amazon)
This budget gaming mouse excels in performance, packing SteelSeries' leading TrueMove 3 sensor and comfortable in-hand feel.
AmazonBasics Xbox One Wired Controller ($25 at Amazon)
While Amazon isn't famed for Xbox One accessories, the mega retailer's spin on Microsoft's own is ideal for budget gamers. It stows a lengthy cable, headset support, and strong grippy build quality ideal for everyday gaming.
Get the Windows Central Newsletter
All the latest news, reviews, and guides for Windows and Xbox diehards.
Matt Brown was formerly a Windows Central's Senior Editor, Xbox & PC, at Future. Following over seven years of professional consumer technology and gaming coverage, he's focused on the world of Microsoft's gaming efforts. You can follow him on Twitter @mattjbrown.