Rando for Windows Phone 8, an experimental photo exchange network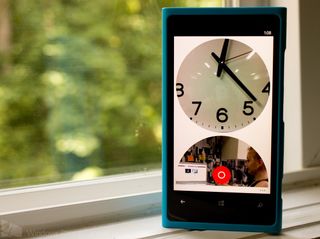 Rando is a photo sharing app for your Windows Phone 8 device that approaches things a little differently than most photo sharing apps. Everything is done anonymously.
Much like other photo sharing networks, with Rando you take photos of what you're seeing, things of interest or anything else you want to share with the world. But instead of posting the image on a network where others can view, comment or like the image, your photos are sent to another Rando user anonymously. In return, you'll receive an image from a Rando user. If you don't send a pic, you won't recieve a pic.
It's an interesting approach to photo sharing and with apps also available on iOS and Android platforms, you'll definitely get a wide range of images.
The layout of Rando is simple. You have a red dot to launch your camera and capture an image and any images (known as randos) are displayed across the screen. You can not upload existing images from your Pictures Hub.
Again, you won't know who created the rando and others won't know which rando you created. The only information passed along is the location where the image is from. Just tap the image and it will rotate to reveal a broad map view of where the image was taken from. There are no likes, dislikes, comments or other means of direct communication. You can flag an image as inappropriate by pressing and holding on an image, then marking the inappropriate option.
The camera does load a little on the slow side but image exchange was prompt. Within seconds of uploading an image to the network, I received a return rando. So far I've received two images from Moscow and one from Seoul, Korea. Rando isn't going to be for everyone but it definitely lets your images speak for themselves. Membership is required (free), which is set up when you first launch the app.
Rando is a free app for your Windows Phone 8 device and you can find it here (opens in new tab) in the Windows Phone Store.
Thanks, Quinn, for the tip!
George is the Reviews Editor at Windows Central, concentrating on Windows 10 PC and Mobile apps. He's been a supporter of the platform since the days of Windows CE and uses his current Windows 10 Mobile phone daily to keep up with life and enjoy a game during down time.
I hope it's not just people sending pictures of their junk!

That was the very first thought I had lol

believe it or not it's a very rare occurance http://techcrunch.com/2013/05/22/you-know-whats-cool-5-million-randos/

http://m.quickmeme.com/meme/3qa9v8/

I can see this go terribly wrong. Hope not though, very interesting idea.

Awesome concept! Congrats to the designer's and the person that developed such idea!

thanks - appreciate that http://us2.co/151wMQY

Great application and thank you for supporting windows phone along with other platform,but the app has bug,we get a green screen after randoing some pics,please check and address,i have also emailed your company ( hello@ustwo.us )

I second this comment; I've gotten the green screen twice already and I only got the app maybe 20 minutes ago. Having to restart each time is kind of... highly disruptive. This bug needs to be dealth with asap, but otherwise the app is great :D

we are submitting a fix today.. sorry about this...

Ooh, thank you! Again, just want to say that I'm very impressed with the app and am having a lot of fun (and learning a lot about South Korea; I get like 90% of my Randos from there :P). Plus, to back up your earlier comment, I've received no photos of anyone's junk, surprisingly :D
Great stuff!

Just droped you some feedback on the mail address.

There was an app similar to this in the ios app store when I had my iPhone 3G, been waiting for an app on WP like this thanks. If only it also worked on 7.x

I like the idea. We need to have a place on WPCentral to post some of the best "anonymous" shared photos.

But I can't send any picture unless I take one..immediately tried it but no saved pictures......which is strange, since I gotta take a photo to test this app.

can you explain more? I don't understand what you are meaning? (I am stupid)

I don't think it's funny to take a picture just because a developer created an app that doesn't work with pictures already saved to your phone. (and more interesting for example)

I'm sorry you feel that way, but that's life.. the idea of rando is to take gratification from gifting over bragging (which all the current photo apps play into) - We are also about photography, and not 'images' from users library..

Nice share app could be,better if u could save and comment too

Comments go against the anti social nature of Rando http://us2.co/151wMQY

You had me with "anti social".

I love that.
Wish it was available on WP7.

Yeah the no comments thing makes for some very interesting mystery, and forces people to take better pictures which are more likely to speak for themselves without a caption comment. Saving would be handy, though.

Cool app. I'm using it now.
I think it can use the lenses functionality... Would be great. %UK YOU INSTAGRAM :)

Anyone else having issues where after sending a couple pictures and recieving a couple your camera inside and outside the app goes to just a green screen

Are you using a 920? I noticed if you have the sunlight readability on, the camera screen will go completely green outside in the sunlight at times.

And this happened to me without this app a few weeks ago.

you dont have to go outside for the camera viewfinder to turn green. A restart of the phonr fixes the problem. Sometimes it crashes the camera entriely and it wont load for any app (or the built in camera app).

I think it has something to do with how the app accesses the camera, as other apps dont have this problem.

Fun app though! Just wish it didn't crash my camera so often.

we'll fix asap -- bear with us (ROAR!!!!)

This is an awesome app, and it's happened using the default camera before. I don't blame you!

Yes. On my 620. Cool app though

Yeah. I had this the second time a moment ago. Just rebooting the phone works just fine. And apparantly switching sunlight visabillity off will prevent you from getting it. Thanks @sundawg#WP

Same here! I don't understand how it could effect the camera outside of the app, it freaked me out. Uninstalled.

Pretty cool app. I like it.

I can't say I've ever wanted to randomly share a pic with a random stranger. This seems stupid to me. My point in sharing a pic is to have my family and friends see it.

then Rando isn't the app experience for you... Rando is an anti-socail app, aimed at exploring new emotions.. gifting over bragging... a place where you gift from one person to another, without ever getting any social acceptance back.. no likes, no friends, no anything other than a warm feeling that you have touched one other.. and will never know what they thought..
Rando Blog post : http://us2.co/151wMQY
Recent TechCrunch write ups
1. http://techcrunch.com/2013/03/18/rando/
2. http://techcrunch.com/2013/05/05/falling-down-the-rabbit-hole/
3. http://techcrunch.com/2013/05/22/you-know-whats-cool-5-million-randos/



And that's exactly how it should be! The amount of back scratching that goes on in the Instagram realm is vomit-inducing.

Ackkk!!! Green camera just happened to me, too!!! I took two shots, received two shots (very cool, btw), and now my camera screen is green--inside the app and out of it. :(
Verizon HTC 8X here.
Fun app but not quite ready for prime time. I'd pull it from the app store until you fix it 'cause you're going to get slammed with poor reviews.

Its not just this app, also does it with photosynth

Wow im really Impressed with this app. Great job. Nothing superficial just fun randomness

Interesting app. I could see how it might not be for everyone but I like it

Would like to add a caption at least. But its pretty cool

Can I send an existing photo from my camera roll, or do I need to take a new one from within the app?

You can only take pictures from within the app. I think that's a great feature; makes the resulting picture more spontaneous.

Awesome idea and beautiful design. I love ideas like this

Crashes on the NL920 pretty bad. Disabled my camera and took 3 try's to turn on.

I'm loving this app! So cool, and anti-hipster. Sharing for the sake of sharing, the world.

USA, Russia, Korea and Canada so far. Ah! Awesome!

We've got some from Russia, Denmark, Finland, Australia, France, and so many other places around the world. This is too much fun!

I am feeling warm all over that the developer has put windows phone in the pipeline for the development of this app. iOS first, which was march, then Android on April, and Windows PHone this june. I don't know but the developer kinda just made me realize that WP is THE third mobile OS and not blackberry.

Some people block the location, which kinda defeats the purpose, I delete those. Oh well, people are a bit paranoid nowadays.

Wow, gotta awesome Manga drawing from Taiwan! Ok... I'LL stop now. Loved this buddy, thanks for supporting the beautiful O.S..

Interesting the membership is required, but there's no social or communicative aspects. Why is registration needed?

Maybe to control/block accounts with erotic content

Green camera issue here, too. Works for one or two pics, then goes to green screen. When I restart the phone, it's good for another two shots, then green screen again.
I would like to continue using the app, but can't as it currently stands.
Do I need to uninstall/reinstall once the fix goes in?

we have now fixed this and are re-submitting today

I re-installed after seeing this post and the one below that said (on 6/12) that it would go live in 5 hours...
Tried using it again, and now I can get anywhere from 6-10 pics before I get the green screen.
It was doing some other funky things to my phone, too, so I uninstalled it.
Just went out to the WP Store to see about re-installing a third time, but under "last updated" it still says 6/10/13, so I'm thinking your latest changes haven't rolled out. It also says version 1.0.0.0.
I'll check back and once it's been updated try re-installing it again...

is it me of does this app drain the hell out of your battery. im down to 40% after 4 hours of use. normally im down to about 85% at this time.

Now down to 16%. in 5 hours. havent use phone much apart from download the app and sent 3 photos.

Is Anyone Else having Problems

we will look into this right away

Uninstalled it. It kills the camera! what happened?

My girlfriend and I aren't doing anything else now. THANKS A LOT, WPCENTRAL!

Super fun, but after I send a few, the camera viewfinder turns completely green, and any pictures I take after that are just green pixels. Interestingly enough, after this happens I go into the camera app and both the front and rear facing camera view finders show the same solid shade of green. Essentially it breaks the system and camera apps, and the only way to remedy it is to restart the 920. Hope this can be fixed, its a cool concept for an app!

My camera's done that just using the default camera app. It's only happened once before (and once while using Rando). There's a forum thread about it here: http://forums.wpcentral.com/nokia-lumia-920/202136-green-screen-when-turning-camera.html

Huh all right thanks for the info. It happens to me EVERY third picture that I send though, kind of a strange phenomenon. I'm hoping its an issue the dev can fix, but its sounding like its pretty unique to my phone at least in terms of severity so.... Maybe I'm simply not meant to use Rando!

Just restart the phone...and you're good to go :)

I got green camara too, now delete app and now have normal camera again

Might try this when the green camera issue is fixed. It's very strange that it would affect the camera function outside the app.

Green screen also happens in photosynth for me. Only time its ever happened. Just sayn
Also usin my cold as ice cyan 920.

It happened to me one time, I restarted the phone and was good to go again.

we submit the fix today.. sorry guys!

I'm using it pretty much since I got it. I thought I would have more photos showing up but suffice it to say, I like the app. Is it a one for one type relationship with photos ie, I send, they send? But the app itself, Its fluid and smooth on my L920

yes, it's one to one, you can see our blog post on Rando at the ustwo website... (also it's above in the comments)

The fix for the camera bug has now been submiited - apparently it will go live in 5 hours? or that's what the email we recieved said/

@Rando... If you could add the option of receiving Rando's from only users who are sharing photo location it would be nice. Random photograph without geo reference is about as interesting as junk mail in the inbox. Great app otherwise.

it's somethign we are looking into for sure...

I have been able to get around the camera bug by going back to the start menu between shots.

For anyone that is intersted. here is our blog post on the process of taking Rando to windows
http://www.ustwo.co.uk/blog/rando-on-windows-phone-8-not-just-a-port/

Hi, I've edited the comment to make it easier to understand and then I read your answer so I hope that settled. (;)

It took me 10 randos before I got my first dong. Funny thing is that you actually have to touch the junk to get rid of it, no doubt providing some sort of satisfaction to the sender lol.

for anyone that is intersted.. since we launched the downloads have been 1,000 and 1,400 per day.. looking forward to seeing what the third days results are!!! thanks guys!! for any more info on it you can always ask me on twitter > @millsustwo
Windows Central Newsletter
Get the best of Windows Central in in your inbox, every day!
Thank you for signing up to Windows Central. You will receive a verification email shortly.
There was a problem. Please refresh the page and try again.