Rayman Jungle Run dashes onto Windows 8 - Our Impressions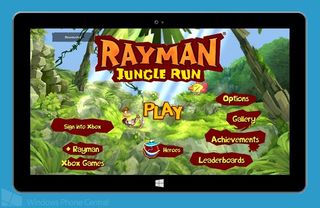 Last month we were excited to learn that Ubisoft's Rayman Jungle Run would be coming to Windows Phone at some point in the future. The combination of endless runner with actual levels and the lovable Rayman is just what our favorite smartphone platform needs. What we didn't know is that Jungle Run would also be coming to PC and tablet via Windows 8 and RT. Happy surprise - it's out now and Xbox Live-enabled! Plus it gives us a great idea of what to expect when the phone game comes along.
A legendary runner
That icon in the corner there totally represents jumping and not gas.
Rayman Jungle Run is an adaptation of Rayman Origins, one of the finest 2D platformers in recent memory – possibly of all time. The Xbox 360 and other console versions wowed players with its lush painted backgrounds, smoothly animated characters, and sheer variety of platform challenges. It's also tons of fun in 4-player co-op, so buy it right now if you have friends to play with.
Ubisoft faced an interesting challenge with bringing Rayman to touch-screen devices. Virtual sticks and buttons work for some people, while others have trouble using them. Thus the developers decided to just have Rayman run automatically, not unlike Gravity Guy, The Gunstringer: Dead Man Walking, and Temple Run. That frees players up to just concentrate on jumping – either via tapping anywhere on the screen or clicking a mouse button.
Race to the flag
While Jungle Run plays very much like an endless runner in that your character always careens forward, this game does have smartly designed individual levels. There are five level sets with 10 stages each, all themed after specific gameplay mechanics.
The first world is naturally the easiest and players won't have to worry about death. Instead, the challenge is completing a perfect run by collecting all 100 of the gold Lums spread throughout each level. They often require fast reflexes and maybe even a little jumping or falling to find hidden ones. Get enough teeth and you'll unlock super tough Land of the Dead levels.
Subsequent worlds give Rayman new moves like floating, running up walls, and punching. Punching actually introduces an on-screen button, but that doesn't overcomplicate the game. You can press the spacebar to punch, which is easier when not playing on a touch screen. Hazards like spiked vines and enemies will show up as well.
Since Jungle Run was designed as a mobile game, all of the levels are super short. Just when you're starting to get the hang of one, your character will pass the flag at the end. That actually works great for the collection aspect of the game, though. You can easily memorize a level and get back to wherever you previously missed some Lums in practically no time at all. It's addictive.
The price is right
The Windows 8 game costs the same as the iOS version: $2.99. Yet it's actually a better value, because you get all four characters: Rayman, Globox, Dark Rayman, and Rayman in Globox Suit without the need for a PDLC purchase. They play the same but it's always nice to have more characters to choose from. And this version has 200 GamerScore of Xbox Live Achievements. The only bad thing I can say about it is that the unlockable Gallery pictures (which open up in a web browser) are super tiny and thus not the most exciting rewards.
Admittedly it feels a little weird to play a Rayman game on my PC in which I can't control Rayman's walking. But the bite-sized levels and one-click/tap controls make this a perfect game to play when you have a few minutes to kill or just want to relax. If you dig platformers and rock Windows 8 or RT, don't miss Rayman Jungle Run. Now let's hope the Windows Phone version isn't far behind…
Get Rayman Jungle run here at the Windows 8 Store.
Thanks to Gabe for the tip!
Get the Windows Central Newsletter
All the latest news, reviews, and guides for Windows and Xbox diehards.
Paul Acevedo is the Games Editor at Windows Central. A lifelong gamer, he has written about videogames for over 15 years and reviewed over 350 games for our site. Follow him on Twitter @PaulRAcevedo. Don't hate. Appreciate!