Rayman Jungle Run dashes onto Windows 8 - Our Impressions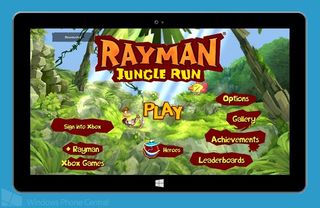 Last month we were excited to learn that Ubisoft's Rayman Jungle Run would be coming to Windows Phone at some point in the future. The combination of endless runner with actual levels and the lovable Rayman is just what our favorite smartphone platform needs. What we didn't know is that Jungle Run would also be coming to PC and tablet via Windows 8 and RT. Happy surprise - it's out now and Xbox Live-enabled! Plus it gives us a great idea of what to expect when the phone game comes along.
A legendary runner
That icon in the corner there totally represents jumping and not gas.
Rayman Jungle Run is an adaptation of Rayman Origins, one of the finest 2D platformers in recent memory – possibly of all time. The Xbox 360 and other console versions wowed players with its lush painted backgrounds, smoothly animated characters, and sheer variety of platform challenges. It's also tons of fun in 4-player co-op, so buy it right now if you have friends to play with.
Ubisoft faced an interesting challenge with bringing Rayman to touch-screen devices. Virtual sticks and buttons work for some people, while others have trouble using them. Thus the developers decided to just have Rayman run automatically, not unlike Gravity Guy, The Gunstringer: Dead Man Walking, and Temple Run. That frees players up to just concentrate on jumping – either via tapping anywhere on the screen or clicking a mouse button.
Race to the flag
While Jungle Run plays very much like an endless runner in that your character always careens forward, this game does have smartly designed individual levels. There are five level sets with 10 stages each, all themed after specific gameplay mechanics.
The first world is naturally the easiest and players won't have to worry about death. Instead, the challenge is completing a perfect run by collecting all 100 of the gold Lums spread throughout each level. They often require fast reflexes and maybe even a little jumping or falling to find hidden ones. Get enough teeth and you'll unlock super tough Land of the Dead levels.
Subsequent worlds give Rayman new moves like floating, running up walls, and punching. Punching actually introduces an on-screen button, but that doesn't overcomplicate the game. You can press the spacebar to punch, which is easier when not playing on a touch screen. Hazards like spiked vines and enemies will show up as well.
Since Jungle Run was designed as a mobile game, all of the levels are super short. Just when you're starting to get the hang of one, your character will pass the flag at the end. That actually works great for the collection aspect of the game, though. You can easily memorize a level and get back to wherever you previously missed some Lums in practically no time at all. It's addictive.
The price is right
The Windows 8 game costs the same as the iOS version: $2.99. Yet it's actually a better value, because you get all four characters: Rayman, Globox, Dark Rayman, and Rayman in Globox Suit without the need for a PDLC purchase. They play the same but it's always nice to have more characters to choose from. And this version has 200 GamerScore of Xbox Live Achievements. The only bad thing I can say about it is that the unlockable Gallery pictures (which open up in a web browser) are super tiny and thus not the most exciting rewards.
Admittedly it feels a little weird to play a Rayman game on my PC in which I can't control Rayman's walking. But the bite-sized levels and one-click/tap controls make this a perfect game to play when you have a few minutes to kill or just want to relax. If you dig platformers and rock Windows 8 or RT, don't miss Rayman Jungle Run. Now let's hope the Windows Phone version isn't far behind…
Get Rayman Jungle run here (opens in new tab) at the Windows 8 Store.
Thanks to Gabe for the tip!
Windows Central Newsletter
Get the best of Windows Central in in your inbox, every day!
Paul Acevedo is the Games Editor at Windows Central. A lifelong gamer, he has written about videogames for over 15 years and reviewed over 350 games for our site. Follow him on Twitter @PaulRAcevedo. Don't hate. Appreciate!
This is good. I know people who have moved to one of the other phones because of the lack of games.

Other phones? The article talks about Windows 8, not WP8. smh

Hey $*#&@f, read the entire article. Its also coming to the phone

But they should all stay because of Wordemic http://www.windowsphone.com/s?appId=b80055c3-f929-4c2f-89c4-392c1523814b ;)

I love wordament. Unfortunately, it was just released for IOS devices

All WIndows 8/RT Xbox Live enabled games should be available for Windows Phone 8 too! The most are amazing!!
Love Gundpowder, Gunstringer, Taptiles and Jetpack Joiride. Anyone knows about the port of Tentacles to Windows 8/RT?? They announced that and them no news since. Is the perfect game! One of the games that I loved to play since always! :)

Ah, I thought this will for WP8.
I've been playing this on my Note.

Nice Paul! I hope they port to Windows Phone, looks like a great game with a lot of value.

Yep, it's definitely coming to WP.

Awesome! This looks like one I can congratulate the Ubisoft team on. Microsoft kicking things up notch.

Paul, any word when tentacles is coming to wp8. It's shameful it's taken this long....

Any news on when or if jetpack joyride will make the jump to Windows Phone 8?

I hope they bring this to windows phone to

The very first sentence of the article, guys. Come on now.

Lol, somehow I skimmed right past the first line to get into game play mechanics.

It needs keyboard support, and it needs 360 controller support. I mean, there's only two buttons to deal with. Would it be too difficult to ask for them to map jump to space (and A on the controller) and punch to Enter (and X on the controller) or something?

As it is now, unless you have a touchscreen, it's going to be VERY difficult to beat the game; later levels let you click anywhere to jump, but only inside the icon for punch to do that move.

Edit: Okay, I take that back, space punches.

Hey, I'm the tipster!
My wife was wondering why I was giggling like a schoolgirl when I flipped open the Surface. Then I had to share. Loves me some Rayman!

Seriously guys what's going on....this week has been amazing to say the least

We don't know if the WP version will be WP7 or WP8 yet, but WP8 is more likely. We'll see!

please please please make it available for 512MB RAM wp8 devices too Ubi

My 9 year old just reviewed it on his surface. He ignored me when I asked him what he thought. Generally that means the game hooked him. Nice.....

Mistake: gunstringer dead man running...not walking.i will pick up this game. Good price and a good way to use my new surface on the go

looks like a cool game lets hope they will release it soon on windowsphone

Instabuy for me on my Surface RT and the WP8 version when it comes out. I loved Rayman Jungle Run on my Nexus 7- glad its coming out on my preferred gadgets. The price is right and the achievements are an extra incentive to replay. The games keep on coming!

I hope MS integrates the two stores - desktop and phone soon. This looks awesome

Just downloaded it on my Surface and its awesome.

Think I'll be downloading this! Not played Rayman since the PS1 lol.
Glad to see Ubi releasing stuff for it... hopefully the bring some assassins creed titles.

"Rayman Jungle Run is an adaptation of Rayman Legends, one of the finest 2D platformers in recent memory"

Uhh... Rayman legends isn't even out yet. I'm sure it'll be as amazing as you say though ;-)
Rayman Origins however is a different story, and that's the one this game is based upon. Same gameplay, just with automatic running. And I have to say it works wonderful! A must buy!

Whoops. Those two names confuse me endlessly for some reason.

I'm looking forward to this!

Great review! Waiting for your review of the OTHER new Xbox game release - "Disney Fairies - Hidden Treasures" :)

I'll definitely be getting to it soon! :)

I'd love to check out this game on my phone if I ever get the chance. I haven't upgraded to Windows 8 yet, but it's a definite purchase when I do upgrade.

Also, not sure if anyone has mentioned this in the comments yet, but this game is adapted from Rayman Origins, not Rayman Legends. Easy mistake. :-)

Who the hell is going to get "Lums Survival!"
No-one in the world haha just like the achievement says..... Simply Impossible

I'm loving this on other platforms, will happily buy it again for achievements! On another note, can anyone find I Dig It or Guitar Hero 5 on the WP7 marketplace? Was just about to pick them up but they're not showing at all for me...


I bought it for my iPhone/Android. Will definitely buy it for my Lumia 920 when it's released. Bring it on.
Windows Central Newsletter
Thank you for signing up to Windows Central. You will receive a verification email shortly.
There was a problem. Please refresh the page and try again.