Ubisoft quietly announces Rayman and more games for Windows Phone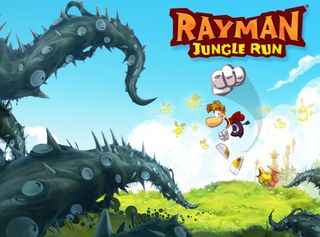 Ubisoft is a major force in the console and PC world, owning such powerful franchises as Assassin's Creed, Far Cry, and the Tom Clancy games. They've had a mild presence on Windows Phone so far, with two Gameloft published Xbox games: Assassin's Creed: Altair's Chronicles and Splinter Cell: Conviction, the self-published Babel Rising 3D (a bad game on any platform but particularly abhorrent on Windows Phone), and a couple of companion apps for console titles.
Still, one terrible game is far from the best that Ubisoft can do for Windows Phone. They publish a fair share of quality mobile titles on other platforms that we have yet to see on our own. Blessedly, that appears to be changing quite soon. Ubisoft's 2012-2013 Sales Report has quickly leaked three upcoming Windows Phone titles, which I think is cause for a little noise! Read on for our descriptions and predictions.
Monster Burner
All screenshots from iOS versions.
This one's a challenging action/puzzle game in which hordes of monsters descend from the top of the screen. To keep them from reaching the bottom, you'll need to tap the screen and send fireballs at the encroaching villains. Longer taps produce larger fireballs, but they also consume more of your precious mana. Running out leaves you vulnerable, so you'll need to let it recharge between attacks.
Monster Burner possesses some of the best art you'll find in a mobile game. It's also quite challenging, though the iOS game offers a Kids Mode to ease the pressure. The game has a big focus on collecting gold to purchase powerups, which of course make things easier as well.
The iOS version of Monster Burner is a free-to-play game which is monetized through optional PDLC gold purchases. Microsoft has yet to truly open up to freemium games, as the only Windows Phone examples so far (Contract Killer and Gun Bros) both came out terribly, and Gunstringer: Dead Man Running on Windows 8 was designed as free but ended up costing money.
The existing game also offers a new level for free every single day, though those levels might be built-in as opposed to downloads. It will be interesting to see how much of the freemium design and daily level features make the cut on Windows Phone.
Rabbids Go Phone Again
This one's more of a humorous app as opposed to an actual game, so I wouldn't expect it to have Xbox features. The rabbit-like Rabbid characters debuted in Rayman: Raving Rabbids on Wii and have gone on to star in their own generally mediocre spin-off games.
Go Phone Again basically allows players to tease and dress up their own virtual Rabbid. The little critter has a fair assortment of moves to discover by poking at prodding at it in various ways. He reacts to turning the phone (by falling over) and even dances to the user's music collection on iOS. The only goal is to find all the moves you can.
On iOS this one costs 99 cents and has two in-app purchases – we'll see whether the same pricing system carries over to Windows Phone.
Rayman Jungle Run
Here's the game to get the most excited about. Jungle Run is a platformer based on Ubisoft's phenomenal Rayman Origins console game. It plays like an endless runner in that Rayman run automatically, so players only need to use a single finger to control his jumping and other moves. But the game is broken up into distinct level sets, with the goals of completing levels and collecting as many Lums (floating collectibles) as possible while doing so.
Rayman Origins is extremely beautiful, and the same applies to Jungle Run as well. I personally find its visuals more appealing than any existing Windows Phone game, even Skulls of the Shogun. The iOS game already touts such features as cloud saving and Achievements, so it would seem a perfect fit for Xbox Live.
The existing game costs $2.99 and offers a single 99 cent PDLC purchase of a second playable character, Globox. If it ends up costing more on Windows Phone, let's hope Globox gets thrown in for the purchase price.
Ubi good news?
The price, OS requirement, and Xbox Live status of all three titles is currently up in the air. They actually do have a release window, though: February-March 2013. If Monster Burner and Rayman Jungle Run debut as Xbox games, I would be extremely surprised to see both of them make that window. We're still waiting on games that were announced in early 2012, after all. But at least one of them could pop up before March ends… If the stars align correctly. We've asked Ubisoft for comment and will update should they respond with new information.
The only downer I found in Ubisoft's Sales Report is a few mobile games that weren't announced for Windows Phone – particularly Might & Magic: Clash of Heroes, a standout puzzle-RPG on XBLA that's now coming to iOS. But Windows Phone still holds a much smaller market share than iOS and Android, so we can't expect Ubisoft's full support without a little cash expenditure from Microsoft. Two fine games that could potentially arrive in the near future will surely please Windows Phone gamers while hopefully washing away the bad taste of Babel Rising 3D.
Source: Ubisoft's 2012-2013 Sales Report; Thanks to Gijs for the tip!
Get the Windows Central Newsletter
All the latest news, reviews, and guides for Windows and Xbox diehards.
Paul Acevedo is the Games Editor at Windows Central. A lifelong gamer, he has written about videogames for over 15 years and reviewed over 350 games for our site. Follow him on Twitter @PaulRAcevedo. Don't hate. Appreciate!