Is Razer Turret for Xbox One good for left-handed people?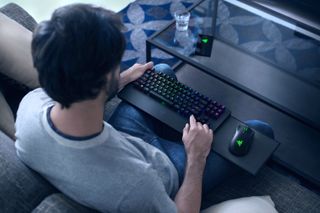 Is Razer Turret for Xbox One good for left-handed people?
Best answer: No, the Razer Turret is a poor choice for left-handed gamers since the mouse pad can only attach on the right side of the device. However, there are some excellent, and more affordable, alternatives available to Xbox One users.Southpaw-friendly pointer: Razer Lancehead

(opens in new tab)

($58 at Amazon)Southpaw-friendly keyboard: B945 Light Strike

(opens in new tab)

($150 at Amazon)Better for righties: Razer Turret

(opens in new tab)

($250 at Microsoft)
Razer Turret is an interesting option .... for righties
The Razer Turret is a wireless mouse and keyboard two-in-one accessory for Xbox One that's expected to come out March 31 of this year. It features a special magnetic mouse pad, a built-in board that makes playing on your lap a breeze, and the mouse has top-notch features such as Razer's 5G optical sensor and 16,000 dots per inch (DPI) while the keyboard uses Razer mechanical switches, which offer excellent performance. Both the mouse and the keyboard make use of Razer's famous RGB lighting, which can be heavily customized to suit your preferences. At $250, the Turret is pricey, but it's looking like it will be worth the investment ... at least for some people.
However, if you aren't right-handed, the Razer Turret isn't too great since the mousepad can't be swapped to the other side, and the mouse isn't built ambidextrously. Alternative solutions for left-handed players do exist, however, and while you'll have to sacrifice wireless functionality, you can also save a big chunk of money.
Great for righties
(opens in new tab)
Cutting edge tech

The Razer Turret looks like it's going to be one of the most exciting Xbox One keyboard and mouse accessories ever made due to the wireless functionality, high-performance capabilities, and stylish appearance. As long as you're right-handed, this is a device worth checking out.
Why get the B945 Light Strike keyboard?
Sadly, "left-handed keyboards" don't exist.
The closest thing is keyboards with the number pad on the left of the device, but most of these aren't designed to be used for gaming. However, there is a keyboard that breaks this trend: the B945 Light Strike. The location of the number pad can help make gaming more comfortable for left-handed people, and the keyboard itself features advanced optical sensors for the keys that are completely digital, removing the need to worry about metal-on-metal friction or other issues.
The B945 Light Strike is also quite durable, as it is made out of anodized aluminum, and it even comes with an attachable wrist-rest mat if your hands get tired while playing. As if that wasn't enough, the keyboard also comes with a water-resistant coating and has built-in liquid drainage holes. The former lessens the chances of damage from spills, while the latter means you'll still be able to finish a moment of gameplay following said spills. Finally, it comes with RGB lighting, and while it's not as advanced as what you'll find with Razer products, it's still nice. It can be configured by using the manufacturer's KeyDominator 2 software.
Lefty-friendly keyboard
(opens in new tab)
Reliable and unique

The B945 Light Strike keyboard is durable, reliable, and sleek. It's also the best gaming keyboard for left-handed users since it puts the number pad on the left side of the device.
Why get the Razer Lancehead mouse?
The Razer Lancehead is a great choice for left-handed players because the mouse is designed ambidextrously, meaning that it works equally well for both left-handed and right-handed players. In addition, it's incredibly well-built, meaning that there's very little risk of accidental drops (or intentional bangs against your surface, if you're a hothead) causing damage to the mouse. It also has a top-tier optical sensor with a maximum of 16,000 DPI, offering a huge range of sensitivity options for players.
In terms of looks, the Lancehead is sleek and stylish, and like all Razer products, it features the trademark RGB lighting that can be customized using Razer's Synapse software (opens in new tab).
Ambidextrous mouse
(opens in new tab)
A left-handed user's dream

The ambidextrous and durable design combined with the high performance capabilities and visual style make the Razer Lancehead an excellent gaming mouse for left-handed players.
Brendan Lowry is a Windows Central writer and Oakland University graduate with a burning passion for video games, of which he's been an avid fan since childhood. You'll find him doing reviews, editorials, and general coverage on everything Xbox and PC. Follow him on Twitter.
Windows Central Newsletter
Get the best of Windows Central in in your inbox, every day!
Thank you for signing up to Windows Central. You will receive a verification email shortly.
There was a problem. Please refresh the page and try again.