Razer's Zephyr mask is cool, but using them might be a risk [Update]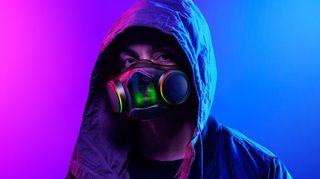 (Image credit: Razer)
Update Jan. 8: Since this article's publication, new information has come to light about the Razer Zephyr masks. Thanks to a Twitter thread from tech influencer Naomi Wu, it's come to our attention that Razer's claims about how it uses "N95 grade filters" might not be totally accurate. The CDC's National Institute for Occupational Safety and Health (NIOSH) does not list Razer's products on its approved N95 list. Wu also claims the filters are undersized, which would cause air to leak in, going against Razer's promises that the mask has a tight seal. In fine print spotted by PC Mag, Razer says that the Zephyr and Zephyr Pro masks "are not medical devices, respirators, surgical masks, or personal protective equipment (PPE) and are not meant to be used in medical or clinical settings." We also can't confirm if the masks have been certified by the FDA. Razer has filed the Zephyr with the FDA but it appears to be still seeking approval. Until more information becomes apparent, we can't recommend the Razer Zephyr masks as we did in our previous article. Our original story is below for the sake of transparency.
When Razer's Zephyr facemask — known at the time as the "Project Hazel" concept — was unveiled during CES 2021, many rolled their eyes at the idea. "RGB lighting on a mask? Really? Who cares?" This was a common sentiment many people held following the mask's announcement, but once the mask finally became available to buy in Q4 2021, the Razer Zephyr became an instant hit. And the reason why isn't because of its colored lighting; it's because the mask offers several genuinely useful features that solve many of the problems people are experiencing with normal facemasks during the pandemic.
The biggest of these issues is arguably the opaque nature of the vast majority of available facemasks, which make it impossible for other people to see the wearer's mouth. This makes it impossible for people to communicate intuitively with their facial expressions, and it also prevents individuals who are hard of hearing from being able to read lips, which is detrimental to accessibility — especially since masks also muffle the wearer's voice considerably.
The Razer Zephyr solves both of these problems completely with its transparent front, a feature that allows the wearer's mouth to be seen clearly. The mask's built-in internal LEDs even light up the wearer's mouth in situations where their surroundings are dark, too. The upcoming Razer Zephyr Pro, an upgraded version of the Zephyr shown at CES 2022, will also feature a voice amplifier that boosts and projects the wearer's voice, counteracting muffling issues with standard masks that have inconvenienced the hard of hearing.
Another issue with facemasks is that they're often uncomfortable to wear, either because of their fit or because they tend to make breathing feel more difficult. To address this, Razer designed the Zephyr with comfort in mind. It comes with an adjustable dual strap design and a soft silicone face seal that's both secure and pleasant, and it also features air exchange filters and dual miniature fans that offer constant circulation of fresh air. The secure design of the mask ensures eyeglass wearers don't have to worry about fog buildup, either.
You may think that these benefits come at the cost of safety, but the opposite is true. The Razer Zephyr's two-way N95 grade filters have been registered by the FDA and have a Bacterial Filtration Efficiency (BFE) result of 99%, which is better than standard disposable masks.
Finally, the Razer Zephyr is significantly more eco-friendly than disposable masks, which are only effective for one day of use and will release significant amounts of microplastics and microfibers into the environment as they break down. Billions of disposable masks are discarded globally each day (opens in new tab), which is why reusable masks like the Razer Zephyr have become incredibly valuable. On top of that, the Razer Zephyr's filters also last three times as long as the ones found in standard masks, meaning that you won't need to buy Razer's replacement filters (opens in new tab) as often as you'd need to purchase new masks.
Ultimately, regardless of how you feel about Razer's tendency to slather everything with unicorn vomit RGB, it's impossible to deny that the Razer Zephyr and the upcoming Razer Zephyr Pro are offering people genuinely viable solutions to real-world problems that have been brought on by the pandemic. Razer is often remembered for their best laptops and other gaming-focused hardware, but to me, this is one of their best creations ever.
Whether it's by making it easier for people to communicate with one another while masked up, by making the mask-wearing experience more comfortable, or by offering a more eco-friendly solution that helps counter the environmental damage being done by the mass daily disposal of standard masks, the Razer Zephyr has proven itself to be an exciting and valuable piece of tech. And since the pandemic is showing no signs of stopping, innovations like the Zephyr are more important than ever.
Windows Central Newsletter
Get the best of Windows Central in your inbox, every day!
Brendan Lowry is a Windows Central writer and Oakland University graduate with a burning passion for video games, of which he's been an avid fan since childhood. You'll find him doing reviews, editorials, and general coverage on everything Xbox and PC. Follow him on Twitter.
I was able to get an original Zephyr in one of the early drops but quickly returned it. I appreciate what they're trying to do and I was really enthusiastic about it, but the mask was much larger and heavier than I expected. I was not impressed with the build quality as it had several sharp edges where excess plastic had escaped the mold during manufacturing and weren't caught. The real deal breaker though was the fact that the mask didn't even make a good seal when worn. If I moved my mouth at all to speak or smile it would create large gaps in the seal, defeating the purpose of the mask. I would be happy to try a slimmer and more flexible mask, but as it's currently designed it's definitely more of a fashion statement than a functional defense.

That's the problem with things like masks other items that are made to fit everyone, everyone is different. I can't tell you how many masks I went through just to find one I could tolerate. That was just cloth too.

But the failure of the product for you (and admittedly I'm not going to buy one myself) doesn't take away from the author's point, which is that a high quality mask providing both individual and community protection (most masks don't protect the individual much) that also helps show the face of the user is a good idea. Maybe they can make something smaller and more comfortable in the future.

Yeah. They need to redesign certain parts to make it actually safe. As it stands, it may be on par with an ill-fitting N95 mask and that's it. What they should really do is find a way to get NIOSH to certify it.

That passes for cool these days, yikes!

You can still tell when someone is smiling under a mask. Personally I find the clear masks where you can see their mouth make you look so strange. They're a little uncomfortable to be honest.

"And since the pandemic is showing no signs of stopping", there seems to be a growing amount of evidence that the Omicron variant while spreading faster is severely milder. As a result (at least in Europa with its tightly packed cities and clusters of cities) the virus is spreading rapidly but not as much people get hospitalized as expected (/compared to delta variant). Because of this many people get antibodies against Corona (not only Omicron). As a side note, medical masks are forbidden is some European countries (allowing only masks that lack the required filters).

It's razer, what you expect? overcharge you for subpar tech.