Read Comic Books! - How to for Windows Phone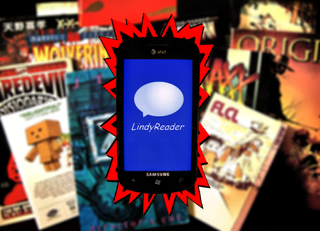 Comic books! Everyone has read a comic book at some point in their lives. Comics were a fundamental part of many kids' lives and are still very much a part of some adult lives. I loved comic books as a kid and still do. The format has changed a great deal since I was a kid though. I rarely read a graphic novel on paper anymore. Digital delivery applications across dozens of platforms and superb net-based readers have become the industry standard. Scans (literally meaning a scanner was used to make a digital backup of a comic book) and drm-free fan-produced e-books have become the anti-industry standard.
I have a fairly decent sized digital library of comics and graphic novels but I never get to read them when I'm well and truly bored. Like when I'm stuck on a train with just my phone. You guessed it, "Until Now!" Read on to see the ins and outs of not just reading comics on your WP7 device, but how to get 'em on there.
To start things off let's talk about readers. Readers and library organizers for comics are in rare commodity through the marketplace. There are a few standalone e-books available and a couple feed-specific readers for online comic websites but almost nothing specifically for comics exists. If you've already been down this road than you may have already tried out Graphic.ly, a digital delivery system and community hub for everything comic book related. You won't be able to stock it with comics or books that you already have but you will have access to their shops with pretty cheap comics and their news and social communities. The program looks nice, but that's about it. It runs terribly slow and has functionality problems during navigation and reading that are unrectifiable. What's worse, the store is poorly stocked. What's even worse, support for WP7 is a no-show. Rumor has it that the platform is no longer being supported. Majority consensus rate Graphic.ly somewhere between, "Eh." and "Terribly done."
What to do? Have Dropbox? Comics will travel.
Assuming you already have comics saved in .cbz or .cbr format and have a Dropbox account, there's not much more that you've left to do. If you don't already have a Dropbox account do yourself a favor and sign up. The basics are free and that's all you'll need. Next, save the comics that you'd like to read to your Dropbox and head on over to the Marketplace to pick up LindyReader. There's a free ad-driven trial mode that never expires or for $3.99 you can get the ads removed. You'll be able to download and read all of your .cbz and .cbr comics by downloading them from your Dropbbox within LindyReader. LindyReader keeps your downloaded catalog until you decide to delete all or individual comics to make room for new comics.
I'd recommend downloading over wifi - you'll save time and won't max out your data bill if you don't have an unlimited plan. Comics can be anywhere between 5mb and 20mb. LindyReader is great in how simple it is. It's built to download and view comics - nothing more, nothing less, and it does each amazingly well. Downloads can be done in the background while reading and multiple downloads can be cued up so as soon as one is finished compiling the next will follow suit. Reading can be done in portrait or landscape with pinch to zoom functionality and the expected finger-swiping page turning functionality sugar coats the whole package. Do you have a reason to not read comics on your phone with LindyReader? There's no excuse now.
Get the Windows Central Newsletter
All the latest news, reviews, and guides for Windows and Xbox diehards.