Read less and know more with Newser for Windows Phone 8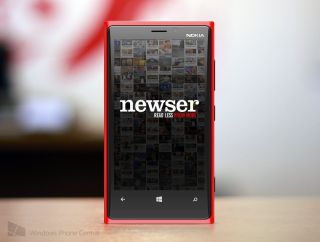 You scream, I scream, we all scream for updates. Well, we don't really scream for updates and that wasn't as funny as I thought. Either way, you and I both appreciate a good update when we see one, that's why we are going to talk about Newser moving to version 2.2 today. What's new in the latest version for Windows Phone? Glad you asked.
First, if you aren't familiar, Newser is a handy service where they take the top stories of the day and put them into bite-sized packages. Their motto is "read less, know more" and after using them I tend to agree. They take 60 of the top stories and condense them into two paragraph morsels that you can consume at an alarming rate. You'll be King of Jeopardy in no time.
When an app gets updated to support unique features of Windows Phone 8 you can almost always count on multiple sizes for live tiles, lockscreen support, and voice commands. And this version 2.2 update to Newser is no exception. B-b-bulletin points:
Enhanced Live Tiles: Users can resize the Newser tiles to any of 3 sizes. Counts of the number of unread stories are shown in addition to the headline of the most recent story if the tile is sized to the new wide size.
Lock screen integration: Newser can show you the number of unread stories and the latest headline on your lock screen. Additionally, you can let Newser update your lock screen wallpaper.
Voice commands: Users can press and hold the start button and give Newser voice commands, such as "Newser start" to launch the app, "Newser (section name)" to launch the app and navigate to a section grid or "Newser search" to trigger the search feature. The app will ask what the user wants to search for and then show the results.
Text-to-Speech: On the story page you can tap the 'Read this story to me' button and Newser will read the story to you!
By far the feature I like the best is text-to-speech, sure it is your robotic lady voice you'll find throughout Windows Phone, but it is a nice feature to have and another option to consume content. Each article also allows you to vote and assign an article a "superlative". You can designate them as either hilarious, intriguing, depressing, brilliant, scary, or ridiculous. From there you can only view articles that have been assigned a superlative from the community. It won't make or break your experience using the app, but I found it a refreshing way to filter stories outside the typical news categories like 'politics' and 'sports'.
If you're pressed for time and want to still stay up to date with current affairs give Newser for Windows Phone 8 a whirl. You can get it for free (ad-supported) from the Windows Phone Store here, use the QR code below, or swipe to the right if you're inside our Windows Phone Central app.
Windows Central Newsletter
Get the best of Windows Central in in your inbox, every day!
I've used this app from day one and lock screen never updates. Articles and format look old. Other than that app is ok. Updates have made it better but news feeds looks horrible

Its a good app, been using it for a few months

Thanks for the heads up. Good app

How do I active the live tile? Also, it seems like a cool app

I have it pinged, but it is not rotating. I also tried each tile size. I must be doing something wrong just not sure what it is.

Try unpinning and then repinning.

Oh like I said this app is good but it doesn't display images on the tile just numbers and the lock screen doesn't update and never has. Not sure why wpcentral always give good reviews for half ass apps

How does this stand to Fuse and Weave? I don't want another news app only if it can replace my existing one.
Any ideas?

well, nothing compares to Fuse. :)

I was going to ask about how it compares to Weave also. By the comments I guess it doesn't.

Is isn't anything like Fuse or Weaver. Those both aggregate news sources in their entirety. While Newser is a curated selection of stories that have been broken down into two paragraph morsels.

I been using this app for past 7 months now and this is a great news app. The live tiles never fails it always gets updated. The live tile never been down it always up and going.

What's really retarded is, as a wp8 user I'm already forced to suffer a smaller than IOS/android app library. Stupid regional restrictions then go on to rub salt into the wound. Why the hell am I barred for downloading a news app?

Version 2.0 was released mid Jan, 19th I believe, I was in discussion with their programmers before Christmas about some issues and features.
They are aware of the lock screen issues too.
Great app though...best news app in my opinion

I love this app, use it frequently every day. Would wish for the news images in the list to be higher resolution tho, other than that no complaints.

Dear developer, please release this application in Indonesia!

You cannot choose your location, the option is either US or rest of the world. No thanks. Rubbish.

Also the images are very low quality.

This is one of my favourite news apps out there. I concur that this is one app that the live tile never fails for on me. I off and on have a lot of trouble with other live tiles updating. I believe there is a push or pull type of live tile updating, I am not sure what app uses what but whatever method Newser uses works much better.
I think The Daily Beast is similar, perhaps looks a little better, but I found Newser to be a little faster and work better for me.
Only thing they did that I don't care for is the adds placed within the newsfeed, can't you pin those to the top or bottom of that screen so I don't accidentally select the ad?
Windows Central Newsletter
Thank you for signing up to Windows Central. You will receive a verification email shortly.
There was a problem. Please refresh the page and try again.