Readit for Windows 10 adds new image features, moderator mail and more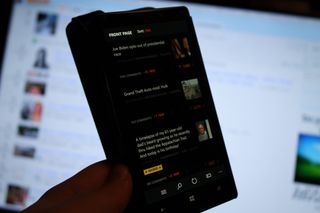 The popular third-party Reddit app Readit has been updated once again for Windows 10 for PC and Mobile. It includes some new image features, the addition of moderator mail to the hamburger menu and more.
Here's what's new and improved in version 4.6.6.0:
General improvements
Swiping on the last/first album image will no longer cause the swipe view to engage
When zoomed in on an image in a post or in the album viewer, panning the image will no longer cause swipe view or the album's swipe view to engage
Moderator mail has been added to the hamburger menu and to the inbox dropdown. Only visible/available to mods of reddit obviously. Supports toasts (you will not get duplicates). If you have both new notifications and mod mail, you will receive a toast that says you have "new notifications and moderator mail". If a single mod mail message is received, the username in the title of the toast notification will have [mod] in front of it
i.reddituploads.com will now display natively as an image instead of in a browser
Clicking the share button from comments view will now share the permalink to the comments instead of the post content url
Bug fixes
App slowdowns should be actually fixed this time. Unfortunately there is still a deadlock crash but rarely occurs and I can't catch it when the app is in debug mode. Only occurs when running a "release" build. This actually may be an OS bug as the entire phone will probably restart and crash. Overall performance should be better in this build
Fixed some markdown link bugs where text would cutoff
Fixed shortlinks not navigating properly for subreddits/users
Fixed a bug with certain imgur links where they would not display in the post viewer
Fixed back buttons returns to post content setting causing a black screen when using the back button in the comments section
Readit is one of many third-party Reddit Windows apps available for fans of the website. Reddit itself has confirmed it has no plans to launch an official app for Windows 10 on PC and Mobile.
Download Readit from the Windows Store
This reddit app became my go-to app after Baconit started crashing after you browsed a couple of image posts.

Yea Baconit drives me nuts!

True, Baconit crashes after some image posts. However, it is so damn fluid. Readit is not laggy, but it's just slow compared to Baconit. Baconit is also more efficient in using screen estate. That's why I keep using it. I hope the dev can fix them, because it's the same problem no matter the RAM of the device (1, 3, 8 GB). Posted from Bikini Bottom via my Pineapple PineBook XPS 13"

So you'd recommend against Readit? I've mosty been fine with it, but must admit I'm only a very light Reddit user, for now at least.

For some reason the Windows Store keeps crashing everytime I try to go to the Readit listing to download it. Other apps come up fine...
Windows Central Newsletter
Get the best of Windows Central in in your inbox, every day!
Thank you for signing up to Windows Central. You will receive a verification email shortly.
There was a problem. Please refresh the page and try again.