Realarm app for Windows 10 UWP officially released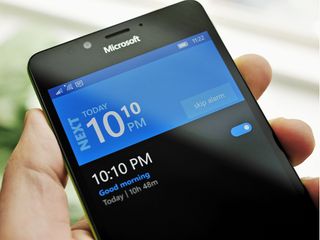 The official Realarm UWP app for Windows 10 on PC and Mobile is now available for download in the Windows Store. The previous beta version will no longer be updated.
In a Reddit post, the developer of the Realarm app stated:
Here are some of the features of the Realarm app:
Powerful recurrence options
Customizable voice commands
Alternating sounds (Random sounds)
Custom repeat period
Hourly/Minutely recurrence
Custom recurrence
Backup & Restore
Calendar preview of all (single) alarm occurrences
Quick alarm
Agenda
Beautiful live tile
You can access the Realarm Unlocker for an in-app purchase of $1.99, which will allow you to get updates first before the free users.
Download Realarm from the Windows Store (opens in new tab)
Windows Central Newsletter
Get the best of Windows Central in your inbox, every day!
official OS alarm doesn't ring loud, this is one of the worst bug we have..... the alarm tone is very low and I can't hear it properly in sleep..... due this I missed several alarms....

There are files called "ringtones" that you can download and copy to your phone to replace the default alarm sound or record/create your own.

Bro, i am using custom ringtones from past few years when iam in win 7.5 time. I know how to create custom ringtones, after the update .420 alarm volume is reduced. This is a Bug.... Not my ringtone fault, i am using same ringtone from past 6 months....

Bro, not necessarily a bug. I'm on 420 and my alarm sounds are just as loud as any previous OS version. I use a Lumia Icon.

In 950 xl its sound is so high that i think there is a bug. Interesting that we have contrasting views.

First of all - alarm volume is OS defined. I encountered low volume too on my L950, when I was on non-insider build. Then I switched to Insider and have to admit that alarm volume was improved significantly with new builds. Alarm always starts with low volume and increases gradually. Currently on Slow ring I can't stand it after a minute of ringing, it's so loud. I think this how alarm should behave.

I think this is a problem with the official release and it has been fixed in insider builds as the alarm should start the ringtone with low volume and then increase its volume gradually but the problem is that it plays the full ringtone with low volume until it ends then repeats it with higher volume until it ends again and then higher and higher....... There is a walk around by making a short version of the ringtone that is about 30 seconds long so that it would repeat after that time with louder volume....... Waiting for the fix to come with the anniversary update

I keep getting a 0x80004005 error when trying to download.

Install it on the internal storage. It only works there. I got this error too, when I tried to install it on my SD card.

I keep hitting OK when it says that it needs to intall in internal storage but it keeps erroring. Went to Storage and changed the default intall location to 'this device' and it still errors but with no message saying why.

For me, it doesn't even asked for it, while other apps do. Try to change it in the Storage option in the Settings app temporary.

You are right, it's OS limitation. It would be good to put some note with explanation there... :)

After seventeen hours (yes 17) it completed the install onto my sdcard on its own without any configuration changes from me.

I have the same problem with my Lumia 950. And it's no better with the many other alarm apps I've tried.

Got it and paid for it. No ads. Thanks dev. for the Dutch version.

Same, it's pretty awesome. I love that my backup from the previous version works without any issues.

So, is it just an alarm clock? I suppose I'll have to go look it up...

Yeah, but with more features than the default clock app. But if you use the world clock, the timer or stopwatch, keep the default app too, because this app doesn't have them. So it's a more advanced alarm clock, without those.

What is the more advanced feature? an alarm clock can be set to ta time and ring - based on a weekly routine. what more can there be?

Such as: - you can set multiple ringtones to same alarm so that your will not get used to one melody, it helps to prevent the scenario where you turn off the alarm without waking up - you can skip tomorrow alarm in case you are staying home tomorrow, without need to turn it on again - if you work on shifts, you can set 2-weeks, 3-weeks, X-weeks pattern - you can set alarm for every other day, or every 3 days, or every X days - you can set alarm for any date, any month, for special events - you can set alarm for 2nd Sunday in the month, e.g. for going to church - you can define custom snooze times, if you don't like predefined system ones - you can set 1 alarm for hourly-minutely repetition - you can backup all your alarms and restore them any time - you can see next alarm on live tile and lock screen notification - you can see how many hours remains until next alarm in live tile or lock screen Enough? :)

You forgot my favorite, the action center notification, with skipping from there :D
But I have a question. On PC, I can't add custom alarm sounds. Did I miss it, or is it an OS limitation?

Downloading the new app now, used the beta during my holiday last week, works great...

Got "Realarm" a long time ago and liked it, (thanks dev) but didn't get around to adding it back after last full reset of phone.
I've just Looked at this download, but it doesn't mention being UWP, or "Built for windows 10", or such like. Should it? Has the store stopped adding such info?

I think there might be two versions of this app and that is probably the reason for that. I got an update that updated me to the new app, but if you are on 8.1, it probably looks like the old version of the app.

It simply takes some time until Store updates descriptions, usually day or two. However, packages are already available.

It takes time, for the store to update them. Be patient.

One of my all time favorites. Cool stuff by developer.

Yes, ads in the free version and no ads in the paid-for version. You expect a developer to volunteer their time to give you something for nothing??!! Seriously?!

Well... You have a point!

Ads in a free app? Who does that? Well, about 99% of the free apps, dude.

Yay, will be downloading this update for sure!

I downloaded this, and there are so many options. I am a fan, it was totally worth the money!

Not yet available for PC. Only the beta.

Should be availbe in a day or two, when Store updates descriptions.

I think this app shows what an excellent developer really can do. Well done!

You can access the Realarm Unlocker for an in-app purchase of $1.99, which will allow you to get updates first before the free users.

That's an... interesting monetization method. Keeps the ads, you just get updates sooner?

I remember that in the 8.1 version, it also gives you the option to save backups to OneDrive and restore them as well. I'm not sure if this is still part of the unlocker thing though. To me, that's awesome.

That option is there as well.

Well, that actually not true :) Unlocker simply removes ads, maybe also will also unlocks some features in future. But updates will be available first for users who registered with private beta, regardless if they have Unlocker or not :)

Is there any app which triggers location based alarm?

I need that feature when I go on a long travel during nights. The volume levels for cortana is way too low to wake me up. Is there any way I can increase the alarm volume in Cortana?

What's the version number for the new app? I only see the Beta in the Store on PC while I see both the Beta and the production app on my phone but the production app appears to still be the WP8.x version.

Have you tried checking the Store for updates? I had the old version installed but I had a update to the app which has the new look and features.

Just install the non-beta version, despite Store tell you its WP8 app. It simply takes time until app description passes certification and is being updated.

Anyone having issues with store links not going to the apps...every time I click a link it just goes to store homepage. Is it a problem with latest fast ring?

Haven't fully used this app yet but I had the beta for a week and I wanted to support the dev hoping it'll show that apps are welcome on this platform. Bought it to also get rid of the pesky ads.

Official app is better. This does not allow you to select days of the week.

Yes, it does http://i.imgur.com/RFfBXan.png

Lol, it's right there and guess how it is called - "Days of week".

The old saying, RTFM, comes to mind ;-)

How many apps have we gotten in the past three days alone? So much W10M being dead! Posted via the Windows Central App for Android

I bet you can expect even more releases these days. June 30th is important day for devs :)

Thanks for this app. Is there any way to change the volume of the alarms though? My Lumia 950 is driving me crazy with its super loud alarms.

Unfortunatel, no way. Alarm volume is OS defined.

That's a shame. No way either to go about it in a different way?

Make a ring tone with lower volume? ;p

@Viktor, just came to say wicked app. Stopped using default app for your own. Had issue installing due to weird store error but saw from comments that it needs to be installed in internal storage, strange that the store did t prompt me to override like it does for other apps. Anyway, superb work.

Hello, thanks. Yes, I had also experienced Store issue on one of my phones, but not on others.

I asked for a every 20 minutes alarm and now it's there! Thank you! You rock!

As I've stated in my review,I love this app. Mine downloaded as default right to my memory card, works fine. Alarm sound, doesn't start out as loud as my old Samsung Omnia( a gem of a Windows phone) but gradually it builds and it's not startling, My only problem is I don't know how to phrase to get Cortana to default to Realarm, at best it's and miss. She runs my life.

Sorry that would be"hit or miss".

This is the best Alarm app from store ;-)

This is an outstanding app. Thanks, Victor!

I'm a bit upset that the new update removed the ability for the alarm to sound during quiet hours. I know for a fact that it worked before.
Otherwise, it's by far the best alarm app I've ever used.