ReCore: The Ultimate Buyer's Guide
By Matt Brown last updated
Looking forward to ReCore? Here's everything you can buy at launch!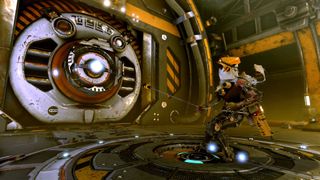 Only a few days remain until Microsoft's first release of the fall, ReCore, hits store shelves worldwide. Developed by Keiji Inafune and Armature Studio, the game offers a unique spin on a third-person shooter, with tightly integrated puzzle gameplay. All this takes place in a unique desert world, populated by a rogue robot army.
As one of the Xbox One's biggest exclusives of the year, ReCore will also be the first title to support Microsoft's Play Anywhere initiative. As a part of this program, purchasing a digital copy of the game entitles you to both the Windows 10 and Xbox One versions.
But with ReCore only a few days away, have you locked down your copy for launch? We've compiled a list of all the different ways to obtain ReCore and get the pre-order bonuses that matter to you. We've also made sure to include some additional ReCore merchandise, which can be picked up alongside the game next week.
Release date
ReCore won't be releasing across the world simultaneously, with a staggered rollout over the week. On September 13 the game will officially debut in North America, Latin America, and Asia Pacific, on both Xbox One and Windows 10. One day later, on September 14, the title will hit the Japanese market for both platforms. ReCore's rollout concludes on September 16 with the game's European launch. This applies to both digital and physical versions of the game.
Preorder Bonuses
Depending on where your copy of ReCore is preordered, you'll receive a range of pre-order bonuses. Some pre-order bonuses are exclusive to specific retailers, making your choice of retailer more complex than the price alone. Below, we've listed some top video game retailers in the US and the preorder bonuses they offer.
| | Banjo-Kazooie Nuts and Bolts | Xbox Play Anywhere (Digital Only) | ReCore Controller Skin | $10 Xbox Live Credit |
| --- | --- | --- | --- | --- |
| Amazon | ✓ | ✓ | | |
| Microsoft Store | ✓ | | | ✓ |
| Xbox Store | ✓ | ✓ | | |
| GameStop | ✓ | ✓ | | |
| Best Buy | ✓ | ✓ | ✓ | |
If you redeem a digital code for ReCore from any retailer, your copy will be playable on both Xbox One and Windows 10 through Xbox Play Anywhere!
ReCore (Standard Disc)
Across most retailers, the standard version of ReCore is being offered for $39.99, with additional bonus content dependent on the retailer (detailed breakdown supplied above). This version of the game is most common and stocked by a majority of video game retailers.
Preorder the game from various video game retailers below:
ReCore (Standard Digital)
A digital version of ReCore is also available, sold as a pre-paid code to be redeemed via Xbox Live. Most retailers who stock pre-paid codes will distribute the codes ahead of launch, to give players the chance to pre-load the title. Like digital copies purchased directly from the Xbox Store, these copies of the game will unlock at 12:01 in your time zone. Codes are valid for both Xbox One and Windows 10.
The following retailers stock digital copies of ReCore for Xbox One.
ReCore Collector's Edition
For the enthusiasts out there, ReCore's Collector's Edition delivers what's to be expected from a high-end limited run of the game. Aside from the metal casing and extra goodies, the Collector's Edition's value comes from the 14-inch statue of ReCore's protagonist, Joule. While this edition of the game is marketed as the highest tier available, the physical disc will exclude players from the Xbox Play Anywhere program.
Here's what you can expect from ReCore's Collector's Edition:
A full game physical disc of ReCore
Hand painted and finished Joule and Mack Premium Statue (14 inches Tall, 6 lbs heavy)
Exclusive metal case
Exclusive Lithograph and Corebot Alphatbet Decoder Dial
The ReCore Collector's Edition is available from the following top retailers:
The Art of ReCore
The Art of ReCore is a 112-page hardback from Dark Horse Books, which brings together the best conceptual artwork from ReCore's development. Over the course of the book, readers can take a deeper look into the creation of ReCore's unique cast and the world that surrounds them. The book also includes exclusive commentary from the game's creators, including the legendary producer, Keiji Inafune. For those hesistant to purchase the bulky hardback variant, Amazon offers a digital version for Kindle.
The Art of ReCore will be available from the following book retailers:
ReCore Announce Poster
Based on ReCore's inital reveal trailer back in 2015, the ReCore Announce Poster showcases the iconic scene of Joule and Mack traversing the desert of Far Eden. The poster is printed on 29" by 23" 100 pound cover stock, which provides a heavyweight, premium feel. This poster is only available through the official Microsoft Studios storefront, priced at $16.99.
Microsoft Studios Store - ($16.99)
Official ReCore T-Shirt Collection
Microsoft also offers a collection of four ReCore tees, which highlight the game's protagonist and her robot companions. The shirts come in four different styles, each showcasing a silhouette of a character and their corresponding core colour. These shirts are available in both female and male styles at $22 each.
Sizes Small to 2XL are available.
Get the shirt from the Microsoft Studios store below:
ReCore Joule T-Shirt - ($22)
ReCore Mack T-Shirt - ($22)
ReCore Seth T-Shirt - ($22)
ReCore Duncan T-Shirt - ($22)
Still not convinced?
If you're still unsure about picking up ReCore, don't miss out on our hands-on preview of the title from E3 2016! Over the next few days, make sure to stay tuned to Windows Central for our full review and launch coverage!
Matt Brown is Windows Central's Senior Games Editor, Xbox & PC, at Future. Following over seven years of professional consumer technology and gaming coverage, he's focused on the world of Microsoft's gaming efforts. You can follow him on Twitter @mattjbrown.
no banjo code with pre order from windows store / xbox store what kind of game are they playing

I've seen on my xbox front page that they are offering banjo Kazooie as a pre-order bonus, so I'm quite perplexed by this article and its table. Posted via the Windows Central App for Android

Corrected the article to reflect this - this is a promotion, but they no longer mention it on the Xbox Store listing (: Thanks!

I got my BKn&b code when I pre-ordered months ago, so it used to be a thing. Was sort of annoying though, as I'd already bought the game as part of the Rare Replay bundle.

NP, you're welcome :) Posted via the Windows Central App for Android

I got the Banjo code from the Xbox store just FYI, takes about 7 days from the day you order it.

Any reviews for Recore out yet?

Any UK pre-order bonuses?

Getting the disk should also show play anywhere... Silly. Disc should come with the code too I think.

They couldn't do that. PCs don't read game discs, and Play Anywhere links the code to your account. Giving you a code when you bought a disc meant you'd get a digital AND physical copy, meaning you could just attach the digital to your account and sell the disc. They'd be giving you 2 copies of the game (and 3 licenses total) for the price of one.

Yeah they could only really do it if they took the approach of the Quantum Break pre-order bonus, where the two aren't linked and the code is just for the PC version. That's not what Xbox Play Anywhere is though. Like Keith says with Play Anywhere once you have it digital you have it linked to your account - There's no such thing as a code to get JUST the PC version

Best Buy seems to be physical only online with the controller skin being inside the box. Do you have a direct link to the digital version or was that in error?

This should take you to the page for a digital code! https://www.windowscentral.com/e?link=https%3A%2F%2Fshop-links.co%2Flink%2F%3Fexclusive%3D1%26publisher_slug%3Dfuture%26article_name%3Dwp-d-c-2571917%26u1%3DUUwpUdUcU2571917%26url%3Dhttp%253A%252F%252Fwww.bestbuy.com%252Fsite%252Frecore-digital-xbox-one-digital-download%252F1000006717.p&token=BuGmCI_p

Thanks. However it looks as though it's without the skin preorder. Logical, as it is a physical item but leaves me no reason to go to Best Buy.

Ah I get you now! Sorry but it seems that way!

Oh, I didn't even realize this was coming. The E3 reveal was underwhelming, so I think I'll go ahead and pass. Better-looking games on the XB1 failed to earn a sequel (looking at you, Sunset Overdrive), so I have a feeling this will be a one-off I can pick up for $20 with ease next year. I'll keep waiting for Forza Horizon 3.

I just want to know about its performance .

It looked pretty good on the Stream Major Nelson did, obviously on PC it's going to run best on the right hardware and that was the version they were streaming - Luckily I can play it on both so I know I'll be able to get the PC experience if I'm not happy with how it plays on Xbox but I'm sure it'll be buttery smooth there too

Might have to swing by Best buy and see about the skin. Otherwise it's going to wait for a sale.

Erm...for a "premium" console game $40 is pretty good.

If you are an Xbox rewards member, they are giving you 15000 ($15) points for all pre order games from the Microsoft website. This also applies to this game. The only problem is that it only applies to disc versions. I try to buy games digitally, especially if they're is multiplayer, but since this is a single player game I don't care as much. I don't understand why they don't offer the same discount for the digital version of the game. I suspect that they know people probably share games and probably that is why. I'll get GoW digitally for sure so I can pay with my kids on 2 xboxes. I suppose if you buy discounted gift cards and use Bing points you can get a discount that way.

I only have 1xbox so can't test this, but if you have your account on both xboxes and you buy a title digitally, can you only play it on 1 console at a time? or could you buy it once and then each kid could play at the same time from a single purchase?

As soon as I saw the statue that comes with the CE I pre-ordered. Don't really care for the game but I hope it turns out to be good. Dat statue, tho'!

It is nice, but i don't know if it's $140 worth of nice.

Glad I got my preorder in before they stopped offering the free Hat at Best Buy.

Got to be digital for me when it comes with Xbox Play Anywhere and is the same price as the physical disc anyway. For me, the price difference is the only advantage to physical copies these days - I don't really go for all the collectible stuff as I would just end up chucking or selling it in a clear out of the house eventually. Used to be that physical had the advantage of not needing to use expensive Bandwidth but since a decent broadband plan became available where my house is I find I'm willing to just spend the extra £10-ish to go digital. In the case of Recore it will probably be £27-£28 in Tesco, but without Xbox Play Anywhere so not worth considering the disc unless you have internet similar to my previous plan (4G where it cost £1 - £1.50 per GB)
Windows Central Newsletter
Get the best of Windows Central in in your inbox, every day!
Thank you for signing up to Windows Central. You will receive a verification email shortly.
There was a problem. Please refresh the page and try again.