Red Dead Online 'Frontier Pursuits' are essentially locked behind microtransactions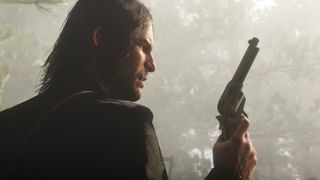 What you need to know
Red Dead Redemption 2 is an open-world Western from Rockstar Games.
The title got a Frontier Pursuits update on September 10.
The new classes in Red Dead Online cost Gold Bars which can be purchased through microtransactions.
You can purchase Red Dead Redemption 2: Ultimate Edition for $100 through GameStop

(opens in new tab)

.
Today, Red Dead Redemption 2 got its September Update which adds new content to Red Dead Online. You can become a Collector, Bounty Hunter, and Trader. Unfortunately, these are locked behind the microtransactions. Coming across Gold Bars is incredibly difficult in the game. Each one of these specializations is locked behind 15 Gold Bars. You'll have to buy the $20 bundle which contains 55 Gold Bars to unlock the three.
If you've been playing Red Dead Online since it launched, you probably have enough Gold Bars. But for those who have been waiting for more content, you're out of luck. You'll have to either grind for dozens of hours, or simply get fed up and buy the Gold Bars.
Hopefully, Rockstar Games will remove the requirement in the future because it's a little unfair. If it was 5 Gold Bars it would've been doable, but 15 Gold Bars for each class is too much. What do you think? Let us know.
Red Dead Redemption 2 is a cinematic action-adventure game set in the Wild West. The title takes place in 1899, a time which brought stability to the United States, but also resulted in a drastic shift for many individuals who lived close to the untamed frontier. Beforehand, the federal government chose not to heavily intervene in these territories, going all the way to California. However, the need for consolidation and some form of control — especially when states like Montana and Utah were admitted into the Union — triggered an end to the uncontrolled lawlessness that prevailed during those times. What many people considered true freedom was coming to an end.
Simply the best
(opens in new tab)
Red Dead Redemption 2: Ultimate Edition
The gold standard for open world games

Every inch of this game has been carefully crafted to deliver the highest possible quality experience, and it shows all throughout this generation-defining title.
Xbox accessories you'll love
Every one of these quality accessories is guaranteed to enhance your Xbox experience.
PowerA Enhanced Wired Controller for Xbox One (opens in new tab) ($20 at Amazon)
PowerA's take on the Xbox One controller is an attractive pickup for budget-conscious gamers that nails all the basics.
Talon PDP Xbox media remote (opens in new tab) ($20 at Amazon)
The Talon PDP Xbox media remote is great for watching shows on your console.
Xbox One S vertical stand (opens in new tab) ($10 at Amazon)
Stand your console upright with this accessory.
Asher Madan handles gaming news for Windows Central. Before joining Windows Central in 2017, Asher worked for a number of different gaming outlets. He has a background in medical science and is passionate about all forms of entertainment, cooking, and antiquing.
I wouldn't say coming across gold bars is "incredibly difficult". They encourage play in the game to receive bigger portions of a gold bar per day, like with the streak of daily challanges. There were also many promotions during the month and a half I played it online which give several bars.

R* has made it very easy to accumulate gold bars if you had actually just played the game doing your daily and weekly challenges. Complaining that you don't have enough because you chose to not play the game isn't R*'s fault. Grind it out like the rest of us did or buy the gold bars. You can get 25 gold bars for $5 using the one time offer in the store and the rest you could get by next week easy.

Grind it out? You do understand that often game mechanism is being adjusted to make it more grindy and more frustrating fro everyone in order to tempt people from spending money.
This is what these big publishers who makes billions are doing with their AAA games. They are turning the AAA market into what the mobile gaming market is. And some people are defending it...

> often game mechanism is being adjusted to make it more grindy and more frustrating
Till you can proof it? If I make a game, tell you I didn't adjust the progression to cater to micro transaction (and I can remove MT at anytime, so the progression design is indeed right where it should be), would you believe me?

No, they actually are NOT. Yes, if you play once a month or something like a rare log in to see what an update has, only then will you feel pressure to use microtransactions. If you play fairly regular, not even daily, you make the gold you need in quick joining missions or simply completing daily objectives. In top of all this, there are rewards linked to PS+ or GTAonline. Each of these grants FREE access to one of the specializations. So, I have to assume that your misinformation comes from not being a regular on RDR2.

Or he doesn't play on PS. Xbox players don't get any of the roles for free. I've been playing since it's release, so I have enough for the outlaw pass and a couple roles. But 15 gold bars is still steep.

F*** Rockstar for adding microtransactions in a full price game.
They have made so much out of GTA 5, so they'll just continue with this bs. As a result they'll make a lot less games. Just one this generation. And they'll try to milk gamers from that one game by having these free2play economy.

RDR2 was made by 3k people with a lotta crunch time. Is $60 the "full price"?
Windows Central Newsletter
Thank you for signing up to Windows Central. You will receive a verification email shortly.
There was a problem. Please refresh the page and try again.