Reddit has no plans for its own Windows app, but many third-party apps are great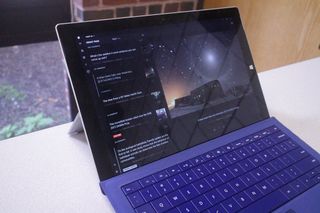 Reddit remains a highly popular community news and forum site, and today it launched official mobile apps for iOS and Android platforms. However, it looks like Reddit won't extend the same effort to the Windows platform, at least for now.
Alex Le, Reddit's VP of Consumer Product, posted a simple "No" answer when asked today by a user if there were plans for an official Windows mobile app. However, as many Windows 10 and Windows 10 Mobile users already know, there are some solid third-party Reddit apps that can be downloaded from the Windows Store right now.
They include apps like Readit, Reddify, and Baconit. All three are UWP apps and work with Windows 10 on both pC and Mobile. Which third-party Reddit app for Windows is your favorite and why? Let us know your thoughts in the comments.
We've got a pretty great selection already.

Why would they release one? There's no need to release a one for windows 10 or mobile or whatever as you can just go to reddit.com. Or am I missing the point. If it's just for windows phone then there's no point there either as w10 mobile is the future...without saying anything about windows phone being dead lol

He lives in his own little world with only things that apply to him are the way it has to be.

If you've got nothing constructive to say, don't say anything at all.

Lol, what's constructive about your comment? I guess you just made my point.

I'm telling you to not say anything if you dont have anything constructive to say lol...maybe learn English basics again, that should help with your inability to understand ;) see constructive hahaha

And I'm referring to your original comment. 4 hours isn't that long ago to completely forget what you said, unless of course you were high at the time.

Dont trip over while you backpedal and steal other peoples ideas. Plus, I asked a question with a genuine desire for an answer. Not some $hitty snide comment from someone like you lol.

I'm not backpedaling anything, but again, in your little world, everything you do is perfect. And your question was a smart ass one. Unless you're completey retarded, or live under a rock, people use apps, people complain about a lack of apps on Windows, so there's your automatic answer as to why an app would be wanted. Now, feel free to go screw.

It literally wasnt was smart ass one, but obviously you would know all about that wouldn't you. I've obviously hit a nerve with your sensitive side so will leave you to it. I will now go screw, my missus. Enjoy your right hand tonight haha!

wow... your comments are stupid and you don't have anything smart, intelligent, important, constructive or anything of value to say. please just quit internet and stop wasting other's people time, you were the one replying a really stupid thing to someone and then you don't accept people replying to you and not agreeing with you. The reason they dont release a reddit app it's probably because reddit.com but it doesn't mean they can treat users like they don't count, the website is not optimized for touch and it sucks for tablets... so even if we got amazing 3rd party apps, it doesn't mean that they should release a iOS and Android app and forget about universal app that would bring the app to Windows 10 PCs and tablets and phones and now xbox one. a universal app wouldn't only have notifications and all that crap, but also a live tile and many things that a website can't have like live tiles and easy integration inside windows like a simple "share" function that some might use.

I remember some sites could have live tiles if pinned to start on windows 8

Does reddit even have an app for iOS? I only see iPeople use Alien Blue. Or is that reddit's?

You can do the same on an android/ios phone or tablet. Push notifications and ease of use compared to a browser on a windows tablet is preferable. I dont even use the site on my surface. i use readit.

Ah ok notifications makes sense, thanks for your sensible response, unlike some people.

Readit forces advertisements on you whenever you watch a video through reddit, even though it's a paid app. I guess begger can't be choosers though when no official app is available.

Exactly what I came here to say. The other platforms need apps because they are just consumption devices. I don't get the need for twitter, Facebook, eBay etc apps, when the website is easier to use on my Surface. And with Edge bringing website notifications, the need is even less.

Because I shouldn't need to open my browser and navigate. I can open the twitter app and minimize it easy without multiple taps while also.getting push notifications

Click Edge, click Twitter on favs.. No hardship. Browser is open 99% of the time anyway. all of the twitter apps are severely lacking in functions anyway. Posted on a L950XL with Fingers 10

Because apps are what everyone on devices 6" -8"or smaller use! Posted via Windows Central app for Windows 10!
Proudly rocking my Lumia 1520!

Readit is amazing. Not sure they could produce a better app. In fact the third party alternatives on android have nothing on read it. I've tried many. Android and ios do need it more than windows. Maybe she's born with it, maybe it's Lumia 950xl

Your signature has me ROFL

I love me some Reddit on Readit. Posted from PornHub

relay is the best on android...but readit by far the besr of the best

The only benefit of the official reddit app is that you get three months free of reddit gold. Other than that I don't see any benefit over readit or baconit. Shame they don't wish to bring it to ljr platform but considering we've had great apps for years that offer feature parity, I am not too upset.

Getting the gold is easy: 1. Download Blue Stacks. 2. Install Reddit app. 3. Login with your credentials. 4. Get free gold. 5. ??????? 6. Profit.

It allows a couple features. Most are better for desktop Themes-make it pretty Saved folder organization- saves everything in organized folders of your choice Purple links across devices for things you've viewed. Load more comments than available without gold.

bluestacks is not working with windows 10 pc - From Windows 10 Nokia Lumia 730

Worked on mine. Granted, I installed and used it shortly a few months back.

Compatibility mode. It's a great thing. One of my modem software wouldn't just establish a connection. I ran it in compatibility mode for win7. It worked!

I miss when you were upset. Posted from PornHub

Using Readit, and it works well.

Nobody told them about xamarin eh?

No because they don't have internet Posted via the Windows Central App for Android

I ask the same about the Microsoft Garage Team :(

The garage team Works for iOS and Android; you didn't know that by now? Posted via Windows Central app for Windows 10!
Proudly rocking my Lumia 1520!

You mean the garbage team? Posted from Windows Central for Windows 10

It wasn't like that... And we still have 2 apps from them in W10 Store. http://www.windowscentral.com/microsoft-garage-launches-three-new-window... http://www.windowscentral.com/microsoft-garage-launches-bunch-new-window... http://www.windowscentral.com/collaborate-new-white-boarding-windows-pho...

meh readit is more than enough

3rd party apps are cool than the originals and they keep getting better, for example Tweetium for Twitter. I wonder why wouldn't they make apps like these...

Yeah also like 6tag! 6tin! Tubecast! Mytube!

Only a WP user would say third party apps are cooler than the originals.

I didn't say that and I use WP. Posted via Windows Central app for Windows 10!
Proudly rocking my Lumia 1520!

People use third party apps on all platforms. Lots of tines they are cooler and different/morw/inique features.

I use ReddHub V2 and love it. Tried the others but I keep coming back to ReddHub. May switch to just browser with RES when Anniversary launches. (not putting insider on my SB)

Do you use it on the phone too or just on the desktop?

No, I bounce between Readit and Baconit. I used Baconit for a long time then switched to Readit before the Baconit UWP. I like Baconit but still find myself using Readit. Though, I don't do much reddit on my phone in general. On occasion when I don't have my SB or Stream 7.

My pre-bed ritual is going through r/funny before sleep. If you go to bed in a good mood you sleep better. R/windowsphone is also great. I found a lot of time on reddit. that's why I purchased readit ages ago while it was still not uwp. But man the dev has made the app so awesome since. Maybe she's born with it, maybe it's Lumia 950xl

Cue people saying they don't use the app, never heard of it, don't need it, they'll come back, etc..... /s

Congratulations, you are the only one.

Cue the usual theefman comment that adds nothing to the conversation and only serves as an attack against others.

Uh I think everyone's heard of reddit. Even older people

Reddit is an idiocracy. All you have to do is read all of the moronic comments posted on the very thread linked to in the article, and the throngs of ignoramuses who upvoted each other's FUD and downvoted dissenters.

Unfortunately Reddit has a better comment section than here, most of the time. :/

Reddit itself isnt the issue so much as the users. The WP reddit mirrors the 'community' of WC and thus you see the dumba$$ery you do. I like reddit outside of the wp sub

Yes, the users are definitely the major crux of the problem, but it's also Reddit's fault too because of the way the site is set up: it encourages tribalism, rewards naivete, and, as a result, produces an anti-intellectual idiocracy where the ignoramuses rule and voices of reason are censored.

Look in the mirror. There are millions of people posting on reddit with topics and interests that cover just about everything. Don't be so quick to judge the entire community based on your views of whatever shallow minded little subreddit you frequent.

But that is society in general. You have to sift through the **** to find the gold. No pun intended. If you take it for what it is it can be very entertaining and quite educational. I have learned a lot over the years due to reddit. A lot.

This comment belongs in reddit then

That comments would've been censored from Reddit. That's the point.

You downvote often here probably, you'd be welcome there

No problem.. They'll soon come on Windows 10 just like others who said they are not making for Windows and ended up making a universal app ;-)

Alternatives are already good....

Also, it's how you ask the question, as in "Will Reddit be making a Windows App?" My money is on 'Yes' - especially since that means access to XBOX users who are probably Reddit users as well.....

A site where people can voice their opinions and talk badly about fat people

Fun fact, Windows 10 is only on half as many active devices as iOS.

Fun fact - Windows 10 has been available for 8 months, iOS has been available for 8 years. So Windows 10 achieved that many in 1/12th the time.

Yes, exactly. Numbers will not mean much unless they are put in perspective. You know how the expression goes: "lies, damned lies and statistics", meaning that statistics shows the truth that the creator of the statistics wants to show. You can make any company look fantastic if you just present the numbers right. In Apple's defence, though: they have continued to sell devices steadily over several years. Nothing is wrong in that sense, but it took them quite some time, too. Windows 10 will continue to grow every day, which in turn will spur development of UWP apps, so you can expect it to close in on iOS eventually. It will not happen over night, but I'm certain it will happen if you give it 3 years maybe. It depends on the enterprise customers as well, since they influence market share for Windows quite a bit.

To be realistic, you should be comparing Windows Mobile's numbers against the number of iPhone users, you won't though.

Honestly, I don't need the official app. I'm so loyal to Readit and u/CalebKeith that they'd have to majorly screw it up to lose me.

You can tell you are a reddit addict :D you just tried mentioning his name the way you would on reddit lol. Readit is awesome!

It's just easier that way, haha

Only tried the Baconit one, seems ok.

The official Reddit app for Android is nothing special. The 3rd party apps are better on both Windows and Android. Posted from my Moto X Pure Edition via the Windows Central App for Android

The third party apps are great. But we're windows fans so we don't expect anything else. We know there's difficulties with apps and we're willing to roll with it. Obviously news like this doesn't attract new customers but then this news isn't for them

I really wish people would STOP asking about a "Windows Mobile app" from these companies, instead ask about a "Windows 10 UWP app". One immediately makes developer eyes roll at the very small user base while the latter has nearly 300mil users and is much harder to immediately dismiss. Posted from Windows Central for Windows 10 on my Lumia 950XL

THIS!!!! A million times. I agree. W10m IS W10. If you ask for a W10 app and point out how many users there are, the response will be WAY more positive. There are alot of developers that still don't know about UWP. When they think of apps, they think only about iOS and Android. We need to be the very loud voice of the platform to educate those who just don't know.

UMP causes the same degree of eye-roll as Windows mobile does.

You got downvoted, but your post is correct. The ammount of Windows 10 PC users browsing reddit through an app vs their browser is likely pitiful, people here act like developers don't know this.

I do. I'm not a fan of the website and Readit looks so much nicer, especially with the dark theme.

Well, if their official mobile apps are of the same quality as their website, then we definitely don't want one. Our third party apps are superb. If it weren't for reddit apps, no one would use reddit. It must be one of the most god-awful websites out there.

Guys...we don't want official apps. Lol, it's the same old story every time we get news like this.

Coming soon, thats why I abandoned Windows Mobile, in Android you don't have any of these issues. I really hope the Surface phone in 2017 is going to support official apps for all major developers, this is the biggest issue on the mobile platform today.

Windows already supports official apps, but if the dev doesn't feel like creating one then there isn't much MS can do. After this last Build conference, it's pretty clear that any company that doesn't build an app for Windows 10 is doing so simply because they don't want to. The barrier to entry has been seriously lowered.

Why shoud Reddit make a special app for any Windows 10 mobile or Windows 8.1 smart phone when all they have to do FOLKS is make "ONE" MS "UNIVERSAL APP" and it will work on any Windows 10 Computers/devices including a "Windows 10 mobile smart phone". Folks Microsoft has put out the word for Apps developers to make the kind of universal apps that will work on all Microsoft Computers/devices including a Windows 10 monbile smart phone. Bussinesses and developers are now submitting their Universal apps that will work on all Windows 10 /Computers/devices including the Windows 10 mobile smart phone. the Microsoft "Universal Apps" are where it's at if you are a sharp developer you make "One Good ONE" and it will work on all the Windows 10 computers /Devices ect including a Windows 10 mobile smart phone. it's less work to make one MS Universal app than make special apps for windows smart phones/Tablets ect because a well designed MS Universal app works o a windows 10 mobile smart phone/Tablets/PC's ect . that is what Microsoft wanted developers who attended build 2016 to get into making.

I use Baconit. I want to know what goes through people's heads when they decide not to produce their apps for Win10. Like, do they just go, "Bah, I don't have a Windows phone, so who cares?"

It's called, Google and Apple have their hand in everyone's pocket

a browser goes to a website. it works.

What is Reddit?​, anyway! Oopss!
Windows Central Newsletter
Get the best of Windows Central in in your inbox, every day!
Thank you for signing up to Windows Central. You will receive a verification email shortly.
There was a problem. Please refresh the page and try again.