A refreshing early look at Sally's Spa for Xbox Live on Windows Phone in action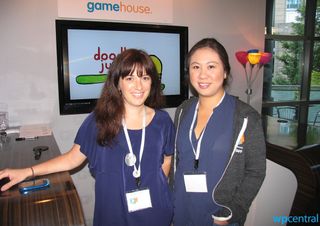 Lindsay Duffy (left) and Camay Wells
Windows Phone Central exclusively announced Sally's Spa for Windows Phone a few months ago, and now we're back with the first footage of the game running on our platform of choice.
"How?" you ask, filled with cat-like curiosity. Well, my inquisitive reader, Sally series publisher Game House had a major presence at Casual Connect Seattle, hosting not just a sizable booth but also a thumping pre-party featuring chicken and waffles, among other fine things. Aren't you dying to be a journalist now?
During the actual conference, Camay Wells, Director of Mobile Games Marketing, graciously demonstrated the game for us and showed off some of its new features. Spa-tastic video after the break! (Video link now fixed)
Sally's Spa is the sequel to Sally's Salon, a surprisingly enjoyable time management game. This time business maven Sally will travel the globe, establishing new spas wherever she goes. Enhancing the addictive time management gameplay are a variety of new minigames including Facials, Manicures, Bath Bombs, Hot Stone Massages, and other feminine activities. See most of those in action in our video - not to mention Survival Mode and the many of the game's Xbox Live Achievements.
Sally's Spa comes to Windows Phone very soon. We'll have the official release date and price before you know it!
Paul Acevedo is the Games Editor at Windows Central. A lifelong gamer, he has written about videogames for over 15 years and reviewed over 350 games for our site. Follow him on Twitter @PaulRAcevedo. Don't hate. Appreciate!
Yeah! Love me some sally! Mmm chicken waffles.

Ha ha, the party was much more fun with you along, dude. :)

hi. i tried to watch the video and it says its private

MMM, waffles...drool. Just had pancakes..mmm

Please Paul, Daniel, Rich and George:
Please, ask for Gamehouse they publish their games in the Brazilian Marketplace! We have so few games here, none of Gamehouse. The classification process is simpler than everyone thinks. I could help if they needed. Please help us.

Video private unfortunately

Worked fine in viewing it on my wp :-P

Now that the videos been fixed I can comment on the game. I really liked the first Sally game. But this look like a flop to me. That's because of the constant scrolling that totally kills this game. You have to have a good overview of what's going on and this game doesn't seem to do that. Will try it our when it comes but it looks as a no buy from the video.

I enjoyed the firsrt Sally (even though I didn't tell too many people about it due the subject matter)I found it very addicting. The Spa, makes me wonder if the scrolling will make it harder...

I guess time will tell when there is a demo released and I get to play the first level or 2 to see how it works out.

I do look forward to checking this one out..

Was that a beta version? Because honestly that looks about five times clunkier than the iOS version I've been playing for 3 years.

Okay, after watching the video again I was curious, so I downloaded the android port. It looks like both the Android and WP versions of the game are quite a bit different from the iOS game. Lower resolution graphics (the android version looked almost 16-bit in some ways), slightly different gameplay. In the iOS version there's no scrolling, and no cursor interaction. I also don't know if the demo lady was having a problem but it didn't seem like she was having very good luck with the touch interface.

I just watched another android demo, so I don't know if the lowered graphics in my experience were do to it being the lite version or not. Anyways, the point I'm trying to make is that the original iOS version has more intuitive controls, and no scrolling, I don't know where this scrolling business came from.

[url=http://www.youtube.com/watch?v=Q_joqTgA-W8]iOS Trailer[/url]
[url=http://www.youtube.com/watch?v=zjzW7FXzQSo]Android Review[/url]


Windows Central Newsletter
Thank you for signing up to Windows Central. You will receive a verification email shortly.
There was a problem. Please refresh the page and try again.