Relive Nokia's heyday with thousands of classic ringtones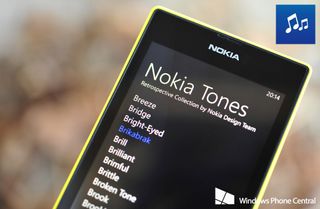 If you've been a fan of Nokia smartphones and other products in previous years, you would have experienced the wide variety of loaded ringtones. To relive those special moments, Aleksi Eeben from Nokia has compiled thousands of ringtones into a single Windows Phone app. What's more is you can even save these classic tunes as ringtones for your own Windows Phones.
It's really easy to get started, simply load up the app once installed, select the track you wish to either preview or set as your ringtone and hit the buttons at the bottom of the screen. You've got tunes ranging from Caprice all the way to Dance Floor. It's a strange feeling hearing notes that bring back some fond memories.
We're sure many of you Nokia fans will enjoy this app, looking back at hardware previously owned and installing some vintage content on your modern Windows Phone. Because this is a rather large collection of ringtones, the app size is 350MB, so be prepared to remove some games and personal media to make room.
You can download Nokia Tones from the Windows Phone Store for free. Be sure to check out the Nokia design team's SoundCloud page for more.
Windows Central Newsletter
Get the best of Windows Central in your inbox, every day!
Rich Edmonds was formerly a Senior Editor of PC hardware at Windows Central, covering everything related to PC components and NAS. He's been involved in technology for more than a decade and knows a thing or two about the magic inside a PC chassis. You can follow him on Twitter at @RichEdmonds.
Love the Nokia ringtones since my Symbian days. Can't wait to download to my ativ s!

Wow! Good remember!!!!! My Symbian was Nokia 6300, just perfect. After that was Xpress Music 5200 and 5800. Just good memories!

350 megs that is a third of a GIG!

They also have a website where the ringtones can be downloaded, but it is much more tedious to navigate. http://soundcloud.com/nokia-design-team

The great ol days. Downloading now

Ahhh, can't wait to relive the days of the polyphonic ringtone!

They're so much easier to hear than stupid mp3 ringtones!

I wish we could edit our own polyphonic ringtones! Just like the good old days.

Instant nostalgia overload!

Completely agree! It also showcases the degree of art and effort that the sound engineers went to in order to produce the beautiful sounds that millions of people listened to for years. Every phone call, text message, alarm, beep, all masterfully created.

+822 now I am really sad. Nokia (as we know) is going to die soon :'(

Or instead of wasting 350 precious MB, google "classic nokia ringtones mp3" and download the individual one(s) you want at a fraction of a meg each.

You speak as if we all have to worry about space. I have a 32GB 1020...space isn't really a concern - the convenience of such an app is more important to me.

+1520 16 GB
Really really need option to install apps to SD card.

I can't find a single site on google that has a good quality version of the morse code SMS tone.

You just can not understand. Maybe you never had a Nokia phone in the past (or now). But for people like me, who grow up with Nokia Symbian, those awesome phones ever… wow, now I am feeling to nostalgic. You just don't get it.

Nokia Lumia 920 32GB, no worries lol

Well that's weird I have had Nokia Ringtones (different to this one) on my phone for sometime. This morning it showed an update but that update went to some homework app!!! Which I don't have on my phone

Yeah I have that app and saw this crap in the update description. Didn't trust it. Guess I'm not updating it.

Is there any particular reason the application couldn't just download the ringtones you want rather than have to download 350mb of them?


350 well spent MB. Thanks for bringing this to my attention!

I was going to give this a try and then I saw it, 350mb!! Really??

Only thing missing are the old message tones.....

Aww really? I was downloading this app purely for the morse code SMS :(

Same here. Oh well I got some old tones anyhow.

Nice, but 350 MB is too much. Better to download some best of them separately from inet. Its easy to find them.

No room on my 16GB 8X :( - maybe when i get a 32GB lumia!

The mother of all ringtone apps!

I've been looking for a clean (not recorded with a mic) version of the original midi Nokia Tune tone. (Or whatever ringtones were called back then.) Finally have it! :D Worth waiting for the 350mb download... And a lot of the other ringtones are cool too.

Is the William tell ringtone on here??

Just what the Dr. Ordered. I always was somewhat envious of iPhone tones. They sound really nice and distinctive. This app is sure to make my 925 happy.

What? Except the OG iPhone ringtone, they all sound like shit. Especially the Alien one.

Lovely tones. Nokia Capella is now my new tone.

Oh man is Robot Nix or whatever it's called here? Downloading now!

WooHoo, I can get 2011 Nokia tone now, not the worse (imo) newer one. Need more time though to go through them all.

Have over 20gb free, tapped on install. But when I saw 350 cancelled it)))

Unused space is best space.

Agree to some extent. The file size is huge for ringtones... I wonder how many are there.

They have a website also, but it's much more tedious to navigate. http://soundcloud.com/nokia-design-team

I've been using Nokia since the 3210, wich I still have BTW, so of course I'd LOVE to hear again those classic ringtones! Ah, the good old days...

Nokia should have released an app for getting their old tunes from Sound cloud in the Black update and maybe added some more tunes. It feels a stupid with so many tunes when you only need a few of them, better to download the ones that you want. But I will download the app anyway, just to remind me of old memories.

This is great because if you save a ringtone from the list to your phone, you can then use it as an alarm tone or text alert (at least on phones with Update 3 installed afaik)! Respect to Nokia Design Team for all their work over the years :)

Got 32g on SD card (can't use, yet). And 20 sum' on OneDrive (stupid). Think one of these apps would go there! Prob solved Nokia.

Looking forward to the "always here" techno ringtone

I tapped Install and was greeted with, "You've reached the storage limit on your phone. Go free up some space, then try again." Didn't think I was back down to 638 MB. I guess I have a few weather apps to remove from my phone! LOL

WI-FI d.l. ONLY! Here I come McDonalds!!!

It's so annoying when the store forces me to use WLAN when I don't care about data usage with my unlimited data plan. :-( Why are they doing this? A simple warning would be enough to prevent accidental excess data usage for users with small amounts of data included in their plans.

Sweet my new 1520 doesn't have broken tone like my 920. Going to check out the rest too!

Planning on downloading app, saving the ones i want as ringtones, then deleting the app. Someone please alert me if that won't work for some reason! :) Appreciate it.

No it's cool. Save them and delete the app. They're still there. Probably how it's intended to be used to be fair.

Will definitely try this out. I've been using the "Nokia Tune" that came preinstalled on my Lumia 925. Might be time to change that now!

There's a website where you can look through all these and download the one's you want. You can visit Nokia's SoundCloud pages for more such ringtones and various sounds: http://soundcloud.com/nokia-design-team

I like the idea... But I agree that 350MB is too much.
Well, if you know the name of the ringtone, try searching for it through "free ringtones" from fast code... (you can save it to your phone)... That's what I did.

Pick what you want and uninstall.

How cool if only i could remember the ones i used to use!

Sweet ! Maybe finally I can get that ringtone from my dad's old 6610i (?) ... I always liked that ringtone , but both my 3510i & N-Gage didn't have it.
God I can't believe its been 12 years ... I feel old.

yay! have my favorite alarm back. glad this was not a nokia exclusive.

Uninstalling angry birds (star wars)...NOW! Why can't Windows be an efficient provider! Oh wait April update coming, April! Leak that SD thing now! Would rather get good stuff quicker.

Sweet. I like finding the simple tones for blips and bleeps. Go Kalimba!

Yeah, it's 350mb of high quality files - would you rather have low quality junk? So delete some of the crap you really don't need off your phones then delete the Nokia Tones app after you grab the stuff you want.

I love this...!!! I've spent so much time online trying to find a decent collection of Nokia ringtones...finally got it all in one beautiful package...!
Thanks Nokia...you sure know how to keep your fans happy...! :')

Too bad you can only use custom ringtones and not ones for text message, alarm..

guess you haven't received the Black update yet

You have been able to set custom tones for alarms from day 1 of wp8....(don't know about 7) Have had Koh Ohtani's swift horse from shadow of the colossus ever since i got my L920. Just drag and drop into the ringtone folder via a pc...

My personal favourite- humming bird, used it for 8yrs!

That is quite alot, then again there is an insane amount of tones in that app :p.

feel great listening to these legend ringtones... I guess its the right way to win back all the lost users by playing such ringtones on our Lumias

It would appear that a lot of people are searching for the pre-Amber stronger Nokia SMS tone as well.

None of the classic original tones in this program. Look up my post in the forum on original Nokia tones... http://forums.wpcentral.com/windows-phone-ringtones/228856-original-noki...

For me, the olden nokia ringtones were golden, new and modern ones are sh*t pieces... Gonna download now!

'Floating' is another favourite of mine...it used to be there on e 71...but I couldn't find it in on the e 72...looked like they had discontinued it with the next iteration...finally found it again...:) :)

Sure brings back memories, heck i think i have my old 3510 in a drawer somewhere! Lol. I never thought I'd be able to adjust to the E61 keyboard but surprisingly it was sooo good and easy. Which i still have lying around somewhere...

I really like the Mosquito tone, back in the days of 8210. Am downloading the app now, hope it's included in it.

Nokia is epic. Sadly MS will destroy them.

Thanks bringing back some good memories in the Symbian days with my Nokia 6233 and xpress music 5800

Alablaster was the best on wp7 and sadly was removed from wp8.