Relive some video game nostalgia with Game Quotes for Windows Phone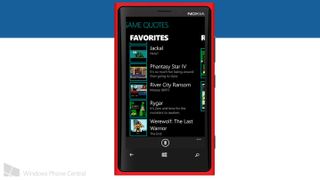 Sometimes an app comes along that is so niche we're not sure to post it or not. But Game Quotes is one we can definitely get behind. It's fun, free, and hits our heart right in the soft spot filled with nostalgia. Let's check it out.
Game Quote is a nifty little app that, surprise, gives you game quotes for old retro systems and games. Turn back your memory to the days of arcade games, Sega Genesis, Master System, SNES, and NES to get an idea of the game quotes you'll be getting. The app has nearly 700 funky quotes from games: like the infamous "All your base are belong to us" from Zero Wing. Here's what the app gives you:
Live tile
Pin quotes to your start screen
Add favorites
Save images to your Photos library
Share through all your social networks
The app allows you to browse for quotes by game system and game name. The app will also feature a daily quote. It's a free app that allows you to relive some of the weirder quotes from back in the day when game translations didn't exactly produce high quality results.
You know what else is super interesting about this app? The story behind how it was made. The app comes from a guy who develops on iOS. He saw our article on starting out developing for Windows Phone 8. He followed the links and started the videos with no knowledge of C#, XAML, Visual Studio, or the Windows Phone SDK. After a few weeks of learning and coding he created Game Quotes, which is now in the Store. Congrats and welcome to Windows Phone. Keep learning and creating.
You can get Game Quotes for free if you're running Windows Phone 8. Grab it in the Windows Phone Store, use the QR code below, or swipe to the right in our app.
Get the Windows Central Newsletter
All the latest news, reviews, and guides for Windows and Xbox diehards.
"All your base are belong to us" I loved it when someone would scream that over chat in battlefield

After today's apple event, maybe he will stick to building WP apps

I like this app. Fluid, well laid out...and kind of hilarious for subject matter. Recomend.

I can't believe they haven't developed it for wp7. Damn it's not a video streaming solution, it's a simple app!

Developing for WP8 and WP7 is not the same thing.

For this kind of app, there's no difference. Take your time and try visual studio 2012. I know wp7 it's a legacy Os and the developer didn't want to waste his time, but this could be achieved with minimal efforts.

Hi! I'm the dev. Sorry, I wasn't trying to neglect WP7 users. I'm admittedly a WP dev newbie and didn't even think about WP7 support (File > Project > New and the default option is WP8, so I just went with it). I will try to add WP7 support in the first update.

Surprised no one has posted the infamous lock pick quote from RE1 in honor of this app, lol

Ha, what a fun app, but it's selection of Sega Genesis and Master Games is way way way too small. No Streets of Rage? Golden Axe? And for Pete's sake, Michael Jackson's Moonwalker alone had enough creepy quotes to warrant its own app. Update this baby with more quotes from old Sega games!

You should also be able to swipe to quickly cycle through quotes. As of now you have to select a quote, then hit back, then select a new one, then hit back. Should be able to just zip through to the next quote by swiping in from either direction.

This post gets +buh-zillion for having a bionic commando reference quote in the image!