Reminder: gMaps Pro free on Friday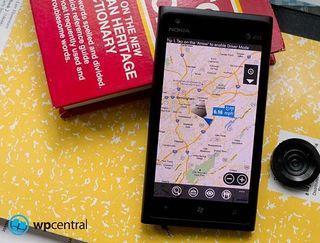 While gMaps Pro vanished from the Marketplace a few weeks ago, it's back but with a slight snag. After dealing with copyright issues and re-branding/updating things, the app was restored to the Windows Phone Marketplace as a new submission. This basically means that if you had previously purchased gMaps Pro, you won't be eligible for any future updates without re-purchasing the app.
To ease the pain of the situation and to celebrate the Marketplace reaching 100,000 apps Alexey Strakh, gMaps Pro's developer, will be offering gMaps Pro (regularly $1.99) as a free app for tomorrow (Friday, June 8th) only.
We have to tip our hat to Alexey for trying to make the best of a not-so-good situation. For those who purchased gMaps Pro before it was removed, nows your chance to get the current version. This will enable you to stay current with all the updates as they become available without the need to re-purchase the app. Everyone else... you get a heck of a deal on a nice mapping app.
You can find gMaps Pro here at (opens in new tab) the Windows Phone Marketplace. We aren't sure when the pricing change will kick in so if you don't see it right away on Friday, check back later.
George is the Reviews Editor at Windows Central, concentrating on Windows 10 PC and Mobile apps. He's been a supporter of the platform since the days of Windows CE and uses his current Windows 10 Mobile phone daily to keep up with life and enjoy a game during down time.
I don't know if this has been pointed out yet, but since I have access to Microsoft ExpertZone I thought I should point this out; as currently they are running a sweepstake on when the WP7 Marketplace will hit 100,000 apps and everyone has said June 5th so this is their response:
[Please note: Some of you have mentioned a June 5 blog post saying we've already hit 100,000 apps. However, this number includes apps that are no longer available. Microsoft's official count includes only those apps available today, and that's the count we'll use to judge this contest. As of June 5, that count was around 92,000.]

So people shut up now.. No more comments! ITS FREE NOW, in US.

Isn't this app using Google? Ehhh!

Nokia maps is excellent , no need for google maps

ONLY if you have a Nokia phone or if you are fine with the limited functionality of Bing Maps.

Who needs this when the built in functionality is just as good if not better? Oh well at least it'll be free.

Because the built-in maps don't have even half of the features!

Features that gMaps has that the Bing Maps doesn't:
Cycling directions, Public Transport directions, Terrain view, Hybrid view, Water overlay view, Public Transport map overlay, Traffic overlay, Weather overlay, Cycling Paths overlay, Compass overlay, Google Latitude I believe Traffic and possibly Public Transport is available in the US on Bing Maps.

Who cares about even half that stuff

To clarify I use:
Cycling directions, Cycling Paths overlay, Public Transport directions, Public Transport map overlay, Traffic overlay, Compass overlay I don't use: Terrain view, Hybrid view, Water overlay view, Weather overlay, Google Latitude

Some of those features, such as Traffic and Hybrid, are in the built in maps, and not just in the US. The more detailed traffic actually started showing up on my maps the day they announced it.

What country are you in? I've only heard of US & Canada getting those extra features. No changes for me in Australia. Not surprising as we still don't have all the Bing Vision features unlocked.

Not in China yet, I still only have major highways and nothing else on my built-in maps.

I have absolutely no use for gmaps but I am addicted to downloading the free stuff

LOL! Free stuff sound good to me.

Stop the hate and use the thing if you want. If you don't want, don't hate unnecessarily. I'm sure most of you use google maps on your PCs.

Nope, Bing maps and Nokia maps for me.

No, actually, I have not used any google services in years, and why should I?

No, don't use any Google product. But there sure are a lot who do.

What does this have that Bing Maps doesn't? I'm just wondering.

in other countries, Bing Maps isn't as good as google maps. you can only see national road, i.e. vietnam ... =.=

Bing and Bing maps are not as great as Google's offering in Canada. I use both (Bing on WP7 mainly and Google on the PC) but Bing just hasn't lived up to the standard. The search is just not that great for me personally and the maps are a little behind Google's offering. That's not to say that they are bad, it's just that they don't work as well as Google's.

Places. Bing and Nokia maps maybe only have about 10% of the poi that google maps has. It's very annoying if u search for a poi in Europe and Bing immediately jumps to north America....

Public transport, traffic, weather, street view, google latitude, bike paths and directions etc. (Some US & Canadian peeps may have Traffic)

Bing has traffic and some street view.

Because it's going to be free Friday....

For me it's over half way through Friday (2pm) and still not free. It's difficult having a 1 day sale due to different timezones and the amount of time it takes to propagate price changes.

It's nearly 3PM in Europe and I'm pretty sure it's Friday all over the world at this point...still 2€

Quick question - does anyone know if this app has Transit directions?
That's the only thing Google Maps has in Canada that Bing Maps doesn't have.

Yep! Well it does for me in Australia, and not in Bing Maps

I use Bing maps actually, ever since I started with windows phone. but free is free, and its bragging rights to say one has gmaps on their wp as well.

I use Bing maps all the time when I need to find where I'm working next and it works great. But free is free and most of us can't help it=)

Bing map is good, but the app black out after a period of idling. Annoying!

Bing maps are garbage no matter what the M$ fanboys might tell you. Some of you are simply pathetic, hating Google for no particular reason. WP7 is good but it could defintely use good apps and services to make it better.

Anyone who puts a $ sign in MS or any other company is the ignorant pathetic idiot. Grow up.

Yeah, I am a troll, is that why I am using a Samsung Focus posting on a Windows Phone forum ? So anybody disagreeing with you is automatically considered a troll ?

It's the way you deliver your msg that annoys me. I use a lot of googleservices and appreciate them.

Crap... Paid for it yesterday

Its Friday and its NOT free yet!!

I m still asking why gmaps changed his appid and not simply the name, if there really were google copyrights problems...
If u change the appid, users have to rebuy the app, as happened !! In my opinion google did not asked anything, it simply was a the developer publishing mistake (I hope...), he now wants to compensate this error setting his app free.
Hope the author can explain here ;)

It's already been explained in the WPC article that came out few days ago, and you can find further details on the developer blog... It's actually MS fault and not his. They deleted his app due to the copyright complaint and he had to resubmit it as a new app.

Original article: http://www.wpcentral.com/gmaps-pro-returns-marketplace
Post from developer: https://www.facebook.com/gMapsWP7/posts/247749548667049

Just for capitalization's sake. It's "Now's". Just sayin'.

You wouldn't capitalise after a comma... But it was missing the apostrophe

Still not free in Singapore...

Still not free in Malaysia

We have been had, it is still not free yet, wtf ? Hoax for free advertisement ?

Not free yet in Malawi, & this is about noon.

Still not free in Sweden either.

Every time I try to check directions, it takes me to the google browser page...help

Almost end of Friday here O_O

6:00am New England time the app is still not free. None the less the app looks very good.

Yeah, direction doesnt work over here too... Still not free, trying the trial version.

just checked and seems to not be free

7:00am New England time...still not free

Still not free in uk@12.05

Can the developer directly make these changes ? Like whether or not the app has to be free , and changes reflect in marketplace right away ?
or
He has to submit the changes to MS and it takes some time to be effective? If the case is former , WAKE UP DUDE !!

Not yet free in INDIA to............


Not yet free in NYC lol. I don't really need it now since I have Nokia maps but I did pay for it the first time around and I need some sort of compensation

Not free yet, what is taking you sooooo long ?

Please inform me when it will available...


Still waiting...not free yet grrrr (NYC)

Thank you all for telling us every 10 minutes or so that the app is not yet free -_-
Price changes have to propagate to all markets and may take a while. Depending on Microsofts mood, this can happen in the course of a few hours or a few days. In the case of the luqid daffodil freebie a few days back, it took MS almost 48hours to propagate the price changes.
So: Patience is A Virtue

That's all nice and dandy, however the freebie period is 24 hours here if I read it correctly. Do you see the problem already or do you need a clue bat?

Price changes need time to propagate both ways, so... Yeah give me that clue bat so I can hit people.

Would those "people" include you too? :-) but yes, I do see both sides! And btw......its still not free where I am! stayed tuned for more updates in 10 minutes...

Guys plz update in this thread...

Man...people need to learn PATIENCE

But it says free only on Friday....

For me it will be Saturday in 4 hours... hopefully the change from free (whenever it comes through) back to paid will also take some time.

Its free now......
No just kidding lol still not free :)

Not free yet here in the usa

Not free in Tunisia and it's 13:26 !!!! The day will be soon over lol

Still not free here in Indiana in the USA

USA is a free country, but the app isn't!

Bazinga.
Seriously, its not free yet on central time

Does gMaps Pro integrate with the calendar and offer me a "Get directions in gMaps Pro" or does it give me directions to my next appointment, or what is it that a mapping app needs access to my appointments for?

I'm suprised no one has mentioned it's no free yet.

Still not free in UK.
Has anyone already mentioned that. ;)

Still not free in Philippines...Bing/nokia maps here in my city sucks, street name and layers are all messed up, so I prefer google for this matter

I think no one mentionned it was not free in Canada, had to sayt it :D

not free in spain also xD

Almost 14.30 in the UK and the app is still listed as £1.49

My Nokia drive works better then garmain nuvi.. But if I get the gmap pro free I will be able to use it in Japan in 2 weeks time.

When does this become free again?

It's 9:36 and it's not free yet :-P

I don't know what is more ridiculous. The people posting here that it isn't free yet. Or those people actually rating it with one star because it is not free yet...

I would imagine it's the same people, really. So they are being ridiculous twice. If I were a developer, I would think twice about doing something like this again. People are forgetting that he is giving away his paid app for free and now seem to think it is their right to have it...

You mean the people who dont ALREADY have it need to remember this - the ones that do and would otherwise have to buy it AGAIN don't! Its the least he can do - im not paying him twice! Have u seen the gas prices in California?

light up grumpy old zacman, its friday

so, "It's friday" is now an excuse for acting like an idiot?

i'm reporting that is not free on my country. Is that acting like an idiot to you? If so, well, we have different points of view =).