Reminder: Groove Music Pass shutdown in its final stretch
Save your music now: Groove Music Pass and purchases are in their final days.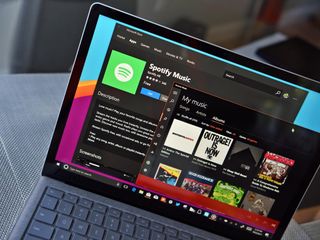 (Image credit: Windows Central)
In October, Microsoft announced its plans to throw in the towel against Spotify and gut Groove Music of its streaming and purchasing features. While the shutdown wasn't immediate, Microsoft did state the streaming portion of Groove Music, as well as music sales, would end on December 31. With the cutoff just a month out, Microsoft has now started sending out emails to Groove users, reminding them of the service's impending end.
If you purchased any music from Groove, you'll want to make sure you've downloaded your tracks by December 31. You can do so by navigating to your music collection in Groove and selecting the "Purchased" filter. Right-click on your purchased tracks and select download to save them.
If you're a Groove Music Pass subscriber, you'll also want to find an alternative ahead of December 31. Microsoft is guiding people toward Spotify, offering an easy mechanism to transfer music and playlists between the apps. You'll have until January 31, 2018, Microsoft says, to move music and playlists from Groove to Spotify using the link from within Groove.
Keep in mind that the Groove app for Windows 10 and Xbox will continue to function and see updates. However, you'll only be able to use the app to play locally-stored music or stream your own collection from OneDrive. The features being removed include Radio, Explore, Recommended, store purchases for music, and music video playback.
Have you made the jump to Spotify or any other streaming service yet?
Dan Thorp-Lancaster is the former Editor-in-Chief of Windows Central. He began working with Windows Central, Android Central, and iMore as a news writer in 2014 and is obsessed with tech of all sorts. You can follow Dan on Twitter @DthorpL and Instagram @heyitsdtl.
I've tried making the jump to Spotify, but the app is just so bad. I can't stand using it. So I'll probably just move my music to OneDrive, keep using Groove, and use Amazon for music purchases.

I said the samr.thing, but question is, how long before Nutella.just shuts Groove down all together?

I though the same thing at first, but Spotify capabilities are winning me over. The ability to fire up Spotify on my Xbox, and control it from my Android is awesome. To add to that. I can grab my phone, connect to Android Auto and continue listening seamlessly. My only real complaint with Spotify is the 10K song limit.

Man, so glad you said that. Count me out now. I was tempted to switch but I can amass over 10,000. There was a service I used years ago that I had to abandon because of that so I'm way beyond 10K now

Spotify has a 10,000 song limit for single songs. Albums are not counted in that limit. There is a limit of the number of albums you can save, but I'm not sure what that is off hand.

Yeah, the app is bad even on Windows 10, and as a service, it doesn't work for my that well. My only hope is for better integration with Windows 10, especially regarding to Cortana commands. Which it should promptly have, I assume they work already in the Harman Kardon Invoke speaker.

You gotta have premium account to use on Invoke ☹

Well you get to pick and choose any song you want to play, so what do you expect? While I subscribed to Groove Microsoft didn't give us a free ride either. The sad face is pure drama dude!

But on Groove you didn't need pass subscription to play your own music from OneDrive.

$1 trial for three months, and students get it for $5/month.

Yes, Spotify works fantastically well on the Invoke.

I find Spotify a really good app if you have a desktop OS, but a very poor app if you only have Mobile device. If something can keep PC's relevant for consumers in the future is Spotify.

Da fuq, man!!!! The Spotify app blows hard!! This sucks!.... We need weekly updates starting YESTERDAY!

Tha Surface Scribe is gonna need a decent music experience.

I love how they state they are partnering with Spotify. I guess it sounds better than the truth which is Microsoft doesn't have the fortitude to compete and has bowed and declared alliegence to its new overlord in this sector, Spotify. Always praise the overlord and tell others to do the same.

Wish they would patch Forza Horizon 3 with Spotify integration.

According to their recent notification, it seems like you will still be able to access your previously purchased tracks on Groove. Have a gander: https://twitter.com/gregsedwards/status/936476489880621057 That may mean it's not as critical to download your purchased music before December 31. I've grabbed mine just to be safe, but I'm not sweating it. Mark my words, we haven't seen the end of this story yet. More interesting stuff in store for Groove in 2018.

The full press release, and the app banner, clearly says you need to download all purchased music prior to Dec 31. That twitter notification might be referring to puchased music stored on PC or uploaded to OneDrive. It says nothing about streaming purchased music, so I would not advise anyone on missing the target date.

What is frustrationg is that a few of my albums, but within the last few months, are "no longer available to download" or stream. This is the issue with a digital future, licensing sucks.

Which is why I always buy physical when available, or drm free downloads

It happened to me that one of the albums I had bought is no longer available, so I even lost the chance to download it to my computer. This is beyond Groove or Microsoft, though it's probably a result of the few users this service might have had. I still like it better than Spotify.

I found same issue, for some reason my Xbox music purchases dissapeared and now only the Groove purchases (after 2015) were available for download. Fortunately I downloaded my albums back in 2014 but for people which didn't do this, they will have a big issue.

I have the same issue, I can't believe I purchased albums (I think I have 3) that I can't download anymore. What's the point of purchasing media in the cloud if they can take it away anytime? I smell a future class action suit; I still won't get my music, but some lawyers will get new cars...

True. I'm going to back mp3s. Streaming sucks. It sucks when my favorite song or album suddenly disappear or become not available. I also have to worry about the streaming service itself shutting down one day.

You can add your mp3s to your Spotify account.

I've already paid for Tidal, then Deezer Family and now I'm paying Spotify Family. Imo Spotify does the best, it's just sad Deezer doesn't seem to care about their Windows app that much...

I'm not downloading none of my albums on groove

Does that mean you are downloading all of your albums on groove?

What's wrong with you? Can't you read? He clearly said that he is am not for to downloading none songs.

Seems so. If he'd said "... on no Groove..." that would have flipped the bit back to 0.

Any one who has any recommendations for a new streaming service? It needs to have the same kind of functionality where you can upload your own music to the cloud, and stream it seamlessly.
I have a lot of indie music.

Supposedly you will still be able to upload music to OneDrive to stream it to your devices.

Google Play Music. You'll be able to upload up to 50,000 songs. For free. You don't need to even pay or sign up or anything. Just upload your music and you're set. Then install the Play Music app on your phone and you'll be able to either stream that music or download it for offline play. If you have a Chromecast, then just cast the music to your TV or stereo. This is without paying a nickle. If you choose to pay 9,99 per month, you'll get access to 40+ mill songs or something (same as Spotify, Groove, Deezer, Apple etc), and YouTube Red (if you're in the US). I personally use Spotify as my main music app, but upload rips etc. to Google Play Music (so I can tag, and sort it), and then download/upload it so it is backed up at Microsoft + Groove.

Does this affect the video viewing aspect?

I switch to Spotify, but the app very bad compare to groove music.
The problem is the rest apps not good enough even for spotify. P.s. Game my refunds money for groove music, for me and wife.
Rip groove music, i gonna miss u

I tried Spotify, but the app isn't all that great. I've been pretty happy with Deezer.

Very strange. Got the email reminding me to make sure I downloaded everything I purchased. Followed the procedure and it downloaded just some tracks from a few albums and some other albums I never purchased or even ever heard of the artist. Not too worried since I had downloaded anything I bought immediately when I acquired it.

And, partnering would also mean that we would be left with a decent music experience, which we're not.
...........
MS saying they endorse the Spotify apps available in the store is like MS saying they are a second rate software company... MS can't seriously leave the music experience on Windows this jacked up. No way.

Is features like show artist art in now playing and Cortana's ability to recognize music will exist because they were dependent on music catalogue of Groove.

Is anybody switching to Amazon's streaming service? They have two now for some reason. One is just pop music and they came out with another a few months ago that is a direct Spotify competitor.

HK Invoke would be great if it could just stream or play music from your OneDrive.

Agreed, that's a big missing piece. I'd have to imagine that MSFT has at least seriously considered it.

Spotify on Invoke is really good. It recognizes any title and artist I've thrown at it, including french and mexican singers and songs. Very impressive. You can also cast from the Spotify app or website on the PC to Invoke. I'm on the $1 for three months trial, and it's outstanding.

As much as I didn't want to, I made the jump to Apple Music. Spotify blows chunks if you have a large local collection as it just puts everything into a large folder called "Local Music. You can't even organize it by artist, album, etc. It's embarrassing and useless. I tried out Amazon Music however their desktop application doesn't allow you to download music for offline listening, only their mobile app allows that for some stupid reason. So yeah, Amazon was right out. I didn't even bother trying out Google Music since on the desktop you need to use a browser. So yeah...Apple Music was the only one that offered every feature of Groove Music that I became accustomed to.

Spotify works in just a few European countries so I can't even get the pass for it. I love the Groove and can't understand why they are killing it! The developers of the Groove really did a good job.

I appreciate this article because he's helped me to get ready for migrating my music. I've justed downloaded all my purchased music. After I perform the migration, how does the Groove app change? Can I use the Groove app to rip CD's?

Groove was one of the few apps that really gave a quality experience on Windows 10. It really showed what Windows UWP apps could do. Killed by constant reboots (like Windowsphone), lack of global availability, no desktop capability for Windows 7 users when launched as Xbox Music, no family plan, no advertising or promotion. I wanted a family plan so I could pay for my wife's music so I had to move to Spotify years ago.
Windows Central Newsletter
Thank you for signing up to Windows Central. You will receive a verification email shortly.
There was a problem. Please refresh the page and try again.