Replace Missing Sync with SyncMate?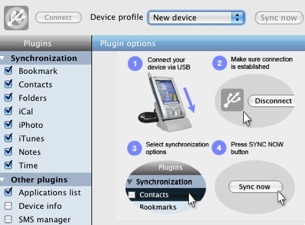 It looks like there's a new contender for syncing Windows Mobile phones to Macs. The latest software from Eltima, called SyncMate (opens in new tab), will do all the fundamental desktop syncing tasks for the low, low price of $0 American. SyncMate is a version 1.0 product, with the practically-necessary-nowadays "Beta" tag after its name. It requires Windows Mobile 5 or 6, and a Mac with OSX 10.4 or later.
Though I've long lobbied for the use of a Windows Mobile phone to actually test stuff like this before I report in Dieter's absence, success eludes me. I don't know if this will work with Palm's "secret recipe" threaded text messages on the Treo 750, or really if this will work at all, caveat emptor. [via]
Windows Central Newsletter
Get the best of Windows Central in your inbox, every day!
I noticed you crossed out "or later". Is this not leopard compatible yet?

yup, this is not leopard compatible yet.

SyncMate is Leopard compatible. You can see more information here: http://www.eltima.com/products/syncmate/

Eltima Software finally released SyncMate vers 1.1: http://mac.eltima.com/sync-mac.html
SyncMate is offered at Standard Free Edition and at Expert Edition with especially attractive features.

SyncMate team is glad to announce that SyncMate supports Entourage and Google Contacts and Google Calendar synchronization. You can download its Free Edition here: http://www.sync-mac.com With Expert Edition you can sync your mail on Mac with Outlook on mobile device and synchronize Tasks in your device with To Dos of iCal on your Mac. You can view the difference between Expert Edition and Free Edition at comparison chart here: http://www.sync-mac.com/syncmate-expert.html

Eltima Software has released SyncMate vers 1.4. Now you do not have to unlock your device in order to install SyncMate! Just download it and use! For detailed information go here: http://www.sync-mac.com/

syncmate expert is better than missing sync
in syncmate you can mount the ppc/smartphone, unlike in missing sync
btw, please go to www.xvideos.com
it has videos of me