'Reset App' option reportedly coming to Windows 10 Mobile in Creators Update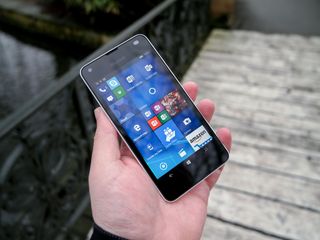 The option to easily reset an app to a fresh state may be coming to Windows 10 Mobile with the upcoming Creators Update. Italian blog Aggiornamenti Lumia has managed to get its hands on some screenshots that show the feature in an unreleased internal build of Windows 10 Mobile.
As the report notes, the Reset App feature would allow you to essentially return an app to its freshly installed state without having to uninstall and reinstall the app. This could come in handy for a number of things ranging from clearing up errors to flushing data from a device to free up space.
According to the report, the button appears in the Advanced app options in the Settings menu. Pressing the button will then let you quickly wipe the data for the app in question.
Aggiornamenti Lumia claims that this feature will arrive with the next Windows 10 Mobile Insider preview build alongside some other, more minor interface tweaks. It's likely we'll see a new build arrive sometime later this week, but we'll have to wait to see if the Reset App feature tags along.
Dan Thorp-Lancaster is the former Editor-in-Chief of Windows Central. He began working with Windows Central, Android Central, and iMore as a news writer in 2014 and is obsessed with tech of all sorts. You can follow Dan on Twitter @DthorpL and Instagram @heyitsdtl.
This article assumes that uninstall and reinstall is the same but often when I do that as part of the install it says loading backup settings or something and goes right back to it's crappy self. So if this reset deletes that data, that would be great.

This option was long overdue as Windows 10 for PC got this option 6 months ago

Because RS1 main focus was PCs and RS2 and even RS3 main focus is Mobile so many features And UI from W10 PC will be coming to Mobile Devices ;)

RS2 - is creators update, the give f* all about mobile in this update...

this is part of Android since 2.1+ Microsoft should speed up

This has been part of Windows 10 since day 1. I agree that they're late bringing it to mobile, but I'm sure they had their reasons to hold off until now.

Nice to meet you again, resident troll.

What is Papples "issues" ? Always here always talking Android and always ******* Microsoft. Jeese man get in a Android thread.

What?? Always??? haha recently I was talking about APPLE, I mentioned Android maybe twice?! :) God Bless You

even so Windows have more useful features, like prevent an app from running in the background, does Android have it?

So is lag, and that hasn't inspired other platforms.

For example, Google Material Design was inspired by Microsoft's Windows 8 Metro UI

Yes, before metro iOS and android looked like cheap childrens toys.

Yeah but Android isn't Windows.

nope, just common sense :))) i just said a FACT, Microsoft should hurry up because the platform itself is developing slowly and the app gap is getting bigger and bigger. Guess why? Because Microsoft is sloooooooooooooow

Personally, I think that apps shouldn't need this feature at all.
The developer(s) of the app should take care of any exceptions that can occur and try to repair.
Sure, the button can exist but only as a last resort.
My experience of apps in Windows Phone and Windows 10 Phone is that apps are often sloppy built hence this kind of buttons starts to appear.

Android has had it for ages apparently so I think it's pretty common amongst Mobile Operating Systems these days. Not sure if iOS has it but I wouldn't be surprised if it does - I don't think it's in Windows 10 because people who write apps for Windows 10 are more sloppy.

And I think it is silly to rely on developers to fix things. OS should always provide tools for users to do what devs are too lazy to do.

Whoa, this will be amazing. I've had a few apps flake out and can be difficult to have the developer duplicate the issue (depending on what version it was upgraded from). Being able to put it back to a blank slate has a lot of value.

Very handy! Right now there isn't even an option to reinstall from the store - you have to uninstall it.

This will be great for when you need to reinstall a several hundred megabyte game for whatever reason, which has happened to me multiple times.

Speaking of reset, whatever happened to Windows device restore tool? It disappeared from the store and I have yet to see the return. I would love to put my 1520 back on Windows 8.1 but I can't.

This tool? https://support.microsoft.com/en-us/help/12379/windows-10-mobile-device-...

Ever try using Bing or google to find it. It's in the MS support section. Always has been.

I think @remedy378 is still stuck at a time when people used Yahoo and AltaVista (late 1990s)

Much needed for Facebook App.. Occupies more than 1GB storage :(

Well unfortunately that's Facebook's doing. They want you to have at least 1GB storage for the app and at least 2GB RAM to run it

You should try Slimsocial,this is just 1mb app and it has also dark theme for facebook!! Also very smooth

They must choose to cache all the things

Good tool for taking control of the Facebook app :D Sometimes it's more than 1 GB for me :O

Oh yea? I thought this was already a feature. Seems a bunch of apps like to simply wipe my account data every so often. Glad to know it'll be a standard feature /s

Ah finally! Was so surprised to not find it in AU mobile SKU when the feature was available for PCs.

+1 for referring to Mobile as a "SKU" (The way it should be referred to when it comes to Windows 10)

When will we get to keep the install file for the app we purchased? Why does Apple have a system where you can keep the app and Microsoft store apps sometimes just disappear without the ability to back them up?

That's not true, and apps don't just disappear. You open the Store app and select My Library from the menu to install any app that can still run on your phone.

Uh, you can't keep files from Apple if their manifest is revoked. You can see all your history on Windows though.

This better work on default apps as well. Calendar live tile not updating has been driving me crazy for months.

Why don't you try out Cal or Simple Calender? Live tiles for these apps are very informative and fairly reliable.

Nice. Hopefully this will solve some issues.

OneDrive has "reset app" now, under "about" in settings. Regardless, this will be a good addition.

Thanks for that information, I just reset Onedrive on my 950xl as I've been having problems with not being able to see the contents of the photos file, only on that phone. Could see it on my other devices. Anyway I reset it and it was immediately fixed. Thanks again 😊.

I just started having problems with OneDrive as well. I don't see the option. only reset device. Are you on fast ring?

No production, 14393.448.. Go to Settings -about- reset app.

Its not "reset app" its "reset phone" IN THE SETTINGS APP

No, that's the phone settings.. Open the OneDrive app -tap hamburger - tap settings- tap about OneDrive - tap reset app.. This gives you the choice. At least it does on my 950xl, production build and on my 730 on insider builds.

Sorry bro,i was talking about the settings app and you were talking about the onedrive app

No prob matey, It's a really useful setting to have though, as you can't re-install those apps. It's the first time I've ever had a problem with OneDrive on the phone, but it saved the bacon. :-))

Yeah you are right,there are also some 3rd party apps having this feature,but I don't remember 😅

Oh OK I see it in there. My issue was OneDrive wouldn't load so I need that "reset app" outside of the app itself!!! That would be much more useful. Recently, I went a week with not being able to get into the OneDrive app until an update happened and that fixed it.

Hopefully we'll get a new build this week.

With lots of new features may be for Mobiles ?

I'm hoping to see the Continuum windowed apps feature make it into builds before the end of the year. If it's going to release in Feb/March as planned with RS2 (and not be delayed to RS3) then they must be getting somewhere with it. I'd imagine that feature has been getting worked on for quite some time in the background as it's a major revision to the current Continuum experience - I just hope they release with RS2 as planned and don't push it back to RS3 as a feature just for newer handsets (To do that anyway, they'd need to release a phone with top end specs so I'm expecting it to work with the current models and RS2)

FINALLY. Was pretty pissed when they got rid of letting us delete the app data.

OneDrive mobile app already has this feature

Well well.. Finnaly we take it !

I don't always reset my apps, but when I do, I hard reset Windows 10 Mobile.

This is great news, especially those apps that you can't uninstall.

Holy **** YES. Facebook, Insta and Mess has taken up too much space in my storage

If you use their WebApp you can inspect the code and have more control

About time! FINALLY!!! :)

We also need a native option in the Settings app where a list of apps will be provided and we will have OPTIONS for INDIVIDUAL APPS like : 1. dark\light mode
2.app reset
3.app lock
4.live tile
5.launch
6.unistall
7.individual apps battery usage
8.individual apps notifications settings and even more This would be good where all the things for an app would be at one place and not messed up in different places in Settings. ;)

Finally a great feature from the desktop version trickles down to the mobile version

So we can use this on the Windows Central mobile app that still fails to send notifications daily?

Not just a WC issue, delayed notifications is a systematic issue on win10m, I get delayed notifications for a multitude of apps and in some instances none at all for example the new MS Authenticator app, I have to manually go into the app to approve 2FAs.

Are you still getting that notification issue on the production version? When I was on the beta they stopped working but I was hoping the production version of the app had sorted it out.

Funnily enough the beta gave me better notification performance than the production version. Hoping its resolved quickly as its counter intuitive atm....

Thank you for the info. At one time I had notifications for all my apps, now it's like a whole difference phone. I didn't mind the app gap as long as the messaging was on point. Now I can stop fiddling with this device, it will never be the same.

Cool, but what I really want is the ability to rollback to a previous version.

If you are talking about an app thats not possible and why you will want to go to a previous version of an app,there are always improvements and bug fixes in the newer version?
And if you are talking about rolling back to previous W10 build that's too not possible ;)

this is great. it was necessary .

My built in Xbox app is messed up and can't use it for the only useful reason I have for it. Texting. So since I can't remove it would have been rather useful right now. I'm sick of resetting for the silliest reasons my phone. And this takes the cake.

As a workaround for now, grab the Xbox (Beta) app, which can be uninstalled and re-installed if it happens again. It tends to be as stable as the non-beta version for me on both PC and Mobile

They should enable the option to change system font

I think you can scale the font size, which I think is enough. I know it's personal preference but how many Samsung phones have you seen with that horrible comic sans style font enabled? Sometimes people need saving from themselves haha

This would be nice, seeing that my messaging app suddenly started to become buggy and crash everytime i tried opening it. Does anyone else have this issue?

Hello. If you're talking about WhatsApp...yes, sometimes it gets slowed down and harder to type with the keyboard unless you shut it down and reopen after looong minutes. Lumia 640 in 14393.448 :-)

ReJohnStrk
I guess WC doesn't keep data,unless one saved articles to offline list.Right?

I think u can clear cache in WC app

Please write the full name of this app

Why are we just getting to this... If it was always possible?

It will be very nice if it's enable on window phone too

While this will be a welcome addition. It should just be built into the OS a la android, W10 on the PC.

All this talk about what's coming to Creators Update and so far only 3 builds into it. I would like to see MSFT do less talking and more doing.

Sorry for OOT Sent my Tips to Windows Central on Nov17, 2016 Dear Windows Central, I just found a simple shortcut gestures for opening feedback to all apps installed on W10M.
I assume it is applied to all apps How: (Updated on 20161117)
Feedback Hub version 1.1610.3143.0
Once you open an app, press Power Button + Volume Down Button simultaneously. (On previous version of Feedback Hub on W10M:
Press Power Button + Volume Up Button simultaneously, and then press very quickly Volume Up Button one more time). My current W10M version is 10.0.14393.448 on public release. I do not know whether this news is old or new to Windows Central, but I think this shortcut is very efficient to use and comprehensive. Note:
1.
Your Feedback settings need to be Enhanced or Full
2.
Open your choice of app and if you want to send feedback just press Power + Power Down simultaneously
3.
Feedback screen will open on your W10M device and if you press the "+" sign on the upper right corner, your current screen will be attached on the Feedback screen automatically. How nice
4.
If you open the Subcategory on Feedback, you will be able to choose selections of every app installed in your W10M device. How convenient Hope it is useful

If the app is no longer in the Store is it safe to do this? I have a BLACKBERRY Messager app that I'm quite fond of and this would be a deal breaker.

Sure no problem but just to clarify I'm a inside programme participant so this inconsistent might be an issue there

Very useful for people using Osmeta Apps

Good, I hated having to essentially do a factory reset every time a stock app broke.
Damn simplicity... Always making things more complicated in the end.
They should add a default app setting already as well.

peter mc donald 3 cherry mount keadue lane cavantown phone number is 0872741502 last night i got a messes on my phone for a feed back on my 820 lumia and i sent a feed back and since that there is no colour on my phone and my phone has all chane peter mc donald please phone me back

For now I use App Data Manage Tool to reset app state or backup app data.
Windows Central Newsletter
Thank you for signing up to Windows Central. You will receive a verification email shortly.
There was a problem. Please refresh the page and try again.