Resident Evil 7 will take horror to the next terrifying level in 2017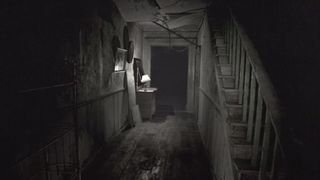 During Sony's E3 2016 conference, Capcom announced Resident Evil 7 biohazard for PlayStation (with support for VR), Xbox One and Windows 10. This latest instalment in the series of popular horror games ramps up the immersive experience thanks to photorealistic graphics, powered by the company's new RE engine.
You can expect to be shocked through effective use of jump scares and implemented atmosphere, which will invite you to explore deeper into the story. As an added bonus for those on PlayStation, there's full support for VR, meaning you'll be able to scare yourself senseless with a headset attached to your skull. Check out the PlayStation VR trailer below:
Resident Evil 7 will be released on supported platforms in North America and Europe on January 24, 2017.
Press Release
LOS ANGELES — June 13, 2016 — At the Sony Interactive Entertainment (SIE) E3 press conference today, Capcom, a leading worldwide developer and publisher of video games, announced Resident Evil® 7 biohazard, the next major entry in the renowned Resident Evil® series. Resident Evil 7 sets a new course for the Resident Evil series as it leverages its roots and opens the door to a truly terrifying horror experience. A dramatic new shift for the series to first person view in a photorealistic style powered by Capcom's new RE Engine, Resident Evil 7 delivers an unprecedented level of immersion that brings the thrilling horror up close and personal. Resident Evil 7 is scheduled for release on PlayStation®4 computer entertainment system (the full gameplay experience will also be available via the included PlayStation®VR Mode), Xbox One and Windows PC (Steam and Windows 10 Store) across North America and Europe on January 24, 2017.
Set in modern day rural America and taking place after the dramatic events of Resident Evil® 6, players experience the terror directly from the first person perspective. The Resident Evil® 7 Teaser: Beginning Hour demo, also announced today, portrays events leading up to the main game and ties directly into the impactful PlayStation VR "KITCHEN" tech demo first shown at E3 2015. In the new teaser demo, the player awakens inside a dilapidated cottage on an ominous plantation mansion. Can they make it out alive?
Resident Evil 7 embodies the series' signature gameplay elements of exploration and tense atmosphere that first coined "survival horror" some twenty years ago; meanwhile, a complete refresh of gameplay systems simultaneously propels the survival horror experience to the next level. Terrifying fans at events across the globe last year, the PlayStation VR "KITCHEN" tech demo was developed utilizing the RE Engine's VR oriented tools, and is the foundation on which the talented Resident Evil team has crafted the immersive horror experience in Resident Evil 7. Powered by the RE Engine in tandem with industry leading audio and visual technologies, Resident Evil 7 is poised to deliver a disturbingly realistic experience that will define the next era in horror entertainment.
PlayStation®Plus subscribers can now download the standalone teaser demo for PlayStation 4 called Resident Evil 7 Teaser: Beginning Hour and will have first access before it is available on other platforms at a later date. Players can get a taste of what they can expect from Resident Evil 7 with a sampling of the nail-biting exploration and terrifying atmosphere the game will offer when it releases early next year. Attendees of E3 will be able to try out a demo on either PlayStation 4 or PlayStation VR at the Capcom booth in South Hall #2023 or try the PlayStation VR demo at the Sony booth in West Hall #4522 and #4144.
Rich Edmonds is Senior Editor of PC hardware at Windows Central, covering everything related to PC components and NAS. He's been involved in technology for more than a decade and knows a thing or two about the magic inside a PC chassis. You can follow him over on Twitter at @RichEdmonds.
This might make me get the PlayStation VR, horror will be awesome with a headset.

Sony kicked MS's ass so much yesterday it wasn't even funny.

Like? Posted via the Windows Central App for Android

I think he means the no.of titles announced by Sony were higher than MSFT. But not all the titles Sony announced are PlayStation exclusives

Same if u look at the other way ms kicked sony's ass

From a games standpoint, I have to agree, and I am a long-time Microsoft apologist. Overall, as least for me personally, the games coming for PS4 were more compelling than Microsoft's offerings this year. [edit:]All of the VR games can bite me, though. Still no real interest in that yet.

Only two of the games announced vy Sony have a release date, the rest said in development, it could be years before we see them. Microsoft announcements all will be out this year of next. Ms wins for me

Yeah they won with that AMAZING dog monster with wings, the parrot legs and sounds like a dockey when downed. That soooooo creative. On a serious note, God of War was great and that was it, the other 2 games where RE7 and CoD:IW, but those are Multi Platform. Sorry Sony, MS for me.

But will RE7 be a Play Anywhere title? It seems like it won't, but it will support Windows Store.

Shoot. I'm a fan of RE 4/5/6/Revelations. Don't like the first person view, and not interested at all in vr. Capcom has really lost me the last few years.

I think Capcom might restore my faith in their ability to make AAA games. I was worried this wasn't coming to Xbox day-1. Thankfully it is!

Hope Oculus sees some solid games like the ones coming to PS.

I'm a fan of MS & Sony both and we'll be lucky if 25% of the games we've seen will even launch in the next 2 years.

This game is going to be my sole motivation for getting a PS4 and VR
Windows Central Newsletter
Get the best of Windows Central in in your inbox, every day!
Thank you for signing up to Windows Central. You will receive a verification email shortly.
There was a problem. Please refresh the page and try again.