Restaurant finder app, Zomato, gets a major UI refresh and new features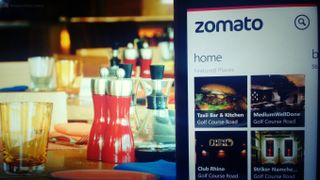 Zomato restaurant finder app gives you restaurant recommendations around you and lets you look at menus, pictures, contact info, and directions for 120,000 restaurants in 35 cities across 11 countries. The app allows you to check ratings and reviews of restaurants in your city which you can search for by location, cuisine, or name.
The app just updated to version 3, and has a completely refreshed design which as the changelog suggests… 'will make the last one look like 1990's'. While it has always been a frequently used app for me (I'm in the 'live to eat' side of the fence), it is easily one of the best apps on my list now.
With the update, Zomato claims that the location-detection is faster and more reliable, allowing the app to provide one-tap access to restaurants near you, sorted by distance.
Apart from the neat, fluid design, the app also introduces several new features. The popular mood-based recommendation is now available within the app. The app introduces Dish Searches which allows you to search for the dish you prefer among 3 million dishes being served, and the app would recommend relevant restaurants.
Zomato now also intends to be a 'Foodspotting' app, and allows you to upload pictures from restaurants to share with the world, a nifty feature for those who don't have the patience or inclination to write reviews.
The app can be downloaded for free on Windows Phone 7.x and Windows Phone 8 from the Windows Phone Store. If you eat out or order in often, download the app, and pin it to your Start screen!
I have used this app extensively since day 1 of my Lumia ownership. Too bad, that has only been for making suggestions to friends, leaving me each time wishing I had a girlfriend. :P

Because people now need a girlfriend to go eat in a restaurant *facepalm*

So is it pronounced zo may to or zo mah to?

Just like the way you pronounce tomato.

Only WP8 version was updated, WP 7.x is on the older version but still completely usable app.

The app got bumped up again to v3.1

The app got bumped up again to v3.1
https://www.youtube.com/watch?v=YnuGnU8oPxs

Wow... The selection of cities sucks

Abhishek covers apps and news which are big in India, Don't expect USA local apps from him. wpcentral already has USA based writers who cover their local apps.

I'm not from the US - the app has 2 New Zealand cities and none in Australia. Australia is much larger (and better haha) so I'd expect to see either Melbourne or Sydney on there.

It's an Indian company, and they started with few Indian cities and expanded to several more. Since a while, they've been aggressively expanding internationally. 11 countries already. That's not bad!

It's time they covered Australia :) I've never seen New Zealand get something before Australia. It's like Pakistan getting something before India. It's an outrage! haha :P

Yelp should take notes on this design
Windows Central Newsletter
Thank you for signing up to Windows Central. You will receive a verification email shortly.
There was a problem. Please refresh the page and try again.