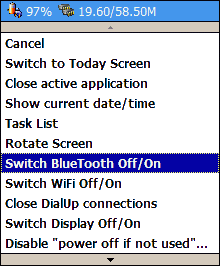 Have you ever wished your WM phone had more buttons? Do you think it might be helpful to have each button do multiple things, like you push the phone button once to bring up the phone keypad, but you hold down the phone button and it turns on and off the speakerphone? How about having an option to have up to four different functions for a single button? Well, I have discovered a very handy small but very powerful utility that will do all of this and more.
Read on!
WM by default will not allow you to change what many of the buttons do. And the ones that it does let you change can only have one function assigned to it. With AE Button Plus you will be given complete control of nearly all the hardware buttons on your phone, instantly increasing the one handed use of any WM phone. As I have already mentioned, AE Button Plus is a utility that will give you control over nearly EVERY hardware button on your phone. You can re-map each of the keypress events to "virtual" application button or directly assign it to one of the more than 40 built-in actions (all of which you can individually customize).
Once you open the software, you simply find the button you want to manage from the list of all the buttons on your phone and then tap and hold on it and select "Handle by AEBPlus". You will then be given an option to select what will happen if you simply press that button once, double press it, triple press it, and do a long press. You can assign something different to each of those options giving you the opportunity to assign up to 4 functions for every button on your phone. In addition to adding the speaker phone to the phone button, I have added copy and paste to my soft buttons, and Alt & Tab task manager to my Comm Manager button, just to name a few.
Please note that you may have to do a soft reset for some of the button assignments to take effect AE Button Plus will warn you when you need to do this.
There is also a great deal of power given to you with all the options and customization you are given for the program itself. You can create anything you want to assign to a button. If there is a button on your phone that AE Button Plus did not pick up on, you can manually add it to the list of buttons and then go ahead and customize it like any other button.
It has made a world of difference in how much easier it is to use my phone. This is an inexpensive utility that will make your experience with WM more productive and easier to use.
Swipe to scroll horizontally
| | |
| --- | --- |
| Ratings (5 out of 5)Overall: | ProsInexpensiveProvides the ability to customize nearly any buttonConsMaybe a little advanced setting up for the newest of WM users |
Get the Windows Central Newsletter
All the latest news, reviews, and guides for Windows and Xbox diehards.