Review: Case Mate Privacy Screen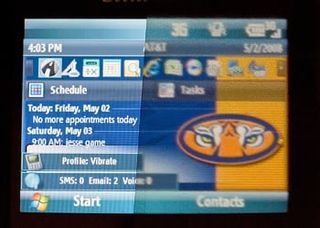 Feel like someone is constantly looking over your shoulder when your writing an email or surfing the web on your smartphone? Do you fear that your boss will catch you playing games when you should be doing something productive? Case Mate offers a product that might add a level of privacy to your smartphone/pda screen - the Case-Mate Large Privacy Screen Pro ($14.95)
Read on for the full review!
The Privacy Screen is not much different that your typical screen protector. It comes in two standard sizes (universal and large) that can be trimmed to better fit your phones screen. The screen itself is sturdy and appears very durable.
Unlike standard screen protectors that are clear, the Privacy Screen is tinted to limit visibility to 45 degrees. I could not see the screen when viewing it from the side or overhead.
The Privacy Screen uses a static clean application that will not leave an adhesive residue. It does fit securely to the screen and removing it is easy with no residue. To it's benefit, the screen can be easily removed and reapplied.
Case Mate advertises that the Privacy Screen has no dimming effect but the screen on my BlackJack II was clearly darker when using the screen. It also softened the screen a bit. Text had a noticeable haze to it.
It did prevent viewing from the sides or from above but it made straight forward viewing difficult. I could compensate for the screen by increasing the brightness of the screen but that will result in battery issues.
I could see this being used in specific situations where privacy was of the utmost but I just don't see it being used in an everyday environment. It just dims and softens the screen too much. The Case Mate Privacy Screen does provide great security from onlookers but it does come with a price.
Swipe to scroll horizontally
| | |
| --- | --- |
| Ratings (out of 5)Ease of Use: 5/5Build: 5/5Usability: 2/5Overall: | ProsProvides a high degree of privacyApplication is simple and easy to remove and reapplyConsNoticeably dims the screen too much |
Get the Windows Central Newsletter
All the latest news, reviews, and guides for Windows and Xbox diehards.