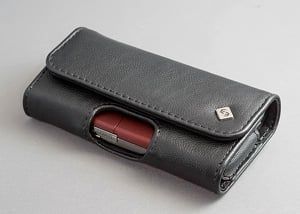 EB Cases have been offering quality cases for phones and PDA's for years. I can remember using a flip-case for my old HP Jornada. The EB Copilot Case ($34.95) offers a slim, horizontal case that's compatible with several smartphones, including the A&T SMT5700, Treo 750, Treo 700wx, T-Mobile Shadow, T-Mobile SDA, and the Verizon SMT5800 that represents the companies reputation for quality fairly well but isn't without compromise.
Read on for the Full Review!
The Case
The EB Copilot is made of leather and has a soft cloth lining. The case comes in black, brown, red and pink leather. The seams are well stitched and the flap is secured by a magnetic.
The BlackJackII fits a little loosely in the case. If the case was cut a tad deeper, maybe 1/8th of an inch, the phone would sit more secure. As is, the phone rides a little high, preventing the flap from folding completely at times.
You have to make sure the flap fully closes and when it does, the magnet hold the flap in place really well. If you just let gravity close the flap, it doesn't always close fully allowing the phone to ride loose.
The bottom of the case is recessed, exposing the side of the phone. While this exposes the phone, it helps make removal easier. I would recommend carrying the phone screen inwards. Otherwise, the recess exposes a portion of the screen to being scratched.
Using the Case & Belt Loop
The Copilot has a belt loop as opposed to a belt clip. This may not appeal to some but the case rides on the belt more securely. The loop doesn't have any bounce and rides really comfortable.
I probably wouldn't recommend this case to someone who is constantly putting on/taking off their phone case and would look along the lines of SmartPhone Experts Side Case. However, if you want a secure fit or don't mind loosening the belt to put on/take off your phone case, I would consider the EB Copilot Case ($34.95). Just make sure the flap closes fully.
Swipe to scroll horizontally
| | |
| --- | --- |
| Ratings (out of 5)Ease of Use: 5/5Build: 4/5 (some may prefer a clip to the loop, needs to be cut a tad deeper)Comfort: 5/5Overall: | ProsLeather ConstructionSolid StitchingConsSome may not like the belt loopPhone rides a little high in the case preventing flap to consistently close fully |
Windows Central Newsletter
Get the best of Windows Central in your inbox, every day!
tiffany charms Tiffany charms tiffany charms Tiffany charms tiffany charms tiffany rings tiffany sets Tiffany sets tiffany sets Tiffany sets tiffany sets Tiffany charms tiffany Bangles Tiffany Bangles tiffany Bangles Tiffany charms