Review - EnGive Quicksand Hard Matte Skin Case for the Nokia Lumia 1520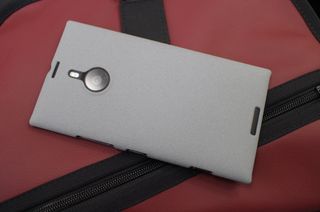 From its immaculate screen to its horsepower under the hood, the Lumia 1520 is an impressive smartphone. But let's face it, its size and slick polycarbonate chassis make it a little hard to handle sometimes. And being that it is also pricey, the last thing you want to do is drop it.
So as soon as I bought mine, I also picked up some snap-on cases to give my Lumia 1520 some added grip. One of the cases I got was the Nillkin Ultra Slim Case, which I really like. The other is EnGive's Quicksand Hard Matte Skin Case.
Design
The EnGive Quicksand case is a single piece that snaps around the back of the Lumia 1520. It comes up the sides of the phone, and wraps around the front just about to where the chassis meets the display. The Lumia 1520's top and bottom are left nearly completely exposed, with the exception of the most important parts, the corners.
There are cutouts for the volume, camera, and power buttons. There are also openings on the back for the camera, flash, and speakers. Because the top and bottom are mostly left bare, there is access to the USB port and audio jack as if there were no case on it at all.
Just like the phone it is made to protect, the Quicksand Hard Matte Skin Case is made of polycarbonate. However, unlike the Lumia 1520, it is slightly textured, which makes it much less slick.
Using it
The Lumia 1520 is a behemoth, so adding any additional bulk to it has the potential to make it unwieldy or uncomfortable in your pocket. But the Quicksand is so light and thin that its presence is nearly undetectable.
That is, except for the fact that it makes the device significantly less slippery. I have owned my Lumia 1520 for less than two weeks, so I am still adjusting to its size. But in just the first day of using it with the Quicksand, my number of clumsy moments decreased dramatically.
As is the case with any similarly-designed covers, the EnGive Quicksand is not meant to be a suit of armor. It is going to provide basic protection from scuffs and, possibly, minor drops. The corners do appear to be beefy enough to absorb some impact, so you are reasonably protected there.
Because the sides of the case extend around to the front of the phone, it prevents the screen from touching when lying face down on a flat surface. This spacing helps defend against screen damage caused by dirt or granules though it couldn't hurt to throw a screen protector on it for good measure.
Yay or Nay?
In my opinion, EnGive has produced a big winner here. For one, it is added protection with little impact on the size or weight of an already huge phone.
It also makes the normally slippery Lumia 1520 much easier to handle. I have a history of dropping my flagship phones, but with the Quicksand case, I feel much more optimistic about the fate of this one.
From an aesthetic perspective, I think the Quicksand also looks good. There are five colors to choose from: black, blue, green, coral (red), and grey (pictured). The textured matte finish gives it a unique look, and enough of the phone's chassis is still visible that you can complement or contrast it with your phone's native color.
Last, but certainly not least, this case is a steal, for under $7.00 with a cleaning cloth and free shipping. I highly recommend taking a chance on the EnGive Quicksand Hard Matte Skin Case. You can find all five colors on Amazon (opens in new tab).
Related Reading
Thanks for this. Just ordered 2!

Don't have a 1520 but that case looks like one of the best I've seen for any Lumia

Imak also makes a case called quicksand that is superior imo, they don't make it for the 1520, but they do for other lumias. it is hard plastic but at the same time very flexible and has this very nice textured rubber coating that doesn't rub off. I have one for my 8X and a non rubberized one for my 1520. It's also known as the cowboy case in some cases.

Does it feel like one plus one's back side??

Nice review is there any case and holster for 1520 that is work it..? I really think having your phone in pocket is dangerous..

I bought the shockwise case off amazon. The clip on the holster broke and it was after 30 days of use. I contacted shockwise and they sent me a new holster, no charge. It's the rubber inside, hard plastic outside. I like it and the customer service is amazing or at least it was for me.

thanks will look into that one

Iv got the original Nillkin slim ($5 on eBay) for mine i like it and this one look similar with another color !! I have the Amzer pudding too i like it... I use both depend what i do, the Amzer absorb more if you drop it

The best case for the 1520 is by Koolcase. It's a hybrid, dual layer case. Soft silicone witha hard shell cover over it. I always hated soft covers as they just fall off and hard covers don't absorb any of the force of the drop. Dropped my phone a couple time and my phone is still perfect.

This looks identical to my INCIPIO case I bought last year for my 1520. It seems to have the same specifications and it still works great.

Nothing beats the Amzer Hybrid Case...esp for Shock Absorption n Ruggedness. Also checked....the EnGive for Lumia 1520 is available only on Amazon.com (which doesn't ship to India) and not on Amazon.in

Ordered but takes a month to come in.....jeesh

Where are you located? It's available 2-day Prime shipping in the US.

i JUST broke my 1520.3 not 3 hrs ago. this might be everything i need.

If you would like to provide enough protection to your Lumia 1520 phone and do not add too much bulk to this already big phone I highly recommend go to the "TUDIA Ultra Slim Melody TPU Bumper Protective Case for Nokia Lumia 1520".

This looks great. Just ordered one.

I really like the way this looks. I might have to cop.

Nice looking case, grey matt finish is practical and cool looking. With the camera protuding I think cases like this are hardly noticeable. I have the Nillkin, but think this looks much nicer, might have to order one as a spare. My other case is the cross-weave leather wallet from here (linked to the store so you can see the full range - not associated with them, just like them and think they are original):- http://stores.ebay.co.uk/Genuine-real-Leather-Bags/for-NOKIA-case-/_i.html?_fsub=9715278013&_sid=744420543&_trksid=p4634.c0.m322 Sure it is bulky, but it fits in my pocket, has a built in kick-stand, totally protects the phone and means I no longer need a wallet. So one pocket might be fuller, but the other is empty! In use for typing it's little different to the Nilkin as the leather bit hangs behind my hands. I realise it's not to everyone's tastes, but I've found the convenience worthwhile, and in the way people laughed at 4"+ phones a year or two ago, I can see more and more people going the wallet route with their phone cases as phones become bigger and replace tablets. (Talking of which, can't wait to get Windows 10 on this bad boy).

Thats a nice looking case, i am using the Amzer pudding case as i found it to provide the best protection to my beloved Lumia :) but would love to give this a try if available here in India.

They don't ship to Australia don't bother Aussies!

I had this case for my Icon and while it fits nicely and protected the phone well it's rigidity makes it a poor choice for anyone who switches cases often. After about 3 months of use the corners started to crack. Also, the texture of the case must make it absorbant as it became dingy pretty quickly. It might be easy to clean, I haven't tried yet since the corners have cracked. I just ordered an Incipio feather to see if it holds up any better. VZW.com has them for $10 so I thought it'd be worth a try. Deuce

Can anyone suggest a good case that protects the front also and perhaps allows wireless charging? I have the 1520 flip cover but it doesn't stay closed (no magnet). It does allow wireless charging tho which is good. Thx.
Windows Central Newsletter
Get the best of Windows Central in in your inbox, every day!
Thank you for signing up to Windows Central. You will receive a verification email shortly.
There was a problem. Please refresh the page and try again.