Review: Fizz Weather for WM Smartphone - Week o' Weather Apps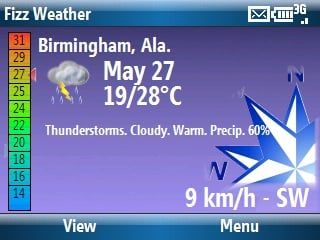 (Join us this week as George reviews 4 Weather Apps for Windows Mobile Standard and then gives them all a big smackdown on Friday. Today's entrant: Fizz Weather)
Fizz Software has released a weather application for Smartphones, aptly tagged Fizz Weather ($16.95). It is a full featured application and home screen plug-in designed to keep you a step ahead of the weather with detailed forecasts and current conditions. Supporting weather forecasts for over 58,000 cities globally, Fizz claims this is one of the best, most comprehensive weather tools for a mobile device. I was curious if Fizz's claims could cut the mustard.
Read on to see if the claims are true!
The Fizz Weather application is feature packed with forecasts and current weather information. Opening the application puts a wide range of weather reports at your disposal. You can view current conditions for your city as well as adjacent cities; 7 Day forecasts; 2 Day forecasts broken down in six hour intervals; the forecasted weather for the day; forecast maps for your region; airport forecasts; and ski forecasts.
The current conditions and forecast maps are full of detailed information to help you plan your day or week. Not every city will have ski and airport reports and the maps include a forecast map and animated satellite map. There is no active radar associated with Fizz but it is my understanding that future releases will support radar maps. Weather information is provided to Fizz by way of CustomWeather.com, a San Francisco based provider of syndicated weather information.
Navigation through the application takes a little getting used to. Instead of pull up menus, users are directed to a menu screen that has icons of the various screens. Simply click on the highlighted icon and you are taken to that screen. Personally, I prefer the pull-up menus. Having to go to the Menu Screen to navigate around Fizz Weather seems to add an extra step to the process. This may be a minor nit but I would prefer to go directly from screen to screen.
Fizz Weather's Options Menu is not as extensive as other weather applications but it covers the essentials. The main options menu allows you to choose the language (English, French, German, Dutch, Spanish and Italian), set the Unit display (Fahrenheit or Celsius), along with several appearance settings. Secondary Option Menus are available from the "Menu" tab to change download and tracking options.
The Tracking Options allow you to track your downloads over a period of time. Download options include not only the frequency of the downloads/updates but what information is being retrieved. Living in Alabama, I don't have much call for the ski reports so I simply uncheck that item and when my forecast is updated, the ski information isn't downloaded.
In addition to the application, Fizz Weather has a Home Screen plug-in that will allow you to display an information banner with either the current conditions, four, five or seven day forecasts. The icons were clear and easy to read. Clicking on the information banner sends you into the full Fizz Weather application. Fizz Weather is compatible with popular Home Screen plug-ins such as Facade and the placement of the information bar can be modified through the Home Screen's menu for plug-ins.
The one feature I really like about Fizz Weather is that when a weather alert is issued for your area, an exclamation mark appears on your Home Screen information bar to alert you of the weather statement. When you enter the application, the details of the weather alert are pulled up in front of the forecast screen. The only thing that could make this feature better would be for the phone to ring/vibrate when the weather alerts are received.
I did not experience any software glitches or hang-ups while testing Fizz Weather. Another nice feature about Fizz Weather is that when you manually update the weather data, a status bar appears to show you the download progress. I started getting errors on my BlackJack II indicating "the remote party has ended this connection" and determined that the error message was being generated when the automatic downloads were interrupted (due to weak signal, etc.). At first I wasn't thrilled to see this error message but after giving it some thought, it did alert me that the weather information hadn't been automatically updated.
Overall
I liked Fizz Weather and I think the application represents Fizz Software well. It has room for improvement but if you need a basic weather information program, it's definitely worth a trail download.
Navigating through Fizz Weather could be more straightforward. It takes some time to get used to the View Menu to navigate through the application and a pull-up menu would be a lot more efficient. Regardless though, this is a good middle-of-the-road weather application.
Having severe weather alerts appear on your Home Screen is a definite plus for Fizz Weather. Many other software developers are planning on having this feature on future releases but Fizz is one of the few that already offer this information.
While I have my reservations about some of the software's features, Fizz Weather ($16.95) is a useful application worth looking into.
Swipe to scroll horizontally
| | |
| --- | --- |
| Ratings (out of 5)Ease of Use: 4/5Graphics: 5/5Installation: 4/5Features: 4/5Overall: | ProsWeather AlertsForecasts and Conditions are well detailedAnimated Satellite MapsConsNavigation can be challengingNo Radar Images |
Get the Windows Central Newsletter
All the latest news, reviews, and guides for Windows and Xbox diehards.
Fizzweather is definitely my favorite pre-6.1 weather app.
Also, I appreciate what you're trying to do here. However, none of the apps you'll probably review support the sliding panels homescreen, so all of this is kind of irrelevant, I'd hate to say. When they all support 6.1 properly then its a different story, but for now, it's already going to be outdated.
The only two that support the sliding panels homescreen in 6.1 (which having had it for a week, I really just can't see anyone not using) are CHome Weather and MiniWeather. Both are freeware apps available on xda-developers.

nike shoes cucusoft air jordan shoesadidas shoes cod4 cd key call of duty 4 cd key call of duty 4 key code starcraft cd key warcraft 3 cd key diablo 2 cd key diablo 2 cd keys dvd to ipod converter free dvd to ipod converter ipod video converter free ipod video converternike hyperdunk nike shoes air jordan shoes fake air jordans air jordan adidas superstar adidas basketball shoes jordan shoes air jordan 23 air force ones air force air force 1 air max nike air max air max 90 nike dunk high nike dunk low nike dunk nike shox shox nike basketball shoes adidas superstar adidas basketball shoes jordan shoes air jordan 23 air force ones air force air force 1 air max nike air max air max 90 nike dunk high nike dunk low nike dunk nike shox shox nike basketball shoes adidas shoes

one day i went shopping outside ?and in an links of london store?I found some kinds of links of london i love most?they are: watch Links of london bracelets watch Links of london bracelets watch Links of london bracelets watch Links of london bracelets watch Links of london bracelets watch Links of london bracelets watch Links of london bracelets watch Links of london bracelets watch Links of london bracelets watch Links of london bracelets charms for Links of london bracelets charms for Links of london bracelets charms for Links of london bracelets charms for Links of london bracelets charms for Links of london bracelets charms for Links of london bracelets charms for Links of london bracelets charms for Links of london bracelets charms for Links of london bracelets charms for Links of london bracelets