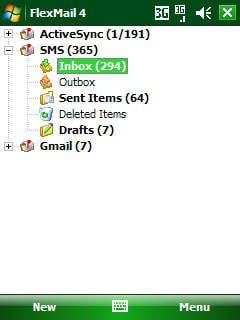 Back in the Windows CE days, the majority of devices that were available were of the touch screen, non-phone variety. I never really found any value in those days to syncing a couple thousand email messages to my old iPaq. Things have changed a lot since then. With all of the connectivity options available to us these days, it is pretty much a no brainer to have some sort of email access from your Windows Mobile device.
Microsoft is one of the industry leaders in all aspects of the email conversation. Their Exchange Messaging Server is one of the first choices for most Enterprises because of it's close integration with Microsoft's other products. Outlook and Outlook Express are some of the most commonly used email clients.
In the Windows Mobile side of the world, Microsoft has given us a mobile version of Outlook. To this point however, the mobile version is almost entirely bereft of the more powerful features of the desktop or even web-based versions of Outlook. Enter Flexmail 4 by WebIS (the makers of Pocket Informant).
Flexmail (available for $29.95 from the WMExperts store) has long been considered one of the better options for people who need more power and flexibility out of their mobile email. Now in version 4.01, Flexmail continues to add features and functionality to empower your email communication.
Setup
Getting started with Flexmail is pretty standard for a mail client. The nice thing is that it uses all of the Outlook storage and settings so if you already have your accounts configured it will just start working after you install. The biggest thing that I ended up tweaking was when I wanted to be notified of new messages and such, the default settings also included a long vibrate whenever my Gmail account was synced.
Features
Aside from support for all of the standard email protocols (POP, IMAP, SMTP, Exchange Activesync), Flexmail supports several web based email services through the use of a partner service called Momail. Momail essentially allows for a centralized mailbox by linking all of your other accounts to your Momail account.
Two of the biggest features that Flexmail has that add value over Outlook are filters (or rules) and searching. The search tool is on par with some of the search tools in recent versions of Outlook for the desktop, which is quite impressive and indispensable for those of us with large amounts of email. Filters enable you to sort or "filter" incoming email based on a number of criteria without ever touching the messages. Filters can be complex to set up, but when dealing with large amounts of email on a daily basis, this is another lifesaver.
Usability
Flexmail isn't the most intuitive mail client that I've ever used. The basic functionality is easy enough, but looking for an advanced feature often left me thinking "I know I've seen that checkbox somewhere". The standard functions such as reading or sending a message is fairly straightforward.
Conclusion
This product is not for everyone, the interface is not the easiest to learn and the features that make Flexmail worth the price are for email power users. If you find yourself missing some of the more powerful features of your desktop email client when using your Windows Mobile device, than you should definitely give Flexmail a trial run.
Swipe to scroll horizontally
| | |
| --- | --- |
| Ratings (out of 5)Setup: 4.5Features: 5Usability: 4Overall: | ProsAlmost desktop-worthy feature set.Basic configuration is easy.ConsThe interface takes some getting used to. |
Get the Windows Central Newsletter
All the latest news, reviews, and guides for Windows and Xbox diehards.