Review: Freedom Pro Bluetooth Keyboard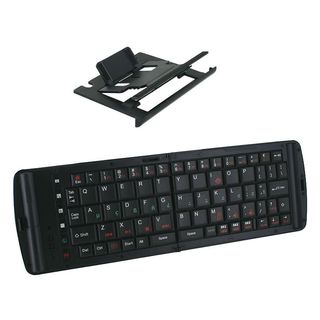 In this never ending quest to find the ultimate mobile device that meets all of our needs while still being portable enough to still be considered a mobile device, one feature that is constantly mentioned as a weak link is the size (or complete lack) of the hardware keyboard. While many people (myself included) hate on the lack of hardware keyboards in different devices, the truth is that it is purely a matter of preference. Obviously though, no software keyboard (or mobile phone based hardware keyboard) can duplicate the usability of a full sized keyboard.
We've played with a number of Freedom's products on this site. Though everything from Keychain GPS receivers to portable Battery Chargers are available from Freedom, their line of Bluetooth Keyboards is their primary niche. The Freedom Pro Bluetooth Keyboard could be considered Freedom's flagship product. The keyboard folds in half to make it as portable as possible while still giving you as much keyboard real estate as possible.
Hit the jump for my thoughts.
Design and Feel
As I previously mentioned, the Keyboard folds in half to make it very portable. Most of the keys are close enough to full size to make typing very comfortable. The seam where the keyboard folds does make it a little awkward at times, but the keys at the edges of the keyboard (Shift, Caps, Tab) are where you will have the most difficulty getting adjusted.
Features
The Freedom Pro has a number of keys along the left side that are dedicated to Smartphone features. Answer/End Call, Email, Contacts, Tasks, and Calendar are all just a button press away. Additionally, through the use of function keys, a slew of other functionality is available such as media playback and volume controls.
Value Added
Freedom provides a couple of different drivers for the Pro keyboard, each of which supports a different Bluetooth stack (Microsoft and Broadcom). I did experience some issues getting either of the drivers to work with my Tilt 2, presumably because of the alternate Bluetooth stack that HTC used. The only thing that you gain from using the driver is the availability of the shortcut keys and function keys. The Freedom Pro keyboard can simply be paired to your phone using the HID (Human Interface Device) Bluetooth Profile.
Conclusion
Because of the driver issue that I had, there were some limitations to what this keyboard could do for me. Honestly though, I wouldn't recommend this keyboard based on the shortcut keys and such. The real benefit that this keyboard gives is the ability to comfortably type. If you are someone who occasionally has to use their phone to type a long email or report, having a keyboard like this is a great solution.
The Freedom Pro Bluetooth Keyboard can be purchased for $119.95 from the WMExperts Store. Drivers are available from www.otadrivers.com or directly from Freedom Input.
Get the Windows Central Newsletter
All the latest news, reviews, and guides for Windows and Xbox diehards.