Review Glympse (GPS Tracking) Freeware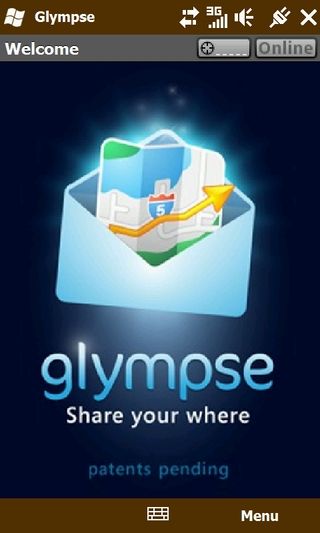 I discovered Glympse by using the new Windows Marketplace for Mobile, which goes to show you just how powerful that piece of software is going to be.
In short, Glympse is a free, easy to use, no strings attached application that allows certain contacts you select to track your location/travels in timed increments. Think of it this way: say you are taking a road trip to visit some friends and you think you'll be there by 4:30pm. Well, with Glympse your friends can see exactly where you are on that trip without bothering you (i.e.getting that call while driving "How much longer do you think?").
I gave this app a quick spin and came away impressed. It's both visually appealing, simple, effective and kind of fun to use. Best part is there is no signing up, enrolling or hoops to jump through. All the other person needs is an email/sms account and access to the internet to click a hyperlink.
Take a look after the jump to see it in action and how it works.
When you first launch the application, it's like any other mapping software--you hit the right menu, choose "Share my location" to start up your GPS. Near the top you can see your GPS status at all times.
Next you hit the "Send Glympse" left softkey and simply select your contact(s) in which you choose to share your location.
After that you get some options: how often to update your location (anywhere from 5 mins to 4 hours; default 30mins); Add a message, where you can pre-select a huge assortment of texts or write your own; Add a destination to help better show the whole trip.
Finally you hit "send" and off goes your Glympse which you can then manage on your end, specifically modify the above options or just delete the Glympse.
Your recipient receives their email with a hyperlink. They simply click this and get a live Google Map with your avatar (nice touch), name, location, direction and speed. This info is then updated for them every X mins, which was determined by your options above.
And really that's it. It was simple to use, fun to setup, the icons and graphics are very modern looking and it works. I can totally see using this for when I'm visiting people or planning to meet up with a group (not everyone uses Google Latitude). Considering it is free and runs on all Windows Mobile platforms (5, 6, Pro, Standard), it really can't be beat.
Grab it in the Marketplace today and give it a go!
George is the Reviews Editor at Windows Central, concentrating on Windows 10 PC and Mobile apps. He's been a supporter of the platform since the days of Windows CE and uses his current Windows 10 Mobile phone daily to keep up with life and enjoy a game during down time.
I like that name, direction and speed are displayed. Is there API access or a way to export the data to another service? I ask because I'm using Latitude's API to put up custom web pages for specific events, like hikes (example http://torontogeocaching.com/bthike ). Another thing to ask, this supports "update my location every X" ... will it wake up the GPS at that time if the phone is sleeping / suspended, aka not on with the app in the foreground. Lots of WinMo GPS tracking software fails to do this (including Latitude).

I installed it. I like it! Only wish it let me share location for more than 4 hours.

Well I installed it and find it fun! however, what sucks is that during my unemployment - I have canceled my data package so I can only use this with Wifi! So my buddies can't monitor my progress or my location unless I'm in a wifi spot!!

This doesn't seem to be available in the UK yet! I can't find it on the Marketplace.

Sorry if this is a dumb question, but is this software tracking your CELL PHONE? (i.e., what exactly is the Glympse software tracking?). If it is your cell phone, can the Glympse software help you locate a misplaced or stolen cell phone?

Sorry if this is a dumb question, but is this software tracking your CELL PHONE? (i.e., what exactly is the Glympse software tracking?). If it is your cell phone, can the Glympse software help you locate a misplaced or stolen cell phone?

Great software, easy to use. Well thought out. With Google Latitude, need to have friends set it up. If they are not inclined, they won't bother. With Glympse, there is no setup on the recipient's part. In answer to Michele Leighton, Glympse uses the GPS and wifi in your cell phone to determine the cell phone's location. This service won't help you if you lost your cell phone. There are other free and subscription services for finding a lost or stolen cellphone. Do a google search for "locate lost stolen cell phone".

Yeah, Glympse is great, what I am satisfied is that it even can measure your speed. I have written an post to introduce it on my blog. By the way, I've read that Glympse is working with Facebook to provide location based sharing service. Looking forwared to it. Cheers
Windows Central Newsletter
Get the best of Windows Central in in your inbox, every day!
Thank you for signing up to Windows Central. You will receive a verification email shortly.
There was a problem. Please refresh the page and try again.