Review - Inateck Felt Surface Sleeve for Surface Pro 3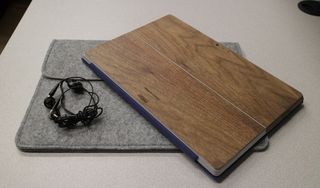 Tablet sleeves are a dime a dozen, and most of the ones you come across are pretty similar to each other. You know the ones I am talking about; the familiar zipper-top neoprene bag that may or may not have a side pocket. There's nothing wrong with them. In fact, I use one myself for my Surface Pro 3. They dutifully do their job, eliciting neither fanfare nor disappointment.
Inateck (www.inateck.com) set out to veer from the norm with their Felt Surface sleeve.
Construction
The main body of the Inateck sleeve is constructed of soft, yet durable, synthetic felt that gives off more of an appearance of a light wool. It measures 33cm x 23.5cm, which easily accommodates any generation of Microsoft Surface, among other devices.
Inside you will find a central pocket for your Surface, as well as a smaller pocket that can hold a book, accessories, or even a smaller tablet. Both pockets are lined with wear-resistant flannel to prevent scratching and scuffing of their contents.
Both compartments are covered and kept closed by a flap that folds over them and velcros to the body using vegan-friendly synthetic leather fasteners.
On the back side of the Inateck sleeve, you will two additional pockets. These two are smaller and can be used to hold your headphones, wallet or mobile phone.
And if that weren't enough, Inateck also includes a separate small bag that you can use for a mouse.
How is it?
From a utilitarian standpoint, Inateck's Surface sleeve does exactly what you would expect any sleeve to do. The felt exterior seems to be padded enough to absorb a bump or a drop, just like any of its neoprene brethren.
The additional pockets allow you to take just about anything you need with you whether you are heading to a meeting or a coffee shop.
The Inateck sleeve has a classic, unisex aesthetic that can fit a variety of styles. It could also just as easily be found in a briefcase as it could in a backpack. It is a versatile sleeve that offers an alternative to the everyday laptop sleeve.
You can pick one up at Amazon for $16.99, which is 56% off the regular retail price of $38.99.
What do you think? Be sure to chime in below in the comments and check out our other Surface Pro 3 case reviews!
Get the Windows Central Newsletter
All the latest news, reviews, and guides for Windows and Xbox diehards.