The Inateck MercuryBox Bluetooth speaker offers solid sound without breaking the bank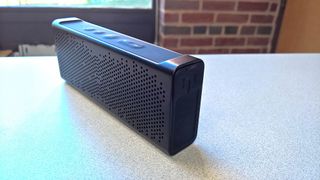 Music can be both a great motivator, a way to relax, or the perfect way to set the mood for any get-together. Headphones only get you so far, so having a convenient way to play your tunes loud enough for you and your friends to enjoy is essential.
Inateck's MercuryBox aluminum waterproof Bluetooth speaker is a lightweight, wireless speaker that travels well. Its long-lasting rechargeable battery makes it a handy companion at home and in your bag.
Inateck's MercuryBox is a small Bluetooth 4.0 speaker made of either black or silver aluminum. It's only about the size of a chocolate bar and is about one inch thick. It comes with a USB charging cable, auxiliary cord, wrist strap, and protective travel bag.
Under the hood are two 5-watt precision-tuned drivers. The MercuryBox has a built-in 1800mAh rechargeable lithium ion battery and is also IPX5 water resistant.
The rubberized top panel of the speaker houses the power button, as well as the Bluetooth action button, and playback/volume controls. A flap on the side opens to reveal the USB port and audio jack.
Setup
Setting up the Inateck MercuryBox is as easy as connecting to most Bluetooth speakers or headphones. When you power it on for the first time, it starts up in pairing mode. Just open up your phone's or computer's Bluetooth settings, select the MercuryBox and pair it. You will hear a beep once the process is complete.
If you have previously paired the speaker with a different device, hold down the Bluetooth action button until it flashes. That will put it into pairing mode.
Setup is even easier if you are connecting via the auxiliary cord. For that, it's a matter of plug and play.
The Good
The first thing that jumps out about the MercuryBox is its build quality. The black aluminum is sleek, but not flashy. The cables that come with it are cloth-wrapped with silver tips and their own mini Velcro ties.
The carrying case is black faux leather with a felt-lined interior.
The speaker itself feels substantial and sturdy like it could take a fall off a table without sustaining any damage. I didn't test that theory, but that is just the feeling I get.
Nothing about it feels cheap, except maybe the wrist strap. It works just fine but takes a little bit away from the aesthetic of the rest of the pieces. That's easily remedied, as it is optional.
I have used a handful of different portable Bluetooth speakers in the past, and while they got the job done, I wouldn't say that I was overly impressed. That made me a bit skeptical of MercuryBox before I tried it.
I must say, however, that I was pleasantly surprised with the sound quality. Those tiny speakers get pretty darn loud and put out more bass than I expected. The only real deterioration in sound came when I was standing next to the MercuryBox with the volume maxed out. However, when I in my back yard working with the volume cranked, it sounded great.
Obviously, if you are a true audiophile, you aren't going to run out and buy this speaker, though most people are going to find it performs well enough to use at a barbecue, while doing chores, and to bring with them on the road.
There are three things that I love about the MercuryBox. The first is its size. This tiny speaker can fit in any bag, so you can take it with you anywhere. It's perfect for work, hotel rooms, you name it.
The second thing is that it is waterproof, which means you can bring it outside for yard work or out camping without worrying about it getting ruined. And when you're done outside, you can take it in the shower to wash off all the dirt.
And finally, what's not to love about 15 hours or so of battery life?
The Not-so-good
There's nothing about the MercuryBox that would stop me from recommending it to someone, but nobody's perfect.
While the overall sound quality is impressive, there is definitely a sweet spot for the volume. If you have it set too low, music can seem somewhat distant. Set it too high and there is some distortion if you are standing too close to it.
If you handle the speaker enough, you will notice that the aluminum body gets covered with smudges. I imagine that the black aluminum is more susceptible to this. Again, not a big deal, but you'll probably want to clean it off from time to time like you would your smartphone screen.
Lastly, and this is less of a complaint and more of a word of warning: the rubber flap that covers the USB and audio jacks can be a little tricky to close completely, so just make sure you have it in good before playing around water. Who knows, it might not even matter, but better safe than sorry.
Conclusion
Inateck's MercuryBox packs a lot of sound into a little package. With its waterproof design, Bluetooth and auxiliary inputs, and incredible battery life, it is also extremely versatile.
Throw in the fact that it will only run you about forty bucks, and I would call it a solid purchase.
Order the Inateck MercuryBox Bluetooth speaker for $42.99 from Amazon (opens in new tab)
If you're looking for BT speaker reviews with an audiophile perspective, check out Oluv's Gadgets. He compares speakers and records them using binaural mics so you can get a really good idea of how they compare.

I'd rather work at Penetrode.
Windows Central Newsletter
Thank you for signing up to Windows Central. You will receive a verification email shortly.
There was a problem. Please refresh the page and try again.