Review: Jabra BT8040 Bluetooth Headset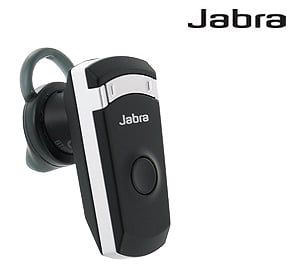 Bluetooth headsets have been a popular accessory for cell phones for years now and Jabra has led the charge. Manufacturing wireless headset since 1996 and Bluetooth headsets since 2000, Jabra offers a wide range of headsets to choose from. One of Jabra's smallest headsets is the BT8040. It represents the company's latest technologies in audio performance. If you are looking for a small, lightweight headset, the Jabra BT8040 Bluetooth Headset ($79.95) should make it to everyone's short list.
Read on for the full review!
First Impressions
Out of the box, this beefy little headset measures a mere 1.54 inches long and .71 inches wide. The headset is a little beefy measuring .47 inches deep but weighs in at approximately 1/3 of an ounce.
The BT8040 comes packaged with a wall charger, USB cable (to allow charging via your computer), extra ear gels of assorted size, and a quick start guide. The unit that I tested did not have a full user's manual. Jabra's website mentions an illustrated user (manual?) that is included so I am inclined to believe this was a packaging oversight.
Luckily, Jabra offers a .pdf version of the full manual online. You really the full manual to understand the operation of this power house device so being able to download is a nice option to have.
The BT8040 has only three buttons, a multi-function button and two volume controls. A multi-colored LED on the volume bar flashes to confirm various functions. The LED lights are depended upon heavily to confirm functions or to alert the user of the device's status. This information is detailed in the full user's manual and remembering these signals might be the most challenging aspect of this headset.
Jabra utilizes a Generation III ear gel to assist in holding the BT8040 in place. The gel is designed to conform to the shape of your ear tube. The gel compresses when first fitted to the ear and expands slightly to fit comfortably snug. The BT8040 comes with three sizes of ear gels and it takes trying all three to find the best fit. I wouldn't play a game of basketball wearing this headset but the fit is securely enough for a jog or bike ride.
Battery life is rated by Jabra to be approximately 200 hours of standby time and 6 hours of talk time. You have the ability to check the battery status by pressing any button for more than a minute (an awfully long time). When you release the button the LED will flash one of three colors (green, yellow and red) twice, indicating the current battery level. Red indicates approximately ten minutes of talk time remaining on the battery.
Performance
Pairing the BT8040 is not unlike any other Bluetooth headset. After fully charging the headset, the BT8040 automatically goes into pairing mode when first turned on. It took no time at all to pair the headset with my Samsung BlackJack II.
Not only is the BT8040 capable of pairing with up to 8 phones, it can be actively paired with two phones at the same time. This multi-point feature comes in handy if you are weighted down with a personal and work phone.
The BT8040 represents Jabra's latest audio technology providing features such as active noise reduction and acoustic shock protection. I'm not sure of the nuts and bolts of all this technology means but the BT8040 has good call volume and microphone volume. There was very little static or interference present during calls and what was present was due to the cellular signal, not the Bluetooth connection.
The earpiece volume is adjusted by two keys located at the top of the device. Manipulating the tiny volume buttons is challenging and I'd almost prefer the volume buttons to be located on the sides of the device. I imagine tiny buttons is the price you pay for the smaller headsets.
Jabra's acoustic shock protection reportedly protects users from sudden increases in volume. I imagine this feature is handy when you call your wife to let her know you'll be out late and she disapproves. I did notice some slight volume fluctuations that may be caused by this feature. The fluctuations were more surprising than annoying and did not present a problem with understanding the caller.
One side note about the volume, if it appears muffled the BT8040 is shipped with a protective film over the speaker. You might not notice it unless you remove the ear gel. In place, the volume is hampered. When you remove it, the volume becomes amazingly clearer.
The microphone picked up my voice clearly when using a normal conversational tone and volume. It filters out a good amount of background noise as well. I could play the car stereo at normal volume and barely hear it in the background.
The BT8040 comes equipped with call features such as last number redial, voice dialing, rejecting calls, placing calls on hold, and muting the microphone. Each accomplished by a series of taps, touches, and presses of the multi-function button. Some of these features, such as voice dialing, are phone dependant.
Additionally, the headset will play music from your phone's media player or another Bluetooth enabled mp3 player.
Overall Impression
Jabra's BT8040 is a really nice Bluetooth headset. It's small form factor and comfortable fit is very attractive. The headset is full of features that can be attractive to the 'power user" as well as offering basic hands-free operations for the occasional user.
I liked the ability to listen to my Media Player over the headset. While not stereo sound, it's more convenient than the proprietary headphones that many phones are requiring. It takes a little time to get used to the various LED color alerts but this only takes a few readings of the user's manual.
If you are looking for a small, lightweight Bluetooth headset the Jabra BT8040 Bluetooth Headset ($79.95) is worth consideration.
Swipe to scroll horizontally
| | |
| --- | --- |
| Ratings (out of 5)Construction: 5Comfort: 5Sound Quality: 4.75/5 (some slight fluctuations)Overall: | ProsLightweight and smallSecure fit semi-customizable with the various sized ear gelsGood sound qualityAbility to stream musicConsControls are a little awkwardElaborate LED and Tone alerts take some getting used to |
Get the Windows Central Newsletter
All the latest news, reviews, and guides for Windows and Xbox diehards.