Microsoft Surface with Windows RT review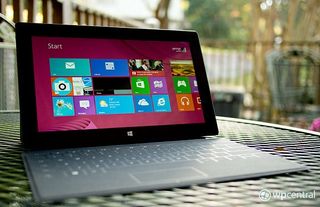 There was a buzz in the air earlier this summer at Microsoft's Surface tablet announcement. Anticipation built, and the excitement carried over to last week's launch with consumers hoping for an impressive device.
And that is just what Microsoft delivered.
After using the Surface for the past few days, our impressions of the tablet are good. The Surface is a well designed, comfortable to use, speedy little tablet. There is a slight learning curve but that was to be expected with a new operating system. While there is a learning curve, it's not too steep and shouldn't be too discouraging. If you are fortunate enough to have a Microsoft Store in your area, it takes the sales consultants just a few minutes to get you familiar enough with the system to get you started.
The Surface and Windows RT compliment each other rather well and the device itself is a nice supplement to your Windows Phone and Windows based computer. If you've been waiting for an affordable, feature rich Microsoft tablet the wait is over with the Surface.
Swipe to scroll horizontally

Where do you start? Quality construction, nice battery life, vibrant screen and a feature rich operating system. The Surface also has that "wow" or coolness factor that keeps its use from growing stale.

The TouchCover keyboard's keys could be a little more distinguishable, the camera could have a higher resolution, and some may find the price a little on the steep side.

If it was Microsoft's intention to build a solid, feature rich, multi-functional tablet with a sense of style, they nailed it with the Surface. While there is room for improvements, you can say that about any new device hitting the market. With the Surface, Microsoft got more things right than wrong and for that we think it's a fantastic product. The Surface is just as much an entertainment device as it is a work tool. It combines the best of both worlds to compliment both your Windows Phone and Windows based computer.
Swipe to scroll horizontally
Design:
With the VaporMag casing and Gorilla Glass 2.0, the Surface's design has a ruggedness about it without the bulk. Physical controls are laid out nicely and the magnetic charger and keyboard are convienent to put in place/remove.
Feel:
The Surface has a bit of heft to it but well balanced when using it as a tablet.
Performance:
The Surface moved along rather nicely running Windows 8 RT. Battery life gets you through the day and connecting to external devices is a breeze with the number of device drivers at the Surface's disposal.
Quality:
The Surface is Microsoft's first tablet and they've done an exceptional job of it. From design to screen to operating system, the Surface is a quality tablet that should appeal to everyone from the casual user to the student to the gamer to the business person.
Hardware
The appeal of the Surface is a combination of a well thought out design and a feature rich operating system. On paper, the Surface RT measures 10.81 x 6.77 x .37 inches and weighs in at 1.5 pounds. In the hand, the Surface feels extremely sturdy and balanced. As mentioned above, there is a little heft to the device but the design spreads the weight out evenly giving the Surface a light feel.
Working around the device you'll find the power button up top with the USB, HDMI port and charging connector resting on the right side. To the left you will find the volume rocker and 3.5mm headphone jack with the Start button resting on the bottom of the Surface's face. The charging connector is a series of pins that magnetically holds the charging cable in place.
A flip out stand takes up the bottom portion of the Surface's back camera sits at the top of the Surface's back. Flip out the stand and you'll reveal a micro-SD card slot.
Just a quick note about the cameras... once things settle down a bit we'll get a follow up post up with more detail on the Surface's camera. But for now, these are basically web cams that you would find on the typical laptop. Image and video quality are decent but nothing to jump for joy over. I can see these cameras used for video in well lit rooms, video conferencing and such. Not sure I'd depend on the Surface's cameras for any high quality photos.
The 10.6" screen is protected by Gorilla Glass 2 and the casing is made of Vapormag that reminds me of the polycarbonate body of the Lumia 900 Windows Phone but with more of a metallic feel. The downside to the casing and Gorilla Glass is that both are a fingerprint magnet. It doesn't effect the screen's clarity but when turned off, the screen can look rather smudgy.
As far as a power source goes, the Surface RT has a 31.5Wh battery that is rated at up to 8 hours mixed activity and 7-15 hours idle time. In practical terms, using the Surface on and off throughout the day, my battery didn't need re-charging for close to two days. With more heavy use, it made it through the day with just a little juice to spare.
The Surface has over two hundred custom components to make things fit rather nicely into a comfortable, user friendly package. As far as design and construction is concerned, the Surface is an impressive piece of equipment.
Keyboard Choices
The Surface is offered in three keyboard configurations; the on-screen keyboard, the Touch Cover keyboard and the Type Cover keyboard.
The on-screen keyboard is nicely spread out and functions just as nice, if not slightly better, than any other on screen keyboard. The Touch Cover is only 3mm thick and is laid out very similar to your traditional, laptop keyboard. Keys are slightly raised and very responsive. My only nit with the Touch Cover is that it takes a little time to get used to finding your home keys for typing (the F and J keys). These keys have a slight raised portion but I think these markers need to be a little more pronounced.
The Type Cover is 6mm thick and has physical keys as opposed to the keys built into the surface of the cover the Touch Cover has. We'll get more on the Type Cover up shortly but all three keyboards work well with the Surface.
The Screen
The Surface is fitted with a 10.6" Cleartype HD display. It has a 1366x768 resolution and aspect ration of 16:9. The screen is protected by Gorilla Glass 2 which gives the Surface a decent amount of durability and almost eliminates the need for a screen protector.
The touch responsiveness of the screen is on par with what you would see on a Windows Phone. Swipes, taps, and touches registered without difficulty. Again, the screen can be a bit of a fingerprint magnet but not to the degree it effect the display quality.
The screen's appearance is very nice. The HD screen has a bit of pop to it with nice colors and contrast. Outdoor performance is nice with the screen only being tough to see in direct sunlight.
Windows RT
While the Surface is impressive from the design aspect, Windows RT is equally as impressive. You start from the Surface's Start Screen that shares a similar "Modern UI" layout as our Windows Phones or your Xbox gaming console has. There is a collection of Tiles (many being live) that populate and bring the Start Screen to life.
Instead of the three-dot menu we've come to know and love with Windows Phone, you swipe at the right corner to pull out a menu bar fully of charms that include search, share, device listings, settings and return to the Start Screen options.
The Settings Menu is somewhat universal in that depending on which which app or game you are running at the time, the settings menu will pull up any settings for that specific application. You will also see key settings at the bottom of this setting pane for the Surface itself, such as network status, volume, screen settings, notifications options, a power button and keyboard options. A "Change PC Settings" link is at the very bottom which will sent you to a control panel of sorts for the Surface's core settings.
Down below you have another menu bar that is available throughout the system as well. This menu bar will be used to manage live tiles, pictures and other aspects of the Surface.
As far as connectivity is concerned, the Surface RT has hundreds of drivers available for external devices that makes connecting extremely easy. For example, the Surface automatically recognized my wireless printer and I was able to use the device without hassle or manual installation of any third-party software.
Other key features on Windows RT include:
Office 2013: The Surface shipped with the Preview version of Office 2013 but was quickly updated to the full version of the productivity suite. Office 2013 includes Microsoft Word, Excel, Powerpoint and One Note.
Windows Live: Similar to our Windows Phones, the Surface RT has apps for your Windows Live contacts, calendar, email and SkyDrive.
Bing: Asides from the Bing search engine the Surface RT also has Bing News, Sports, Weather and Finance apps that brings you all the news from each perspective area. Each Bing app also has a live tile that keeps you up to date on breaking news. Bing Maps completes the Bing suite of applications on the Surface RT.
Xbox Gaming and Music: The Surface comes with an Xbox gaming and music app/hub. Again, very similar to what we find on our Windows Phones, the Xbox influence lets you tap into various games, music and video titles.
Windows Store: Just like our Windows Phone Store, there's a Windows Store available full of Windows RT apps. While the number of apps and games may be a little thin, it's growing every day much like the Windows Phone counterpart did. In the coming weeks, look for Windows Phone Central Surface app reviews to give you a better feel for things.
Honestly, there is a lot to the Surface tablet that we seem to discover with every use. All of which compliments the experience and adds a slight "wow" factor to things. We've only scratched the surface on Surface's operating system and as we learn more of this new system, we'll post a few tips and tricks to help you use your Surface.
But for now, we'll leave it with Windows RT being an impressive, feature rich system. Along with Windows 8, Microsoft has done a nice job of developing a collection of operating systems that provides a level of consistency between our phones, gaming consoles, and computers. Again, there is a slight learning curve with Windows RT but nothing that can't be tackled through day-to-day use.
Overall Impressions
All in all, the Surface is an nice device that can serve a multitude of purposes. It can easily be an entertainment device for gaming or videos and contains the ability to turn into a work tool with Office 2013. The Surface can be a reference device with Bing and IE as well as a communications device with Skype.
While impressive, there are a few areas where the Surface could see improvements. Why Microsoft didn't use a higher resolution camera with the Surface is a bit of a mystery with all the quality Windows Phone cameras floating around. Then again, you can easily snap a photo with your Windows Phone or DSLR and load it onto the Surface via Skydrive or the USB port.
While I liked the TouchCover, I do wish the keys were raised ever so slightly. In doing so, you would have more defined landmarks and I think typing would be easier. But there are those of you who may feel as though the keyboard layout is adequate.
While many would like to see 3G or similar wireless connectivity, that is suppose to come to the next Surface tablet down the road. For the time being WiFi works well but a tethering option to our Windows Phone should work equally as nice. It's just a shame carriers hinder that option.
The Windows Store also needs to see a little growth but that will come with time. We've already begun to see Windows Phone apps and games migrate to Windows 8 and more titles will be showing up. Personally, I'd like to see a lite version of Photoshop Elements or maybe even Thumba appear in the Windows Store. The Surface would make for a great photo editing tool in the field. Just connect your camera via the USB port and edit away.
While I don't see the Surface replacing my laptop, it will supplement my laptop and Windows Phone nicely. The Surface is more portable than my laptop and easier to use for those productivity issues (far easier to type on a 10.6" screen) than my Windows Phone. The nice thing about it all is with Skydrive and all the app commonality, what I do on one device can be picked up on another. The uses and potential of the Surface are vast.
The Microsoft Surface is the result of considerable thought and effort on the part of Microsoft to deliver a quality, user friendly device that will not only satisfy your entertainment needs but also allow you to be a little productive while on the go. If you're looking for something a wee bit more portable than a laptop and with a bit more elbow room than your Windows Phone, the Surface will do rather nicely.
Pricing starts at $499 for the 32GB version (without a Touch Cover) and runs upwards to $699 for the 64GB with TouchCover. The Surface is only available through Microsoft and you can find all the purchasing options and details here at the Microsoft Store (opens in new tab).
Windows Central Newsletter
Get the best of Windows Central in in your inbox, every day!
George is the Reviews Editor at Windows Central, concentrating on Windows 10 PC and Mobile apps. He's been a supporter of the platform since the days of Windows CE and uses his current Windows 10 Mobile phone daily to keep up with life and enjoy a game during down time.
I love mine but wish it had GPS and NFC.

Hey I was wondering if you can change the background on the home screen (the picture behind the tiles) to anything you want? I've been wondering that for a while now. Every pic I've seen only has the basic colors with a slight design on it.

I am pretty sure that's possible because in Windows 8 which i have on my desktop it has an option to do that in settings. change it to a different pre-loaded wallpapers or you can upload your own.

You can only use pre-defined Microsoft approved images behind your tiles. Which I think is silly because it means you can only use what they think looks nice, not what you think looks nice, which boils down to a matter of opinion. (some of the pre-defined metro wallpapers are absolutely hideous)

There appears to be a choice of predefined backgrounds behind the tiles. I don't see an option to choose my own backround behind he tiles.

At this time you cannot change the Start Screen background. You can change desktop wallpaper as usual and lockscreen wallpaper. That's it for now.

I believe only Samsung Vivo Tab RT has both S-GPS and NFC but not released yet and not sure about price.
But for NFC it's much easier to use smartphone. And for GPS you could buy BT or USB GPS device.

Uhhh I think you're mixing up the Asus VivoTab RT and Samsung SmartPc Rt...

Keep in mind NFC has a LOT of different potential use cases. Some of which are very ideal for a tablet. The fact that one has NFC in their phone doesn't mean that one wouldn't need/want it in their other devices.

That's why you wait for the Surface pro. :) Hopefully they'll have all that.

Surface Pro does not have NFC. - PLEASE PROVE ME WRONG - seriously i wish it would have NFC

The lack of GPS is strange. The PRO will have GPS?!

I planned on obtaining the Pro, depending on price. I really want something that will be able to replace my laptop, and is a tablet/pad. The surface Pro sounds like it might be what I want. Maybe.

It's not actually all that strange. The iPad 3 (wifi model) does not have GPS. It locates via triangulation, which is what the Surface does. It is accurate enough. It's really more useful if you have 3G. So unless Pro has 3G, I would not expect GPS. I don't see it as a necessity at all... I juse use my phone.

Er, no. How can wifi possibly be accurate enough when compared to GPS? Especially not in, say, downtown Chicago.

I agree.
For Surface V2:
Hardware:
-GPS, NFC, 3G/4G options, 1920x1080 or better, 2560x1600 resolution (higher than iPad)
Software: http://bit.ly/T8Pa5J
-add options to pin all app bars to the screen for those who want that option
-fix X-Box Music and Videos. They are sorely lacking for anyone who has a large media collection, and have utterly no metadata editing functionality.
-improve maps and travel to be more discoverable and useful
-just port Zune onto Surface and replace X-Box Music and Video with that app. That might be a better use of Microsoft's time.
It's a start, but as a high-use scenario I cannot in good conscience recommend this for me, my family, my friends, or anyone who values my opinion. This is not ready to compete against the iPad.

-also, add icons for favorites and history in IE Metro. There's utterly no place to find them unless I create a new tab first. That's not user friendly.

Still not available in the Netherlands :-(

You can order online in German or UK Microsoft Store and get it shipped to Netherlands when selecting a shipping address. Actually you can choose to ship it to Austria, Belgium, Denmark, Finland, France, Germany, Ireland, Italy, Netherlands, Norway, Portugal, Spain, Sweden, Switzerland and of course United Kingdom. It's probably available in French store too but I don't understand French.
I'm not sure about available languages, though. They are selectable/downloadable in Windows 8, I suppose they are in RT too. And you should probably make sure you receive it with proper power adapter for your country (I think UK has different power outlets than most of continental Europe).

Not sure why EDIT didn't work. I wanted to add that I couldn't actually go through with the order as my country isn't listed. So if anyone wishing to buy a Surface who resides in one of the countries listed above wishes to give it a go... I'd be delighted to know if it works.

Nice review
I am still waiting for my surface to arrive from microsoft.

I know, right. I'm in the same boat.

I wish WPcentral makes an app for Windows 8

Jay tweeted that he was already successful with an initial pre-release build for WP8, so if that's something he can roll with easily, I'm sure he'd be interested in moving to a W8 app next. But since this is WPCentral rather than WSCentral, I can understand prioritizing Windows Phone first... ;)

Man, I can't wait for the Surface Pro (which I will be getting). If I can't buy it here in the Netherlands, I'm planning to order it in a Microsoft Store in a neighbor-country. Does anybody know perhaps, if Microsoft ships internationally?

availability is restricted to the country in which it is offered!!! I am floating in the same boat!!

Aww man, are ya kiddin' me? And I can't go to a brick 'n mortar store to buy one...cause Microsoft doesn't have any in Europe! Aarghh!! Buy a ticket to the US then? Yo home to Bel Air!

i'm from germany. If they don't offer a surface pro in your country, contact me, i'll send it to you or give it to you as i'm traveling a lot anyways.

I'm not sure about that. Both UK and German store let me select a number of countries for shipping address. But I can't confirm 100% such order would successfully complete because my country unfortunately wasn't on the list of available countries :(.

Here also from the Netherlands, this tablet needs to come in the Netherlands. I WANT it

I went a played with one at the Microsoft pop-up store in St. Louis. One key feature I could not get a good answer on was whether or not Windows RT supported remote desktop so I could log-in to my work computer (which is on a domain). The desktop has the program pop up when you search for it, but the store workers didn't think it actually worked (why have it on the desktop then?) If you guys get a chance, can you check on that functionality? This to me is probably a $700 difference between needing the pro version or RT working for what I need...
Thanks!

@Jeebus137: Yes, it comes with Remote Desktop client and it woks very well.

The remote desktop app works quite well. The downside is with Windows RT you cannot join it to a domain. I got around this by just vpn'ing in and going to my IP address for my machine or if you add the appropriate entries into your hosts file you can connect via the friendly machine names. I used it at my parents to stream my home desktop to display some videos I had recently ripped from VHS and given their shoddy internet service the Remoted desktop app worked pretty well. My only complaint with it was that it is difficult to use when connecting to another win8 device.

I am pretty sure that I've read elsewhere, that remote desktop works exactly as intended. You may want to check something like The Verge forums for confirmation though.

The Remote Desktop app from MS is available in the store. I used it to connect to our servers at work while connected to our wireless network.

You do not have to download the Windows Store version. It is nice, clean, and very useful, but the more customizable Windows desktop version is also installed with the OS.

You can also use the traditional remote desktop that i sbuilt in to Windows from the desktop. Works great at my office while i am testing it in our warehouse setting.

As others have said, remote desktop works but I think there is a Team Viewer App now (haven't used it on RT) and if you have never used I highly recommend trying it as it is much faster, more functional, and cleaner than RD.

I use Remote Desktop on my Surface RT to remote into my Windows 8 touchscreen PC. Works like a charm with full touch functionality. It will aso work with Windows 7 as well.
I set it up so my wife can remote in and use legacy apps like Picasa.

I bit the bullet and ordered myself a Surface RT - I was already pretty sold on the device anyway but the fact that the Remote Desktop feature seems to function so seamlessly really sealed the deal for me. I feel there's going to be little reason to actually use my laptop other than an extension once the Surface arrives...

That touch cover looks smokin!!!!

I'm still unsure whether to get one as I want 3G built in or to use a dongle and most use desktop software to initiate the connection which I can't be confident will work on RT.

Wait for the Pro version, IMHO, its supposed to have 3G integrated and it won't have the restrictions that Windows RT has (i.e. other than Office you cannot install and run any 3rd party desktop applications...for example...everything has to go through Metro. Another example Microsoft isn't allowing Mozilla Firefox or Google Chrome to use the same API's that I.E. uses in RT so their performance will be crippled (they have to be in Metro since they can't install and run in the desktop).
Go to the Pro version, which is just regular Windows 8 intel, and your tablet will be able to do anything you can do on a regular PC (CPU and memory constraints considered of course). IMHO, RT shouldn't have these constraints (it should be the same as regular Windows 8) and unless Microsoft does something about them, RT will get left behind as a stillborn OS after a year or two (Intel is now close to ARM class speed and efficiency for its latest mobile processors).

I hate to disappont you, but neither Surface has a cellular radio. They announced both would be Wi-Fi only. Also, the Pro doesn't have GPS either only a compass like the RT. Maybe they'll surprise us, but I wouldn't submerge myself under water too long.

Bummer, thanks for the heads up, I'd heard the Pro had mobile data...what a letdown....maybe Generation 2 I suppose...looks like we should be taking in what Samsung and other vendors have that might get mobile data on a Pro tablet.

There's a Vodafone connection app already in the Store. If someone has a Vodafone dongle (and the RT of course) they could try it out.

Baboli... This is the kind of info that really needs publicised. I'm wondering will Vodafone offer the surface with a dongle soon then.
Sasparilla, you've pretty much confirmed my suspicions that RT desktop restrictions would restrict the dongle idea... If only there's confirmation about that Vodafone app.

Here's some info from Vodafone FAQ pages for Windows 8.

Is Windows 8 compatible with all Vodafone Mobile Broadband devices? There is a two part answer here:
1. Windows RT: only USB Sticks that support the new NDIS 6.3 interface from Microsoft will work on Windows RT. The first Vodafone USB Sticks with NDIS 6.3 will be the K4305 and K4305-Z. Also, Windows RT tablets can be used with our Mobile Wi-Fi products (using a Wi-Fi connection).
2. Windows 8 and Windows 8 Pro: please check our compatibility list on http://support.vodafone.com/windows8

I'm gonna buy the dongle for Tmobile and see if it works. Pretty sure it will as I think it's a matter of simple plug and play. If it doesn't, I'll take it back and work with Wi-Fi which will become more ubiquitous over the next few years.

This is a decent review. I like that it isn't focused so much on lack of apps or W8 itself. So many reviews for the Surface focus on the software and not the hardware. Reviews for other manufacturers products for example never mention the drawbacks of the OS, they focus on hardware, just as Surface reviews should.
That being said I think the author could have described things, especially the screen, using more descriptive words. He describes the screen as 'nice' twice, and later says "The Surface is a nice device". "Nice" has very little meaning. Overall though I think this review gives readers good impression of the hardware. Thank you for the review.

I tried the tablet at a MS store & really liked it. I'm going to hold out until Pro is available. I want to be able to load programs (Ableton) on it. The rep tells me 90 days after & it maybe a bit thicker than the RT. Great media device & the construction quality isn't cheap. Worth the money IMO.

If you nose around the Surface website, I think its the comparisons page and you can see a side view picture of the Pro model. It is thicker, but not having the software restrictions MS has put on RT will make it more than worth it.

Software restrictions are actually a good thing.

They can be a good and a bad thing depending on your perspective - Microsoft thinks locking it down is good from a security standpoint (which is nice) and a 30% cut of every piece of software you buy for that RT tablet cause it all has to come through them on RT.
If you have a choice of two tablets in front of you and one (RT) can only use I.E. as a serious browser (with competing browsers being crippled by lack of API access from Microsoft) and can't install and run desktop applicationsj even though its got a desktop on it and Office uses that desktop (on RT its only Metro apps and only through Microsofts store) - while the other tablet (x86 Windows 8) can use any browser you want without restrictions and allows you download and install desktop applications and they both can look and perform about the same and cost about the same - which would you choose? Most folks would go for the 2nd choice by a wide margin. I was actually going to get a Surface RT until I found out about the restrictions on the OS...
Now the only wrench in this scenario is that Microsoft is making their Surface Pro a laptop class machine sporting an intel core i5 processor (couldn't believe they did that) instead of the intel Atom tablet / mobile processors most folks would expect, so you'd have to go to other vendors for a comparable x86 Windows tablet to the RT Surface on price etc.. JMHO...

I use IE so I don't have these issues. I have used Firefox,chrome, Netscape, opera, safari. They all pretty much suck compared to IE10. Like I said I don't have any issues am glad to push the Metro UI forward in its intended form.

I picked up a Surface RT, and it's not actually locked down. It just has an ARM processor, so it won't run programs compiled for x86 processors. It's not about Microsoft locking it down for security or profits. You basically have full access to the O/S, just like you do with regular Windows 8 Pro. I was able to download and install Microsoft's remote debugger, because it is compiled for ARM.
I expected the Surface to feel restricted like using an iPad, but after using it for almost a week, it feels much more like a full laptop with the caveat that you can't run x86 programs.

I for one am glad Surface Pro is not using an Atom-class processor. I'm running Windows 8 Pro on my AMD C-60 (Atom-equivalent) netbook. It runs better than the Windows 7 Home Premium that was on it before, but it still lags at times. I expect I could get more battery life between charges by adjusting power settings.

Actually, the New Atom has much better performance than the old Atom processor that got a bad rap. Also, I installed Windows 8 Pro on my old Atom and it runs great with no performance issues at all.

I did as well, but the app functionality is serverly crippled (screen resolution) on my netbook.

The old Atom processors do not have a bad rap. They have justified rap for poor performance and not much improved battery life. The new line is, hopefully, better but I don't even really see the point of it anymore. The low power I5s I have used on other laptops trump the old Atom processors for battery life, offer I5 level performance, and appear to be just as good as the estimates for battery life of the new Atom processors. The only Atom advantage is price but if you are holding put for a Pro tablet you might want to consider that you not only want to load programs but also run them. With a couple overrides, I can run Adobe CS6 applications on a dual core netbook at the office. It is, however, so painfully slow it is not worth the effort.

I dont have an ipad, or a nexus whatever, i couldnt justify a "Fun" tablet, but i did pick this up. I bought it to replace my home computer, a slightly aging dell 17" XPS windows 7 64 bit, with all the bells and whistles for gaming. I no longer have the time to game on my computer, i can only find time for some xbox, so i figured i wouldnt spend 2k on another laptop. So far, im happy, and at this moment, i dont see a need for the full windows 8 yet, just word excell and whatnot for occasional work brought home, making this a cheap replacement, not an expensive accessory like an ipad for me

Looks like you got yourself a good substitute, then. Enjoy!!

I could NEVER replace my desktop. It is my file server, video editor, software development machine. However, that said, I believe my Surface RT can replace my laptop. In fact, I am very close to selling the laptop. Like you, I love gaming but lack the time. If I game, it will be on the PC or XBOX. I do hope there will be a strong RT community for power apps and good games.

Just RDP into your desktop when necessary. The thing I always hated about my iPad was the awkwardness experienced using it to RDP into an environment to actually do something productive. I too am a developer, and the Surface seems more user friendly when it comes to accomplishing something useful; but it still maintains the cool and fun factor, while providing a good media experience.
It's not confusing, as some reviewers and the current king of Apple say, it's called 'adequacy'.

My concern is will the rt version be able to handle audio editing? I'm nervous about commuting to the rt version as opposed to the pro because I need to be able to edit audio files. I'm sure this is all up to the apps in the market but hypothetically...

Any non-baked in functionality with the RT version is subject to app developers. The capability, or rather potential, exists, but an app must be developed to offer this functionality, just as an application was developed for Windows X to allow such functionality.

It is a beautiful piece of hardware. Wasn't sure how much we would need a tablet in the house since we already have a couple desktops set up, but it's been high demand so far. My not so techie wife has now taken it to work for the second day in a row. Need to look at adding tethering to my AT&T plan though, since you are so dependent on an internet connection to fully benefit from its features.

I got a chance to use a Surface today as a little demo. Very solid device! I don't have the money for one right now though... hoping to get my old HP convertible in running order to get Windows 8 on it.

I wish you had stated more about the on-screen keyboard? It deserves more attention than one sentence. How well does it really work? How well does the on-screen split (thumb focused) keyboard work? How well does it work in portrait mode vs. horizontal mode? How well does it function in the desktop environment vs. metro?
Thanks

I read in another review that portrait mode was cumbersome and close to unusuable due to how tall the Surface is when held in portrait orientation.

I read in another article that it was awesome!

Portrait mode is one of the underrated features in my opinion. It's great for reading web pages and the comments section. Yes, it's taller than it is wider, but everyone knew this already since it is 16:9.
In a word, it's awesome. At least to me.

I'm very happy with the on-screen keyboard. In landscape it fills half of the screen. The keys are nicely spaced, and it feels more natural than the iPad's keyboard. For example, you actually hold the shift key down instead of tapping into "shift mode." In portrait mode it's pretty tight, but still better than a phone keyboard. As a wide-screen tablet, the controls work really well to hold it on the sides in landscape. I got used to the thumb keyboard pretty quickly, even though it is strange to have the keyboard split. You can pick from three different sizes of keys, depending on your thumb reach. It's great that you can hold the Surface on the sides and accomplish almost anything without moving your hands. Works well for lounging on the couch!

Sounds good to me, I came to this article curious about the on-screen keyboard, which most reviews seem to be ignoring (fair enough, given the innovative covers). If I get one of these, I predict using it as a tablet first and foremost, with the touch cover as a backup plan of sorts.
I have to correct you on an iOS point, though. While iOS does have the 'sticky' shift key, it also works as expected if you hold the key rather than tapping it. Best of both worlds!

It's hard to believe *no one* has developed an onscreen keyboard better than the HP TouchPad's. What a shame! I was really hoping the Surface would have a nice onscreen KB, but alas, it does not.

What was so special about it? What do you find missing in the Win8 version?

It had an onscreen KB that had the numbers row on top, just like a physical KB does. It was so nice to type up emails on it because I never had to "flip" the KB to the numbers/symbols area. I can't tell you how nice it was to not have to stop my typing just to input a number or symbol.

You can have that in the onscreen keyboard, just enable standard layout keyboard in settings and a full keyboard awaits you

Yeeeeeeaaahhhhhh!!!! Thank you!

LOL, you guys are great. :-)

I have an HP Touchpad and completely agree that it has a fantastic on-screen keyboard.

Not sure what you mean. Bought a Surface on Sun. and the onscreen keyboard is extremely responsive and accurate. Not sure what else I would need

Extra or new letters would have been cool.

What are 'new' letters and are there any extra letters outside of the standard 26?

And that's where Microsoft could have excelled, introduce a new letter to the alphabet or maybe create a new vowel, that way all these keyboard complaints could have been mute.

A very good review.
I've got my Surface RT on day one, mostly I love it but speaking of WP support, it's really bad.
I can't sync photos/videos/music between my Lumia 800 and Surface RT.
I know I could use the SkyDrive trick, but what if I'm outside and without Wi-Fi support? And I've got a huge amount of data to sync? Man 3G/4G is not cheap...
IMO Microsoft is not very ready for its launch.

I love mine. it's now considered my twin. where I go it goes. :)
I can't wait till Adobe port those touch apps to this patform.
BTW I'm have issues sigining into the WPcentral app. I 've change my password twice and it still won't accept it.
Anyone else experiencing this?


Yes. I've been experiencing the same thing. If you can see this, it means clearing the cache in the app settings worked.

Yes! Go to the reopen the wpcentral app. Touch the gear for your settings. Scroll right three pages (can't remember the title), and then I cleared everything except my offline content. When I tried to reply to you, it took me to a sign in screen. I used my new password...and voila'!

I was very impressed with the surface when I finally found on to handle in person. I'd love one but the price is still too much for me personally. I feel it's worth the cost, I just can't swing the expense. Think the 7" tablet prices and size fit my needs better. Would love to see a 7" RT Nook or something bit that appears to not be a possibility now so who knows. Fire or Nexus I guess. :(

Another vote for a 7" RT tablet.

They would probably have to get rid of the multitasking ability to have two apss on screen at once for a 7" tablet....

I was really amazed by the touch cover. The very first time I used it, I was in a Microsoft Store typing in my Microsoft account and password, and everything was correct. That spooked me out. I'm not one of those super fast typer anyway, and I pretty much get to full speed on a touch cover. Feels kind of weird but it really works. Amazing.

Nice review on the hardware but I have to ask does the RT feel like WP 7? Where the market felt empty & some features where not there yet? I want one but I might hold on for the pro because I'm afraid the RT will not get much support from developers.

I think with Win 8 adding 500 apps a day and it's only been out for 6 days and there are already at 10k apps I don't think the app complaint will last long.

The potential global consumer base for Win 8 apps beats everyone else combined, given the ubiquity of Windows. No shock to see the number of new apps growing each day!

i cant wait to get mine, i dont know if anyone watches NCIS LA but thier tech guys used a windows surface tab on the show with a red touch cover. they showed it with the kickstand out and showed the guy (Eric) attach the keyboard, weather a lot of people watch that show or not, MS is definately putting in the effort for the tablet to be known.

Good review. Can you also shed some light on how responsive the Desktop apps are ? i.e., Word, Excel and powerpoint. I saw a youtube video where they were laggy as hell.

Apparently Word is slow on the Surface to the point that Steven Sinofsky acknowledged that MS was working on an update for it.

I would love to get a Surface, but it would have to be a Surface Pro. I can't justify having a laptop and a tablet, so the tablet would have to be able to function as a laptop replacement. Not sure if the Surface Pro will fit the bill for that or not. I also don't like that it's expected to take an additional 3 months to release the Pro, not really sure of why that is...

My only Major complaint......... and this maybe a Windows 8 thing too.. I can not save my username and password for my Work Wireless. I have to retype it ever time the unit goes to sleep. Sadly my bosses iPad does save.

You must be doing something strange, there is no way you need to retype your wifi passwords after sleep or anthing else.
In my experience with W8 and any version of Windows I can remember you can choose to save the password for any wifi network and it will never be asked again (actually, it should also connect automatically without even asking whenever the network becomes available)

It will save my Dlink and Netgear Wireless with no problem. Are Work I Authenticate to a Windows 2008 R2 Radius server. I forget the type of encryption they are using though.

At my office I have to provide my MAC address to the IT department so they can enter it in, then I don't have to type my password every time. Maybe they'd do that for you?

I have the same issue with the laptop I just upgraded.
This is at work....not at home as you mentioned.

Any input on multitasking while doing skype video ?
I wonder if the Tegra3 can keep things smooth while video-conferencing.
That is a must for me since I tend to spend hours video chatting while doing other stuff on the PC, and right now I'm concerned about the power of the beast.
Any input would be appreciated.

I was Skypeing with my Daughter while playing Wordament. I Also had the News and Sports Apps open. No Issues. Netflix is the only thing that lags my Surface, but I think it is the App more then anything else.

yeah the netflix is a little buggy, I ran into some problems with flickering and the video compression it a little wanky.

I was Skyping (an excellent app) and surfing the web and typing a document...you will see a small lag when you mutitask with Skype but it doesn't hinder any operation, just the initial of opening the app ...but Skype still ran in the backgroup and I can still chat and type
This is a lot better than the Galaxy Tab that I was using (craigslist ftw)

At first I was going to wait for the Surface Pro. However, after seeing the Lenovo convertibles (Yoga and Twister), there's not a whole lot of reasons I can think of to wait, besides the higher 1080 resolution. For a few hundred bucks more, you can get an SSD (Yoga), real keyboard, more memory, bigger display, and Intel-based processor. The Yoga is 3.5lbs I think, so that's one downside (Pro is 2lbs). At that point, you are buying a laptop basically, which is what I wanted to do with the Pro.
Weight is important to me, but so is power, so I still can't decide if I should wait or go for the Lenovo. I don't have a personal laptop, so I want something that'll let me develop on the go if I have to, play some games, and use Windows 8 apps. What I worry about is bitrot over time and battery length, I do want tablet-esque battery life (7+ hours) and something fast enough to get work done.
I wish they had just released the Pro alongside the RT so we could make a decision.

Sounds like if you had the Pro and RT side by side then you would most certainly pick the Pro.

Love snap, love the touch keyboard, love the fact you can setup multiple user accounts, loving smartglass (still getting the hang of it). Some hiccups, but overall a great device.

For anyone trying to get Flash to work on all and every site (including the ones Microsoft didn't want you to use Flash on), follow the instructions below:

If you have done this, you will be able to locally change the whitelist without getting overridden. The whitelist can be found here: C:\Users\[USER_NAME]\AppData\Local\Microsoft\Internet Explorer\IECompatData\iecompatdata.xml Open this file and look for these tags: Code: <Flash>
[... the domains are listed here...]
</Flash> Inside these tags all whitelisted (flash-enabled) websites are listed for IE10 Metro. All you do is add your desired website inside these tags as follows: Code: <domain>YOURDESIREDDOMAIN.COM</domain> Add as many websites as you'd like...
Now we are almost done, one last task is to delete browsing histroy. Open IE10 Metro and click WIN+I (to open settings) --> Internet Options —> Delete browsing history And you are all set and done. Flash is now enabled in IE10 Metro for the websites you have just added.


Big thanks to Marvin_S from the Xda forums. I tested this and it worked great.

Awesome find! Do you know if there is a way to allow flash to work on all websites? I have having to delete my history.

You're the wind beneath my wings.

Here I come pr0nnnnnnnn !

I'm trying to get local flash to work. I have a directory on my pc of html files that have flash content. I've tried adding d: to the list but it doesn't work. Any suggestions?

Great review!!
Holding out to compare the Pro vs. RT.
Seems like an awfully good start, though!!


Nice Review and thanks :-). I read where you were going to have more on the Type Cover later. Does this mean you will compare it to the Touch cover? I'm wanting a comparison in case I can't check them out in person prior to ordering. I did read that surprisingly the Touch is better after you get used to it.

Same here. I am leaning on the Type Cover and a review & comparison with the Touch will be very much appreciated.


I am an Architect. And I have been waiting for a tablet that can run desktop apps necessary for my needs.
About a year ago, I knew Microsoft will make one. And they did! And the feedback is very good.
I'll patiently wait for the Pro.

Nice review, but having just read the rather negative review at eurogamer I'm rather concerned about the gaming performance of the surface. Any information on how well games perform on the surface

You stated it won't be replacing your laptop. Mind elaborating on why not?

Can you hook up an external monitor and use both the Surface monitor and 2nd monitor, like you can with a laptop? I'm considering one for my wife who does a lot of fashion blogging, so all her needs are web and word. Serving as a desktop / laptop replacement is key, but there are a few programs we probably could not live without.

Yes, you can connect a second monitor just as you envision. I'm waiting for my micro HDMI cable now to do the same thing.

I was in line Friday morning to just look at it and get some initial impressions. I never expected to actually buy one... but I did. I'm so glad too, because it really is an amazing product.
I have my little nitpicks about it, but all of them are software-related, so they could easily be fixed. I definitely want to see a dedicated Facebook app, although I am sufficient now with MetroTwit snapped left next to the Facebook web site. I also want control over Flash-enabled sites. I want a manual override for it... even if it meant clicking "allow" every time I visit a site (to prevent settings hijacking). I also want Silverlight support... or for Microsoft News Center and Channel 9 to stop using Silverlight, lol.
NFC and GPS would have been nice, but I'm OK with Wi-Fi location services. They're adequate.
This is definitely a companion device. Surface Pro, I could totally replace my entire laptop and never think twice. I can connect it to plenty of peripherals, and it can run legacy apps and has plenty of hardware power, so yeah... can't wait for that, but for now, Surface RT is a GREAT companion or consumer laptop replacement device...... but we need to see a HUGE app selection boost, and I think we will in the coming months.

I can't find a review that talks about the Type Cover.
I know the bundle was with the touch, but my mother has arthritis and I think the Type kb would be helpfull to her. Unfortunatly, I live no where near a MS Store, so I'm waiting on a review before buying online.

Hey Guys,

Is there a good web site dedicated to inform about Windows RT/8 apps, as in the latest, cool apps and such? I hate scouring the marketplace...

it does look and feel like a solid device but, I want a Windows 8 Pro tablet. What's wrong with wanting to play a little black ops on the road (used with a xbox 360 controler, it could be epic) ??

I was against Windows 8 for a while but, I'm starting to like it and could see the use but, I need my current Apps (photoshop and a ton of others) that will only run on Windows XP/7. So the Window 8 pro devices will have that.

WP could you make the youtube on website a little wider?

I'm absolutely thrilled with my new Surface. Besides my earlier question on the RT forum asking how to "select" a single photo, the learning curve is almost a non-issue. I love swiping between open programs and the ease of navigating around. The touch keyboard does take some getting used to (I havent' used it enough to be hyper-proficient but can type pretty quickly on it when I'm sitting at a desk in a proper position), and having access to office is great. The realization I have had is that, for me at this point in time, it isn't an iPad (or iPod Touch) replacement. Why? Simply stated the more obscure app selection that I've grown to use on my iPad for home-related devices. * Sonos - I truly wonder if/when they'll have an RT app. You can install the desktop SW on Pro, but we're talking RT. No web interface available to my knowledge. * My Yamaha receiver - not holding my breath. I use the app all the time to control zones, launch Pandora, etc. * Nest Thermostat - again I wonder (especially given their Apple pedigree though they do have Android apps). They do have a web interface that I could probably use. * Logitech Squeezebox (pre Sonos device I still have) - who knows? They too have a web interface - slightly clunkier than the app IIRC. * Future home automation projects - I guess we'll see. I guess what I'm saying is that I need a glorified remote at home for all of these connected devices, and I one can always rest assured that iOS will have an app that's needed, whereas until the RT ecosystem really gets a serious install base some of these more "niche" device companies probably won't allocate the resources to RT (I hope I'm wrong). To be perfectly clear I don't think that's necessarily a negative for the Surface. Spend $199 or whatever an iPod Touch costs and have that be the glorified remote hanging out on the coffee table, but otherwise have the Surface for all other consumption & creation needs. My only other "knock", if I can call it that, is that since game developers develop specifically for the iPad I wonder whether the breadth of RT offerings (over time) will be as optimized. IMO Jetpack Joyride is an example of a game on the Surface that is playable and fine, but not as crisp & smooth as the iPad. I'm chalking that up to being optimized for the iPad vs. being playable on the Surface if that makes sense. All in all, I love the device and short of when I need to control those specific home devices I doubt I'll be touching the iPad much if at all....(though I hope they come out with a few decent tower defense games soon)

THE DOWNside of this looks to be Windows RT

i wish they would put the number bar across the top of the virtual keyboard. and direction keys.

There is. Settings > PC settings > general > make the standard keyboard layout available

My 64GB Surface shipped to my forwarding agent in the US (thankfully Microsoft did deliver it as opposed to Apple who did not before in my previuos attemps to buy an iPad) and I should be getting my Surface here in Saudi Arabia tomorrow. Crossing fingers :) Can't wait

A really important question. A bit off the topic, but is there going to be a wpcentral app for windows 8 in the future? That will be so cool.

there is no outlook express?

I really like mine and discover new thing about the OS almost daily. I wish it did support pop mail, however. It feels like you could drive over the thing with a car without breaking it

Just to add my tuppence worth.
Overall, I really like the device; snappy, well built, good screen. Love the fact that there's a USB port & expansion via micro SD.
I can VPN into my client's sites & Remote Desktop no problem
I just received the Type keyboard today, pretty good, but no way would I pay full price for it (I got the £50 credit for them missing the delivery date!)
I originally thought of waiting for the Pro, but decided to go for the RT because my laptop is still good enough if I need a machine with more grunt. Having a machine that will last all day & is very light will benefit me greatly (especially my shoulders!!)
Plus, I'm not sure if I would pay the extra money for something that still has a 10" screen.
Now if I can get my 3G dongle to work & find a USB - LAN adaptor that will work with the RT, I'll be a very happy man indeed.

I think sofa surfers will still prefer the iPad, but for work purposes, this beats the Apple device hands down.
Windows Central Newsletter
Thank you for signing up to Windows Central. You will receive a verification email shortly.
There was a problem. Please refresh the page and try again.