Review: Mobi Plug-in SD and microSD Reader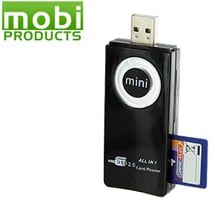 I am always losing those SD Adapters for my MicroSD cards, which are required to be used with most card readers. So I decided to try the Mobi Products Plug-in SD and microSD Reader ($14.95) because it supports several different cards including a dedicated MicroSD slot!! Not only is this one of nicest looking card readers I have owned, it even held more surprises that I originally thought.
Physical Build and Appearance
When I first opened the package, I thought, this is the nicest looking card reader I have owned. It has a semi-glossy black finish. It has a removable cap over the USB plug for easy packing when traveling. When you plug it into your USB port, the clear ring that dominates the front, lights up with a very faint blue glow, though this effect would be more dramatic if brighter. The build felt very light, but as solid as one would expect for a compact card reader. To be purely vain, it would be cooler to have more rounded corners, but that is purely cosmetic. If we could judge a book by its cover (or a card reader by its case), then it was certain that this was destined to be my favorite card reader.
Physical Build and Appearance
Functionality
But destiny took a left turn as soon as I inserted my MicroSD card... or so I thought. I noticed that the card did not have a snug fit which is needed to make a secure connection with the card to read it. I tried flipping the card around and confirmed I had it inserted correctly the first time. After several minutes of attempting to insert the card correctly, with it never registering in Windows Explorer, I noticed it was my error, as I was trying to use the MicroMMC slot instead of the T-Flash/MicroSD slot. This is one case where it pays to read ALL of the small print! So once I overcame my ID-Ten-T (IDIOT) error, it worked great!!!
Now, when I thought I couldn't be happier with this inexpensive card reader, I was treated with another pleasant surprise. It does not claim either way to be able to read SDHC formatted cards (this is the new high capacity cards that offer 4 gigs or more) which is a feature that is usually spotlighted with card readers, so I was not expecting it to support it. I decided to try my ScanDisk 4 Gig Ultra II SDHC SD card. It worked with no problems at all!
If you have a hard to reach USB port on your computer you will want to use a USB hub or extension cable.
Functionality
Conclusion
The Mobi Products Plug-in SD and microSD Reader worked beyond what it promised. The added unexpected surprise that this card reader supports SDHC formatted cards adds value to this card reader all by itself, let alone having a dedicated MicroSD slot, which is not common in most card readers.
For only $14.95, it is well worth every penny. I see card readers in stores that do not support SDHC format and do not have a MicroSD slot selling for $30.
I tried to find a fault with this unit, and besides making the print a little bigger for people like me, I could only come up with cosmetic suggestions based on pure vanity. I would recommend this reader to anyone with SDHC cards and/or MicroSD cards.
TECHNICAL SPECS
Supports USB 2.0 (No cable needed - plugs right into USB port)
No external power required
Weight: 87g
LED indicators
Hot swappable [if your desktop OS supports it]
Read speed over 4.3Mbps, write speed over 1.3Mbps
Requires Windows 98SE, ME, 2000, XP; Mac OS 9.2 or higher

Card Support:
Secure Digital / MMC
miniSD (with adapter)
micro SD (no adapter required)
Memory Stick
XD

Swipe to scroll horizontally
| | |
| --- | --- |
| Ratings (out of 5)Physical Build: 5Functionality: 5Overall: | ProsDedicated MicroSD slotSupports SDHC format cardsNice lookingEasy to pack and travel withConsCosmetically, it could have rounded corners and a brighter blue light for the center ring on the front.It would be nice if it came with a short USB extension cord. |
Get the Windows Central Newsletter
All the latest news, reviews, and guides for Windows and Xbox diehards.