Review: Mobi Products Cradle for AT&T Tilt2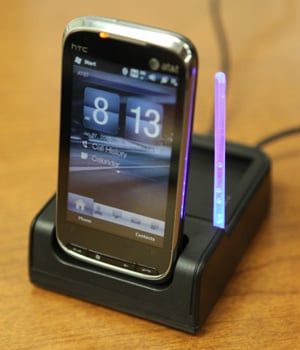 Accessories for Windows Phones can be very generic or device specific. Bluetooth Headsets are one of those things that you can pretty much guarantee will work just as well no matter what device you're using. Desktop Cradles on the other hand are one category of accessories that are device specific by necessity. I've already reviewed the Innodock Jr. from Seidio, but there are other options that may be a better option for your needs; such as Mobi Products' Desktop Cradle for the AT&T Tilt2.
Hit the jump for the full review.
Build Quality
Any time you're talking about something that holds or plugs into your device one of your primary concerns should be with the quality of the design and construction of the product. Mobi Products did a good job of making a product that does a good job of integrating design elements that enhance the strength of the cradle, the fit of the device, and the features that are offered. The cradle is mostly plastic; making it safe to use without having to worry about scratching up your device.
Features
The Mobi Products Cradle has a number of features that set it apart from other products. The cradle itself features a single USB port that matches up perfectly with the port on the bottom of the device. The back of the cradle features a cable going out to a plug for power, as well as a USB port that can be used for synchronization. This particular cradle also features a spot to charge a second battery, which is particularly handy for the most power hungry of users. Last but not least, a clear stylus is included which can be easily placed into a hole in the dock. An LED light creates a glowing effect when the stylus is being stored.
A couple of things about this cradle are a little perplexing. The documentation states that the AC adapter is only used to charge the spare battery, while the USB cable is used to sync and charge the device. In my testing I found this was false. Also, the USB cable is hardwired to the charger; the AC adapter is a separate unit, but plugs into the cradle using a USB port. None of these quirks really cause any problems; they just seem a little weird when you think it through.
Conclusion
Desktop cradles aren't for everyone, but they are indispensable for people that use them on a daily basis. Whether you're constantly in need of an extra bump in power or you count on the ability to synchronize your computer on a regular basis; a cradle like this is the best option to accomplish those goals. The fact that you can simultaneously charge a spare battery is an extra bonus. If you're in need of this kind of a solution, $24.95 is a small price to pay. Hit up the WMExperts Store for one of your own.
Windows Central Newsletter
Get the best of Windows Central in in your inbox, every day!
George is the Reviews Editor at Windows Central, concentrating on Windows 10 PC and Mobile apps. He's been a supporter of the platform since the days of Windows CE and uses his current Windows 10 Mobile phone daily to keep up with life and enjoy a game during down time.
Is there anything that would prevent this cradle from working with variants of the Touch Pro 2 other than the Tilt 2?

I think the models that have a 3.5mm headphone jack have their usb port in a different location. I can't remember if the Tilt 2 has 3.5mm or not, but my intial thought is CDMA has it and GSM doesn't. I have a CDMA so this might not work for me. Also, what up with the glowstick? Can't decide if it looks really stupid or mildly amusing.

I go back and forth too. It's nice to have the stylus, but it is a little hokey.

Ah yeah, I forgot about the CDMA TP2's and their different port placement. But I wonder if T-Mobile's TP2 and the unlocked version could make use of this cradle.

I bought this dock for my Verizon TP2 (the CDMA model... the CDMA and GSM models are different, but work with all phones of that type, i.e.: CDMA works for VZW and Sprint). My only complaints are that the charging for the second battery is VERY slow, usually taking several hours even if the battery was only down 50%, and also that there's no real good 'guidance' when placing the phone into the dock, for example, it is kind of hard to dock the phone at night with the lights out before going to sleep, it's hard to 'feel' if it is lined up correctly. It was very inexpensive and gets the job done though, I would recommend it.

The cradle is mostly plastic; making it safe to use without having to worry about scratching up your device.

I was afraid that the HTC TOUCH PRO could not handle all these features but i am so happy that this device is a piece of art!!

aion gold
aion kina
aion kinah
aion power leveling
aion time card aion cd key
aion accounts
buy aion gold
cheap aion gold star trek online cd key
star trek cd key
buy star trek online cdkey
star trek game card
sto game card
buy star trek cd key
star trek cdkey
buy star trek online cd key
star trek online game card
buy sar trek game card
buy sar trek cdkey
star trek energy credits
sto energy credits
sto gold
buy star trek energy credits
star trek online gold
cheap sto gold
star trek online power leveling
sto powerleveling
sto power level
cheap sto power leveling
buy star trek power leveling
star trek power leveling
star trek online accounts
sto account
buy star trek online account
cheap sto accounts
star trek account for sale
buy sto energy credits
buy star trek online gold
cheap sto gold
cheap star trek gold
star trek gold for sale
buy sto gold
star trek online account
sto accounts
buy sto accounts
star trek accounts for sale
cheap star trek online account
star trek power leveling
star trek online power leveling
star trek powerleveling
buy cheap star trek power leveling

there is a a/c charger that comes w/Tilt2 ... plug the cradles usb2.0 cable in there + the a/c charger that comes with cradle ... all on a/c now! quit you nit-picking and belly-aching, PLEASE ... !!!
Windows Central Newsletter
Thank you for signing up to Windows Central. You will receive a verification email shortly.
There was a problem. Please refresh the page and try again.