Review: Seidio Innodock Jr. Desktop Cradle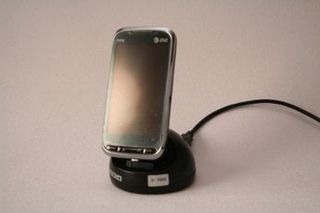 There's something about having a high-end phone laying prone on your desk that just seems wrong. Is it just me, or is getting a dock for that shiny new Touch Pro 2 a high priority for anyone else? Seidio is one of those manufacturers that are really one of the go-to companies when it comes to accessories for Windows phones. A prime example of that is the Innodock Jr. Desktop Cradle.
Features
The Innodock Jr. is pretty lacking in features. Power is achieved through the included USB cable, which is a male-to-male USB-A type cable. There are a couple of issues that I have with this. First of all, if you lose the cable, it's not all that common; so replacing it would be harder than it needs to be. Secondly, there is no power brick, which means if you are away from a computer this won't work out of the box. Another thing that I would have liked to see was an audio port, but there is none to be found in this particular product.
On a positive note, this dock is compatible with all of Seidio's Skins, Innocases, and Extended Batteries. This is fairly uncommon for a case manufacturer, as all of these products change the "footprint" or size and shape of the device.
Build Quality
When it comes to a product made by Seidio, quality is something that you almost don't need to talk about because it's really not an issue. Everything about the Innodock Jr. is solid and stable. The only thing that gives me pause is the actual extUSB port. Seidio has designed this dock so that the extUSB plug is built on a hinge, so that you can place the phone in the dock and then lean it back against the dock. This is how they are able to make the dock compatible with all of their other products.
Conclusion
Seidio always makes quality products, and the Innodock Jr. is no exception. While the $29.95 price tag is a little high, I think the fact that the dock is compatible with Seidio's other product lines makes up for that. If you're not using a Seidio case or extended battery this product probably isn't the best choice for the price; but if you are already a Seidio customer, this is a winner. Make tracks over to the WMExperts Store to pick one up.
Get the Windows Central Newsletter
All the latest news, reviews, and guides for Windows and Xbox diehards.