Review: Seidio Innodock Jr. Desktop Cradle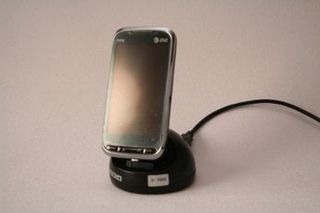 There's something about having a high-end phone laying prone on your desk that just seems wrong. Is it just me, or is getting a dock for that shiny new Touch Pro 2 a high priority for anyone else? Seidio is one of those manufacturers that are really one of the go-to companies when it comes to accessories for Windows phones. A prime example of that is the Innodock Jr. Desktop Cradle.
Features
The Innodock Jr. is pretty lacking in features. Power is achieved through the included USB cable, which is a male-to-male USB-A type cable. There are a couple of issues that I have with this. First of all, if you lose the cable, it's not all that common; so replacing it would be harder than it needs to be. Secondly, there is no power brick, which means if you are away from a computer this won't work out of the box. Another thing that I would have liked to see was an audio port, but there is none to be found in this particular product.
On a positive note, this dock is compatible with all of Seidio's Skins, Innocases, and Extended Batteries. This is fairly uncommon for a case manufacturer, as all of these products change the "footprint" or size and shape of the device.
Build Quality
When it comes to a product made by Seidio, quality is something that you almost don't need to talk about because it's really not an issue. Everything about the Innodock Jr. is solid and stable. The only thing that gives me pause is the actual extUSB port. Seidio has designed this dock so that the extUSB plug is built on a hinge, so that you can place the phone in the dock and then lean it back against the dock. This is how they are able to make the dock compatible with all of their other products.
Conclusion
Seidio always makes quality products, and the Innodock Jr. is no exception. While the $29.95 price tag is a little high, I think the fact that the dock is compatible with Seidio's other product lines makes up for that. If you're not using a Seidio case or extended battery this product probably isn't the best choice for the price; but if you are already a Seidio customer, this is a winner. Make tracks over to the WMExperts Store to pick one up.
I had a couple of these for my old Touch/Vogue. They were decent although one crapped out on me not too long after I had it as the lack of any supporting rails means it's basically just the mini-usb connection itself holding it (i.e., there's a fair amount of wiggle from side-to-side.) When I upgraded to a Diamond I was frustrated that they didn't make one for that model as it was essentially the exact same connector, just reversed. So I cracked my old Vogue dock open and flipped it around myself. It worked great until I started having similar issues with the dock not charging due to the sideways wiggle. That said, the non-Jr model with the 3.5mm jack was EXTREMELY useful to me as it allowed me to stream radio/video/orb/etc all day in my office without touching my company's connection.

The only thing I don't like about the unit is it must be connected to a computer to charge the phone.

This dock can be connected to an electrical socket with: http://www.seidioonline.com/product-p/pkadpuy40k03.htm No need to connect it to the computer to charge your Tilt 2.

anyone recommend/review any other cradles for the CDMA/Sprint Touch Pro2?

never liked these docks.... as for well built, ever look inside. the one i had (bought directly from seidio) had loose cables that ended up shorting out the dock (and my phone, original at&t tilt)
the phone was swapped out under warranty, but not the dock. also, was unhappy with the lack of support for the phone. my opinion... it's not worth $30... $10-$15 sure.

They used to make nice powered car docks for most phones but now only seem to make them for the "Fruit"cake phone. Really a shame because they where nice and worked with the cases like this dock. Without that I really don't see the point in buying any of their other products for the TP2. Their cases are not that much thinner or of such a high quality to justify paying upwards to four times more without it. Mentioned this to them in and email and received a canned message which is also new since they used to have a human respond but I guess customer service isn't a priority anymore either.

This is a great. For a period of 8 months. (And the warranty period is 6 months). Stopped after the shipment of my phone. Began to display your iPhone, saying he did not take the device to be used with the iPhone.
Windows Central Newsletter
Get the best of Windows Central in in your inbox, every day!
Thank you for signing up to Windows Central. You will receive a verification email shortly.
There was a problem. Please refresh the page and try again.