Review: Motorola H700 Bluetooth Headset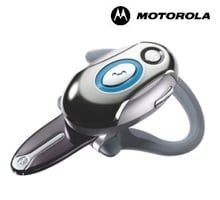 It seems that everywhere I turn on internet or on the forums the quality of the Motorola H700 BT headset seems to have overwhelming success with a wide range of cell phones and smartphones. I have the Sprint Mogul (aka PPC-6800 / Titan / XV6800 / Telus P4000) with the much to be desired BT capabilities. According to many on the forums, this specific BT headset is one of a very privileged few that seem to work well with the PPC-6800, so I was really anxious to try it for myself.
Charging and Battery Life
The moment my Motorola H700 was delivered on my doorstep, I rushed upstairs to my office and plugged it in immediately. I waited the full 2 hours for the initial charge before pairing it, just as the directions stated (waiting for a new toy to charge is so hard!). The first thing I noticed was that the main indicator light on the side is actually multi-colored as it did not light up with a blue color like most do when you are charging, it was actually red. Then when it was done charging, the light just didn't go out, it actually glowed green. It may not seem like much, but sometimes the little things do add up.
The H700 comes with a travel wall charger. And since it has a mini USB plug you could use a USB cable and simply charge it with your laptop. You can also get a car charger for the H700. It is important to note that the H700 is not functional while charging. But with a fast charging time that is 1 to 2 hours, this shouldn't be an issue for everyone who remembers to charge it up every couple days, depending on the amount of use.
The H700 is rated to be able to have around 192 hours (8 days) standby time and up to 6 hours of talk time. I have yet to make a single 6 hour call, but that does seem to be fairly accurate collectively over the course of several calls. The standby time does seem to fall a little short but is within 20 hours or so (just under a day) of the total standby time. Overall I am very satisfied with the usage times.
Battery Life:
Comfort and Design
After it was fully charged I stopped and took a good look at the physical design of the H700. The first thing I noticed is how "nicely" small this oval shaped unit actually is. I say it like that because it is not too small, like some new BT headsets earbuds that are coming out now, where I feel scared of losing it easily. But when compared to other boom style BT headsets the H700 is a lot smaller in comparison. In fact it is approximately 30% smaller than its predecessor.
The boom is the next thing that caught my eye because is folds out from being tucked in under the unit to an extended position. Folding the boom in and out actually is also the on and off switch for the unit.
The arm that wraps around your ear has plastic on the top for stability and rubber underneath for comfort which also helps to prevent it from sliding around on your ear as well. I cannot stand to have my BT headset flop around on my hear, which is not an issue at all with the H700. The arm has enough wiggle room to comfortably fit a wide range of ears widths, but falls into place firmly to make sure the H700 is snug against your ear without any undue pressure. All of these little touches combine to make it one of the most comfortable BT headsets I have ever owned. So much so, that I more often than not even forget I have it on between calls or while driving (I am embarrassed to even admit that twice I found myself looking for my H700 only to reach up a minute or two later to find it still on my ear!). It also doesn't matter what ear you like to wear it on, the wrap around the ear is very easy to remove, flip, and reattach.
The earpiece is actually encased in the plastic case and has three small holes for the the sound. When I first saw this, it looked like it would hinder the sound volume, but it apparently does not -- as for the most part it is loud enough where I end up turning the volume down a notch or too.
The H700 has three buttons, a volume button on the top and bottom and the main call button. They feel solid and are easy to push.
As mentioned above the multi-colored indicator light on the H700 is very handy as it changes to notify you of its status:
Purple (steady) = Pairing
Red = Battery low
Blue (slow pulse) = In use on a call
Red when plugged in = Charging (less than 80% charged)
Yellow when plugged in = Charging (more than 80%)
Green when plugged in = Charging completed
It can be purchased in multiple colors such as Silver, Cosmic Blue, or limited edition Dolce Gabbana Goldto name a few.
Comfort and Design:
Pairing
In order to use a BT headset you must pair (sync) it with the phone you are going to use it with. This is simply a digital introduction to each other so they know that they should work nicely with each other.
The directions said that all I had to do was start BT on my phone, open the boom to turn on the H700 and then the indicator light would turn to purple to show that it was in pairing mode. This did not happen with me. I had to manually initiate the pairing mode on the headset. This is not a big issue at all, as it is really easy to do. But what struck me odd was the directions that came in the package does not tell you how to manually force the headset into pairing mode. I eventually had to go online to see how to initiate the pairing mode (opens in new tab). This is a glaring oversight with the manual, so let me help out now. If you find yourself needing to manually force the headset into pairing mode, you simply turn off the headset by folding the boom under and then hold down the center talk button for 5 seconds. When you see the light turn purple, fold out the boom to the on position. Now simply initiate the pairing mode on your phone and you will be set after you enter enter in the PIN number on your phone for the headset, which is the standard "0000"...another fact the manual failed to mention.
As long as you know how to force it into pairing mode if needed and know the PIN number, pairing is fast and easy and gave me no challenges with any of my phones.
Pairing:
(would have been 5 stars if I did not have spend so much time looking for the manual's omissions)
The Moment of Truth... Making a Call
Now I recognize that there are two parts to this part of review.....making a call with a regular cell phone and making a call with the PPC-6800 (which has BT connectivity quality issues with a lot of BT headsets). As a general rule, it does not work well with most BT headsets to the point that only a few have been found to work at any usable level. Reviewing sound quality is also very challenging to do accurately as it is often times relative to the expectations of the individual person. It can also range drastically from phone to phone for a wide variety of reasons, even though they are same exact model of phone. So, with this in mind I will share what I have found when I actually tried to use the Motorola H700 to make calls:
It was fast and painless to pair them together (again once I knew how). The first call I made was just over 8 minutes. It sounded really good on my end. At the beginning of the conversation I asked them to really listen closely to see if I was choppy, sounded wavy, etc... And nothing. In fact she said that as far as she could tell, I was calling directly from my office phone. This was a very exciting first impression..
I can only about 6 feet away before it starts sound really bad on both ends..
To really test it, I forwarded my work phone to my cell phone and used my H700 for every one of my calls. I probably had a total of about 40 calls. All of them without a lick of trouble!!!
The voice dialing on the Mogul worked flawlessly as well, which makes it really nice while driving to make a call without taking your eyes off the road.
Over all the sound quality is very good on my end and also for the other end of the line. The DSP seems to do an adequate job in "normal" environments but tends to loose it's benefits in noisier environments. This seems to be especially true in a car with a lot of of other passengers talking, where I seem to have the most challenges.
So the Motorola H700 can certainly be used with the PPC-6800. Many people across the forums report that the H700 works flawlessly with their PPC-6800. With only a few isolated exceptions, I have had the same experience as well. I feel that the issues I experienced had more to do with the PPC-6800 than the Motorola H700.
Sound Quality:
ADVANCED CONTROLS
The Motorola H700 is capable of several advanced controls:
Reject a Call
Redial Last Call
Call Waiting
3 Way Calling
Place On Hold
Mute
Being able to use all of these features may depend on your phones profile or services offered / subscribed to with our wireless provider.
SPECIAL NOTE ON FAKE MOTOROLA H700's
This is one time that I strongly feel that a plug for buying a product from the WMExperts.com store is a valued community service to anyone looking at buying the H700 as there are some very talented fake Motorola H700's available online and especially on eBay. Because of how many posts I have seen from innocent customers being had when they thought they were getting the best deal on an H700 to only find out they were swindled with a receiving a fake, I strongly encourage you not to buy this headset on ebay or from an online retailer that you have no reason to trust. The retail price for the H700 is between $99 - $129 at the stores. You can find them on eBay for as low as $26 not including shipping. If you're purchasing a Motorola H700 for around $30, it is probably a fake. The Motorola H700's from WMexperts are verified to be real and sell for $69.95.
Conclusion
The Motorola H700 seems to deliver or exceed my expectations for a bluetooth headset. It is sleek looking while remaining extremely comfortable to wear. The sound quality is what can be expected from a BT headset. It is extremely lightweight and feels like a solid build. Once you know how to manually initiate pairing mode, it is really easy to pair with either a BT enabled normal cell phone or a smartphone.
The bottom line is that I would personally recommend the Motorola H700 to anyone looking for a BT headset.
TECHNICAL SPECIFICATIONS
Specifications:
Dimensions: 1.69 (2.51 when the microphone boom is open) x 1.06 x 0.66 inches;
43 (64 when the microphone boom is open) x 27 x 17 millimeters
Weight: 14 grams, 0.49 ounces
Battery: 130 mAh Li-Ion Battery.
Talk Time: 6 hours.
Standby Time: 192 hours
Bluetooth Class 2 for wireless connection of to 10 meters
(30 feet)
Compatible with Bluetooth 1.2- or 1.1-enabled mobile
phones, PDAs, PCs, and more that support headset and
hands-free profiles
What you get:
Motorola Bluetooth H700 headset
Travel Charger
User Manual
Quick Start Guide

(opens in new tab)
Swipe to scroll horizontally
| | |
| --- | --- |
| Ratings (out of 5)Battery Life: 5Comfort and Design: 5Pairing: 3Sound Quality: 4Overall:4.75 stars out of 5 | ProsNice looking.Multicolored lighted ring telling you what is happeningLightweight and very comfortable...to the point I forget I even have it on.Supports 3 way calling, reject call, hold, and mute.ConsThe headset is not functional while charging ...but who would want a charging cord sticking out of the side of their ear anyway?The directions do not tell you how to manually initiate pairing modeIf you are in a very loud environment, you may have trouble hearing as the volume is not as loud as other BT headsets (though it should be plenty sufficient for 95% of the time for 98% of the people)Does not have caller ID, phone book, or call list |
Windows Central Newsletter
Get the best of Windows Central in your inbox, every day!
Thanks a bunch for the review. I have never owned or used a BT headset before. Hence I was looking through your store trying to find one to get. After seeing this review and comparing it with a few other headset reviews you have, I decided to get this one.
An excellent price too....getting an overstocked one...for only $39.95 + $5.95 s/h.
Thanks for a detailed review!
-Timothy Chan

tjchan....first, Welcome to WMEXPERTS!!!!
Thank you. I am glad the review helped you. I hope you like it as much I have!

This headset works really great with anything but the 6800 from Alltel. We have had nothing but complaints about this headset. Not to mention the really bad BT on the 6800. I have found that if I answer a call with wearing the headset and pressing the answer button on the phone and hang up using the buttons on the phone the headset stays paired just fine. However, if i even touch the call/hang up button on the headset, it looses its ability to talk to the phone. I have to sit and pair the device all over again, which is time consuming and at many points frustrating beyond belief. There are even times when the BT connection will lock up my phone to the point where all I can do is soft reset the phone to get it come back to life. I finally just ditched the H700 and am going with the "wonderful" corded headset that came with the silly phone. There has got to be a better one out there.