Review: Motorola H790 Bluetooth Headset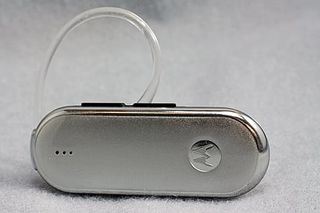 Bluetooth headsets are getting thinner, smaller and lighter and Motorola has done a good job keeping pace with this trend in the Motorola H790. Measuring in at 2 inches long by 0.8 inches wide and 0.3 inches high, the H790 weighs a paltry 0.34 ounces.
But looks aren't everything. Follow the break to see if the H790 is just another pretty face amongst the many Bluetooth headset or if its performance compliments the sleek design of this Bluetooth headset.
Design
The Motorola H790 is small, thin and lightweight. The brushed silver finish looks really good and the overall feel of the headset is solid.
Kudos to Motorola for placing a dedicated power button on the side H790. I prefer the dedicated power button over integrating the on/off function into the multi-function button. The power button lightens the load on the multi-function button and give you a positive indication/confirmation on the headsets power status.
The volume buttons rest on the opposite side of the H790. They are thin, small but functional. A tone confirms the change in volume and samples the volume level. The H790 has three LED lights on the face of the headset to confirm features and indicate battery levels as well as charging status.
To the top of the headset you will find a micro-USB port for charging and just above the USB port is the headsets multi-function button (Motorola refers to this as the Call Button). It might have been more convenient to users to have moved it to the face of the headset. As is, it took a little time to get used to but it performs well.
The H790 comes packaged with a ear hook, an assorted size of ear buds (small and large), wall charger and multi-language owners manual. I do wish Motorola would have included additional sized ear buds.
Performance
Motorola incorporates its CrystalTalk technology to give the H790 very good call quality. Calls came in loud and clear with no static or interference experienced. The microphone on the H790 was able to pick up my voice clearly when using normal tones and volumes. Background noise was filtered out nicely as well.
The H790 isn't loaded with features but does have the essential headset functionality most will need. Asides from the standard answer/end calls, reject calls, redial last number, and voice commands (phone dependent) you also have the ability to answer or reject a second incoming call.
The only issue experienced with call features on the H790 was with redialing and initiating voice commands. To redial a number you press and hold the Call Button until you hear a tone. To initiate voice commands, you press the Call Button and wait for a tone. Once the tone sounds you can say your command.
The delay between pressing the Call Button and hearing the tone takes a little getting used to and at first you'll doubt that you pressed the Call Button long enough. When you try to initiate voice commands by pressing the button longer, you end up redialing. I would have much preferred these commands to be opposite.
Comfort
While the performance of the H790 is very good, it won't be of any good if the headset isn't comfortable to wear. The H790 has two carry options. You have a "one size fits all" ear hook or ear buds with loops to use without the ear hook.
Both styles of wear are comfortable and it's simply a matter of personal taste as to which is better. I wear glasses and ear hooks can be a little uncomfortable so I prefer the ear buds. The ear hook method is more secure but without the hook, I never felt the H790 was going to fall off my ear.
Overall Impressions
The more I used the Motorola H790, the more I liked it. The thin, lightweight form factor helped the comfort level of the H790 and call quality was very good.
Motorola reports battery life to be approximately 5 hours of talk time and up to 168 hours of standby time. Based on the H790's performance during the review, I won't argue with Motorola's claims.
I like the dedicated power button and while the Call Button might have been more convenient on the face of the headset, it did take a little time to get used to. I do wish the button sequence for redialing and voice commands were more distinguishable.
If you need a quality built Bluetooth headset with a good feature set and very good call quality the Motorola H790 is worth a look at. Get it for $69.95 in the WMExperts Store.
Windows Central Newsletter
Get the best of Windows Central in in your inbox, every day!
Phil is the father of two beautiful girls and is the Dad behind Modern Dad. Before that he spent seven years at the helm of Android Central. Before that he spent a decade in a newsroom of a two-time Pulitzer Prize-finalist newspaper. Before that — well, we don't talk much about those days. Subscribe to the Modern Dad newsletter!
Can one assume the call button also hangs up a call?

Also, no mention of price? Or did I miss it?

Erm, it's there ... Now. :) Or you can click the link to see it in the store.

George is that in fact a standard micro usb or an off standard micro usb? Can you double check because there are conflicting claims. can you in fact charge that with a generic micro usb cable and other standard micro usb chargers or not, as some reviews are claiming you can and some are saying you can't.

I'll dig up my Moto Q charger and see if that works and will let you know later tonight.

Okay..the bad news is that I can't find my charger for the Motorola Q. I did find a USB to micro-USB cable and it connected fine and the charge light lit up.
My Moto Q charger might be in at the office and if I can find it, I'll check it out as well.

Picked one up, charging works fine with any standard USN Micro. Worked with my Treo pro charger and my usb micro cables from the pc as well. Excellent headset. Thanks for the review.

I recently purchased this headset and I think it is especially an excellent purchase when you consider the added benefit of the far lower price. It is super easy to set up with the built in voice promptings, and the voice quality is superb. Well worth the dollars in my experience.

They did not send proper instructions on how to use the earhooks AND once you lose ANY part of the hooks, trying to replace them is HELL.

They did not send proper instructions on how to use the earhooks AND once you lose ANY part of the hooks, trying to replace them is HELL. And they never fit comfortably.

I recently purchased this headset,good headset.

Couple of Comments: I recently bought two sets (wife and I), one had faulty call button (did not project high enough above housing to be able to push down) I have returned that one for another, inprocess. Second, I am experiencing low battery life, charged over-night and only got about 30 minutes of usage before the auto attendant came over stating "low battery". Then the beeping started. I will run the battery down to nothing and recharge again and make sure the unit is shut off before recharging. Had a problem with trying to use the hands free dialing function while driving (backgound noise???) could not get it to dial a certain contact but could be my pronunciation. Will continue to work on that and see if I can get it better. Other wise it is very comfortable and works well in other areas of functionality. As a comparison, I had been using a Radio Shack Voice Star BT for the last couple years (4) and it worked flawlessly (long battery life, clear voice command, clear sound, long range in house with walls,) until my granddaugher grabbed it off my ear and broke the ear loop and I could not find a new one, otherwise I would still be using it.

This is the fifth bluetooth I have tried out since about 2007, and I love it. The first was Motorola h710 (I believe). It worked great but doubled as a spy mic for anyone I was talking to as they could hear anyone in the room as if they were standing next to them so I decided to try for a more expensive one with noise cancellation. On recommendation from the salesman at BestBuy I bought the original Jawbone, the fat version before they went skinny with the design. I had 3 of those due to short life and at $150 for the first one then $129 for the next two, they didn't live up to expectations. Next was plantronics 900 series with boom and it kept falling down since it had no earloop. I have now gone back to Motorola with the h790 and have fallen in love with it's comfort and functionality. It is extremely comfortable, easy to use and the noise cancellation is excellent except in the worst winds and I have no complaints about it except wishing the voice/redial was switched.

Where on the internet or other place can I buy replacement earbuds for Motorola bluetooth H790? email:david_meela@yahoo.com

how do you decrease the volume of the audio tones? it is too loud.

HP with other brands of headsets Iv'e tried several models and they do not care for everything I had. Sound quality was not good either, volume was not loud enough, too heavy, hard to use, or the battery has not yet past. Not this one, I can honestly say this one fit the bill on every count. I tried a bunch of headsets and enjoyed the generous use of the return policies as various local retailers. So do not waste your time with others just get this one. Amazon also on this one as well is the best value. Everything you need box, headset, 5 shapes / mixed in ear buds. Ear loop and charger.
Windows Central Newsletter
Thank you for signing up to Windows Central. You will receive a verification email shortly.
There was a problem. Please refresh the page and try again.