Review: Mr. Handsfree Bluevision II Bluetooth Speakerphone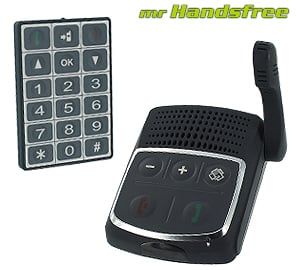 As many are finding out the hard way, using your cell phone while driving without some type of handsfree device is illegal and can cost you a spendy little ticket. I know that starting July 1st this year in my state it will be illegal to use your cell phone without being handsfree. So now is the time that many are looking into different options so that they can use their cell phone without having to touch it while driving. For this very reason, the **Mr Handsfree Bluevision II speakerphone** ($129.95) caught my eye. I have found great success with bluetooth speakerphones in the past. And with WMExperts review of the original model of the Mr Handsfree Bluevision receiving 4 out of 5 stars (opens in new tab), I wanted to see if Mr Handsfree had listened to us and made the wanted improvements we were looking for.
What is unique about the Mr Handsfree Bluevision II speakerphone, is that it has a remote control for your phone as well! Talk about making your phone truly handsfree... bluetooth speakerphone... and a remote control to answer calls and dial phone numbers with. But none of this is any good if the sound quality makes the device unusable. So, after at least 4 long road trips, I have come to a verdict...
Design / Build Quality
First of all, my first impression of the actual device sitting in the box was positive. The device seemed to be solid. There is a an arm that swings up to point to where ever you are in relation to the speakerphone. I was initially concerned about this arm possibly breaking, but for the most part after using the Bluevision II on the road for over a month, I have not seen any concerns to support this initial worry.
There are 6 buttons on the actual device. On the face of the speakerphone is the volume up button, volume down button, pairing / bluetooth connection button, end call / reject call / answer call waiting button, and talk / voice activated dialing / switching between calls button. On the backside is the on/off button. Other than wishing the on/off button was towards the front of the speaker phone, the layout is nicely thought out and easy to use while driving.
On the bottom are two magnets that hold the device in place on the visor clip.
The remote control is a stroke of genius. With it, I can manage my calls, dial any phone number with ease, control the volume of the speakerphone, mute a call, and use anyone of the 10 speed dial numbers that I have programmed into the Bluevision II speakerphone.
Pairing / Bluetooth Compatibility
Pairing my WM phone to the Mr Handsfree Bluevision II speakerphone was very easy and flawless. Once paired with my WM phone, all I have to do is hit the connection button on the actual speakerphone and I am talking handsfree.
I did find a unique challenge with my paired connection between the Mr Handsfree Bluevision II speakerphone and my WM PPC-6800 (Sprint Mogul) phone. After having established a bluetooth connection, and I just walk away from the speakerphone, I lose all sound on my WM phone once I am out of range. I then have to do a soft reset to get my sound back. But if I turn off the Bluevision II speakerphone or turn off the bluetooth on my WM phone before I leave the car, everything is okay. It is annoying, but with all the other positives the Bluevision II speakerphone has to offer, I have learned to live with it.
I was impressed to discover that the Bluevision II supports dual pairing with multiple mobile devices.
Sound Quality
This is the moment of truth. As far as bluetooth speakerphones go, I am fairly impressed with the sound quality. Mr Handsfree Bluevision II speakerphone has DSP (Digital Signal Processing) technology for echo cancellation and background noise reduction which actually seems to work pretty good. It does a decent job in reducing or totally eliminating road noise while driving. It is not perfect, as most people can tell I am on a cell phone, but many never guessed I was on speakerphone in the car.
The only exception is that there have been some occasions where the other side gets a feedback echo. If I call right back, it is gone. This is not a common occurrence, but has happened a few times out of a hundred or so calls.
Everyday Use
Overall I am happy with the **Mr Handsfree Bluevision II speakerphone** ($129.95). It is easy to move from car to car. Even though the other side experienced a feedback echo on rare occasions, overall the sound quality is better than would be expected from a bluetooth speakerphone. The only real annoyance I have found is that I have to kill the bluetooth connection before I walk away or it stops all sound on my WM device.
I am also very impressed with the battery life in the real world. It is rated with a 300 hour (that is 12 1/2 days) standby time and 24 hours talk time... and by all accounts, it has lived up to this claim with real world use.
Swipe to scroll horizontally
Ratings (4 out of 5)Design / Quality of Build: 5 starsPairing / Bluetooth Compatibility: 3 starsSound Quality: 4 starsEvery Day Use: 4 starsOverall: 4 stars out of 5
ProsNice layout of the buttons on the face of the speakerphoneIncludes a remote control to manage calls and dial numbersGood

background noise reduction

Great battery life with long 12.5 day standby time / 24 hour talk time.ConsOccasional feedback echo on other end of callMust stop Bluetooth connection or it kills all sound on my WM device
Windows Central Newsletter
Get the best of Windows Central in your inbox, every day!
one day i went shopping outside ?and in an links of london store?I found some kinds of links of london i love most?they are: Links of london mens bracelets Links of london mens bracelets Links of london mens bracelets Links of london mens bracelets Links of london mens bracelets Links of london mens bracelets Links of london mens bracelets Links of london mens bracelets Links of london mens bracelets Links of london mens bracelets shopping Links of London Bracelets shopping Links of London Bracelets shopping Links of London Bracelets shopping Links of London Bracelets shopping Links of London Bracelets shopping Links of London Bracelets shopping Links of London Bracelets shopping Links of London Bracelets shopping Links of London Bracelets shopping Links of London Bracelets

one day i went shopping outside ?and in an links of london store?I found some kinds of links of london i love most?they are: Links of london charms online Links of london charms online Links of london charms online Links of london charms online Links of london charms online Links of london charms online Links of london charms online Links of london charms online Links of london charms online Links of london charms online Links of london charms stores Links of london charms stores Links of london charms stores Links of london charms stores Links of london charms stores Links of london charms stores Links of london charms stores Links of london charms stores Links of london charms stores Links of london charms stores