Review: Nokia CR-200 Wireless car charger; a first-rate product for a premium experience (Part I)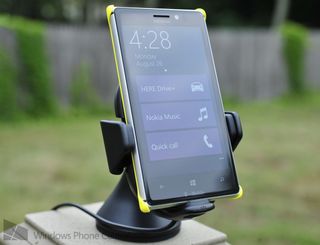 Anyone with a Nokia Lumia 720 or higher should know by now the value of Qi wireless charging. Built in to some Lumias, optional backplate for others, what many dismissed as a gimmick has turned into a way of life for converts. Quite a few of you are even down on the Lumia 1020 because you need an optional back cover to enable the Qi. But from charging plates, to stands to speakers, Nokia has been slowly growing the Qi ecosystem and we like it a lot.
Today, we're taking a look at the Nokia CR-200, a wireless Qi enabled car charging system for your Lumia (or any Qi enabled phone). The product retails between $75 and $100, depending on where you go, and while that is certainly a lot of money to charge your phone, like all things Nokia this is one top notch accessory.
What's in the box
The CR-200 comes with the Qi enabled charger with a dual sticky/suction cup base. You also get a wire extender should the basic one provided not be long enough and some clips to keep the wire from dangling. While the CR-200 can grip to your car's dashboard or windshield as is, there is an optional puck that is sticky on one side and non-porous on the other. That's particularly useful if your car's dashboard surface is porous, preventing the CR-200 from mounting. (I suggest using it "as is" for a few days until you figure out your ideal location and then use the puck for final placement).
Build quality
Overall, the quality of the CR-200 is excellent. As you can see in our video tour above, the smallest detail has been taking care of, whether it is the gentle extension of the phone clamps to the very powerful suction mechanism, the CR-200 is worth the money (assuming you can afford it). All Lumias that we tested had no problem being gripped by the CR-200, including the Lumia 720 (w/back cover), Lumia 920, Lumia 925 (w/back cover), Lumia 928* and Lumia 1020 (w/back cover).
*Lumia 928: Warning, the right clamp does hit the camera button on this Lumia, making this accessory less than ideal for that device. You can use it but you need to be gentle when locking the clamps.
With the NFC enabled bottom lip, your phone can tap-to-activate any app you want, including the Nokia Car app (seen in the lead image). That lip is also slightly hooked, locking the phone and keeping it from falling forward. It's a clever design and works well.
The back of CR-200 has a massive ball bearing hinge that is nice and stiff. We're not sure if constant adjustment will affect that stiffness, but so far it's been stellar. With that hinge, you can rotate the CR-200 holder around 180 degree so that the suction cup is facing upwards, ideal for windscreen placement. You can also rotate the phone into landscape mode, should you preview that angle.
The cigarette adapter also features a USB outlet, so that you can use it to charge other accessories even when the CR-200 is in use and plugged into the car. The main Qi charging plate outputs a modest 750 mA while the USB accessory puts out 550 mA. That's a tad on the low side for the Qi-wireless as we have seen some rapid-car wired chargers output 2.1 A, while most hover around the 1 ampere marker. Having said that, it appears to be just enough juice to trickle charge the phone without it getting too hot. We had no issues when using it for navigation.
We'll follow up more on the CR-200 in a few days, including showing it in a car and even seeing if we can have it wired to our engine (for a true wireless experience). So far though, we really like it and have no complaints.
Stay tuned.
Windows Central Newsletter
Get the best of Windows Central in in your inbox, every day!
Daniel Rubino is the Editor-in-chief of Windows Central, head reviewer, podcast co-host, and analyst. He has been covering Microsoft since 2007 when this site was called WMExperts (and later Windows Phone Central). His interests include Windows, laptops, next-gen computing, and for some reason, watches. Before all this tech stuff, he worked on a Ph.D. in linguistics, watched people sleep (for medical purposes!), and ran the projectors at movie theaters because it was fun.
Nice review and product, just can't say it's worth it for me when it's that expensive.

I'll pay $49.99........ And if anyone disagrees they can suck my kiss❕

Why would anyone disagree with you overpaying for a phone charger. I approve your waste of money.

I'll bitch slap you for approving that.

So this is the part in the show where rodneyej played by a drunken Chis Tucker says a bunch of nonsensical stuff while Jackie Chan rescues the girl.

Let's tha biach slappin commence❕❕❕

you can buy whatever you want nobody will stop you

I can stop him by disapproving his bitch slap

Looks Great, but definitely to expensive now.

Should be "So far though, we really like it and have no complaints" at the end. Looks great, though.

I have one, the release button doesn't work that well. Wish the nfc link would auto open the selected app and would activate when placing phone in the cradle. It is a great product though.

I got the same problem as u With the clamp. After a week it was broken. It would not lock anymore. But i modify it so now its allways locked at the 920 size..

What did you do to modify it? I had the same problem, and returned the product. Would like to know if it happens again in the future.

My clamp is broken, too, and I opened the device to find a shattered plastic piece of the clamping gear. I'd like to know what modification you made, but I'd also like to know where to get a metal part to replace the broken plastic part.

I just put The 920 into The clamp, and got ut locked With some mcgyver tape.... Then i mounted screws into The clamp to make ut be like that. Now it holds my 920, but i cant adjust it without demont it again. Will put Out some Pictures later tonight.

Same here, just after four weeks. Turned it in and got a new one.
However, I have serious doubts now that it will last a thousand clamp-release cycles... which may easily sum up over the months.... let's see.
NFC is a waste here. Helps you to start the car app. But - starting the car app pinned to your home screen requires exactly the same number of steps. As long a there is no other use of NFC with this device, e.g. starting user configured profiles, NFC makes no sense here.

Incredible - replacement received and after three weeks ... guess what.
Again broken. I am using it horizontally, that might put more stress on the mechanism to keep it steady.
But anyways - NO-kia, this is not the quality necessary, not even close. Very disappointed.
Hopefully I can figure out how to disassemble and replace the broken part somehow...
I really like this feature, it's a shame...

I have a suitable replacement detailed here: http://imgur.com/a/I8j0v

My clamp broke as well... Week after use. Absolutely ridiculous given the price.

I have a suitable replacement here: http://imgur.com/a/I8j0v

Just ordered a part thanks so much for the post, I love this kit and really wanted it to last

I really wish it came with a vent mount adapter. Keeps the phone closer to me and out of the sun.

I install these things near the rear view mirror to keep it out of the sun.

agree!!! I would pick one up or consider it greatly if it went in my CD player!

I have one too, and I really like it. My only complaint is that I wish the cable plugged into the base so the cable wouldn't move when rotating the phone back and forth from portrait to landscape.

Mine broke in the first week. I took it apart and found that a plastic part inside had just snapped when locking it. I used super glue to fix it and am very gentle with it now, only applying the necessary force to lock it around my NL 920. I don't think the product was tested properly.

Seems to be a common problem. I don't think I was too rough on my clamp, and I suspect the plastic part was cracked out of the box.

All similar products that use these moving arms eventually fail because of either gear slipping or breaking. The last one I had, I opened it up and placed a folded up paper inside it between the gear rack and the cover. This kept a constant pressure on the gear rack, not letting it bulge out under applied force, which is how they eventually break. It happens when you try to grip the phones harder than normal. That one extra click.

How did you disassemble? I detached the screws and took it apart as far as possible but couldn't get to the defective part...

I have a suitable replacement here: http://imgur.com/a/I8j0v

I bought one for my new Nokia Lumia 925 but unfortunately have just boxed it to return it due to the clasp becoming faulty. Took alot for me to move away from my trusty Brodit and Pro Clip that has seen me through my iPhone 3 and 4, Lumia 800 and 920. Passive holder wasn't available for the 925 so I ordered the CR-200 as a trust edition to the other wireless charging devices I have. Hopefully they will turn it around quick and Ill have it back soon enough! Its a great device and the fact the wife or the kids can charge their phone via the USB port is excellent.

Yup, any moving mechanism will be a potential area of concern vs. the passive holders. Certainly a tradeoff.

Daniel. Why isn't it available on the Nokia USA official website?
Is it just available outside the US for now or did I skip an article something?

Daniel, can you PLEASE do me a huge favor and see if there's any way that the mount can be disassembled so it can be used w/ any of the VESA style plate mounts which are sometimes used w/ other GPS units. Basically one of these If not, do you think you could possibly measure the size of the ball that's used in it...I want to be able to use it w/ my bracket and just hate the suction cup stuff.

It would be better if it attached with the DC Cig plug for a secure base and power so no wires! If that were the case shut up and take my money!

And how do you plan to use it for navigation?

Love this product. I got one for my 920 and modified it to be a permanent, hardlined dock and charger for my car. Simply perfect.


If I could get one for $49.99..........

.... Then it would still cost double what it should

My bro has this. I've used it a few times. Best car cradle out there by far. Well worth the money. Really stable and with wireless charging its great. Long cable as well so it doesn't have to be near the cigarette lighter port. It also has a usb port on the bit you insert in the cigarette lighter port so you can charge another device off a USB cable.

I just started using this charger last week. I was delighted that it actually fits perfectly in a cup holder in my Prius. The base is deep enough to bring the phone to the perfect height above the rim of the cup holder. Having the device in the cup holder allows me to turn it easily so that either the driver or passenger (or both if you choose) has easy access. The cord is long enough to allow it to be tucked easily out of the way in the central console where the power port is located. The USB port allows a passenger to charge their phone as well.
I was interested as to whether the charger would securly hold the Lumia 1020 with its wireless charging plate attached. I noticed no difference between the grip on the 1020 or the 920.
Daniel's review spoke of the superb build quality, which is what I'd expect from Nokia. I also thought the packaging was helpful. Printed on the box is a template indicating where the charger grips are located so that a potential purchaser can be sure their phone doesn't have any buttons in that area.
As others have noted, it would be nice if you didn't have to confirm the NFC based app on the device, but this is no different than on Nokia's desktop charging stand. The built in app is nice. in that it gives you the choice to customize two parts of the display: the upper portion can be set to time, battery or weather while the lower portion offers navigation, a customizable quick call list and the outstanding Nokia Music app.



"*Lumia 928: Warning, the right clamp does hit the camera button on this Lumia, making this accessory less than ideal for that device. You can use it but you need to be gentle when locking the clamps."

More special problems for us 928 owners.
Thanks for the warning.

Suppose nobody can really complain as the 928 is a unique model to Verizon. It fits all other models perfectly. Well more than perfectly tbh.

I think some people were saying you can cut out a hole in the padding to allow for the camera button to not be depressed when clamped...

It's a Nokia accessory, for a Nokia Phone (not a "verizon" phone), so yes, I can complain that Nokia did not take that phone design into consideration when making what appears to be a very useful accessory... and no, I shouldn't have to take matters into my own hands, void the warranty and cut a hole to make it work.
I hate being contrarian but come on Nokia... WTF?

If you have a Lumia 928, goto Camera Settings.
Am I the only one to realize that in Settings -> Applications -> Photos+Camera there are options to tap screen to take pics and videos instead, prevent accidental camera launch when phone is locked, disable press and hold camera button to wake up the phone, etc.

I recommend experimenting with those settings if you're a 928 user.

- moxie

$39.99 and you get my money lol.

I like the time displayed...420, good one rubino.

2:00 would have been better :P as that would have been consistent with the Nokia Lumia adverts lol

The next one should be solar powered. Either a small solar panel on the cradle itself for those who mount on dash/windscreen or a solar panel on a wire that can be placed on dash for those who mount the cradle elsewhere. Nokia if you're reading this I take a check. Tweet me for my address ;):D

You could make that yourself, they have a small solar panel made to slowly charge your car battery. It plugs into you cigarette lighter, but I'm not sure if it would be enough to charge the phone.

I have owned the CR-200 for over three weeks now and it is an awesome cradle/wireless car charger. The suction cup is very strong and it has been in my SUV for at least three weeks and has not fallen off of the dashboard yet (very strong). I also own a Nokia Lumia 928 and it is true that the rubber clamp pushes the camera button down which causes the camera app to start every time you put it in the cradle and close the clamping arms. Even if you turn off the camera app, if you hit any bumps in the road, the camera app turns back on. BUT.... THERE IS A FIX (assuming that you want to modify a brand new product that cost you some coin). All you have to do is cut a small thin piece of rubber from the middle/bottom portion of the clamp and the PROBLEM IS SOLVED. I can now close the clamp as tight as I want and it doesn't come close to hitting the camera button. It also doesn't weaken the grip of the clamp on the phone. I can pull on the phone and/or turn the cradle 180 degrees and leave it that way for hours and the phone stays firmly in the cradle. I LOVE THIS DEVICE. THANK YOU NOKIA!!!

Does the cigarrette lighter cable have to be used or can one of the cables from a plate charger be used instead?

I see you could unplug it from the charger. I just want to make sure.

Good question...will look into it for part 2.

It does work, I have both a plate charger and a CR-200 and have swapped cables and it works.

I'm working on a motorcycle mount, using a RAM X-mount, which holds my 925 and the Nokia Plate charger behind it with som foam padding in the back hold it in place, powered by the cigarette plug from the CR-200.

I bought one for my 920 and It's a great accessory but I've noticed a couple of bugs, one happens sometimes after finishing using the cradle the ringing tone gets in silence and have to turn the cellular off to reset it, and the second one while on the cradle and turning the Here Drive on sends an error message. The rest is very very Nice!!!

The here drive error came after the most recent here drive update, I'm curious if gdr2/ amber fixes it, as I'm still waiting for that on my 920

I get the same error message after updating my 928 with the GDR2/Amber update if I use the Accessories app to start Here Drive+. I hope they update the app!

Like everyone else has said...awesome but too pricey

And prone to clamps breaking making it worthless

Not sure that it looks like it is able to withstand rain water. So it is useless to me.

You drive in the rain with no top often?

Rain and snow, yes. Motorcycles don't really lend themselves to tops.

Aotomobiles is the natural habitat for built-in wireless charging. Nowhere else is the hassle of cables as aggravating, I think most people, like me, don't really care if they have another cable at the office or at home. Do some cars have wireless charging built into their consoles? I haven't even thought about it before, but that would be a huge selling point for wireless charging.

I mean, this product is nice and all, but I fail to see how it's so much better than a charger where you plug the phone in, since you have to have this charger mounted, and the phone clasped in place, anyway - just like on a wired charger. Buitl in wireless charging in the car on the other hand...

While I agree with you that wireless in the car has been really great - far better than on the desk, I won't minimize the convenience of having a charging plate on my desk at work. I have a monitor shelf that I made out of wood to raise my monitors up about 5", at the request of my chiropractor, and underneath it, I routed out a section so that the charging plate is under the wood, and I just set my phone on the "shelf"

I really like having one on my night stand. Adding Glance from Amber with the time shown in red, its just like an alarm clock.
To answer Mikeso, yes they are being built into some cars, but like many major companies some seem to be waiting for a standard to be adopted.

Gm will be adding wireless charging, but powermat not qi

It think it also needs a ON-OFF switch for the charger because a lot of times the battery does not need to be charged when using the cradle.

If the battery is full, it won't force charge it.

Daniel, can you remove the upper part from the lower part at the ball/socket joint, so as to use the upper part in a different base? Although, given the low power output, I'm kind of glad I made the Frankenstein charger that I made, using a DT-900 charging plate. http://forums.wpcentral.com/nokia-lumia-928/234557-2.htm#post2061550

That charging rate is worryingly low. I need to be able to use satnav whilst charging without there still being a net drain on the battery.

You don't have to worry about that. I've used it for a couple hours with satnav and the battery remained fully charged.

That's very inteesting as battery drain while using Nokia Drive+ on my L920 has been a big problem. I bought a USB charger which was, allegedly, 2A, but I still a slowly battery drain when in the car.
If 750mA is good enough to keep the battery topped up, then that confirms my suspicion that the 2A charger is BS!

I too have a big problem using my L920 with Navigon! I keep on getting battery drain! Doesn't matter if I use a 2A or 1A can't get it to work properly. I have even tried using the standard Nokia USB kabel delivered with the phone for charging in the car with a 2.1A adapter but it doesn't make a difference!!!!

Anyone found a good set charger+kabel for the L920+Navigon that prevents your battery from draining???

I've good experience with the Nokia DC-20. It only "fails" if the phone gets hot.
The Problem is, that the phone gets very hot while HERE Drive is active AND the sun is shining :) and I think the charging circuit maybe stops charging because of high temperature. When using 2D instead of 3D map view, the phone doesn't get so hot and will be slowly charged up to 100% and remain charged.

Did you test it on the Verizon 8x?

This is my question, as well as whether or not there is any way to extend the arm so it is not so close to the windshield..

I wish this came with full GPS too. I remember TomTom making for the iPhone 3gs or 4 a car mount that also improved GPS. As good as my 920 is, it can do a lot of unnecessary rerouting in NYC.

Your phone's GPS should be fine, I would think your navigation app might be the culprit. Daniel (I think) has complained before that Nokia Drive+ doesn't work well in NY, of course it works fine for me in the SE. :)

Yeah, I mostly use Nokia Drive+ and for the most part, it's great, but sometimes it just starts redirecting in a weird way and I would think with downloaded maps, that wouldn't be a problem. Aren't basically all smartphones Assisted GPS? I know Garmin or similar have put out full GPS and Magellan makes the Toughcase. Have you seen that thing? http://www.magellangps.com/lp/toughcase/index.html

Had the TomTom version too. Got rid of it because of the annoying rattle. And while the GPS would be nice, the iphone 3G really needed it, where my Lumia does not ( in a Prius III or Ford C-Max )
I have ordered a CR-200 ( 61 Euro at Amazon.de ), so it's nice to read the review.

I don't own a car, but if I did, the CR-200 would be my holder of choice for my Lumia 920.

im curious about the sticky tape if your car doesnt have a flat enough surface....will that come off without messing up the dash?

Look at a suction mount from proclipusa

Yes. I used it for two weeks in my car and then took it with me on vacation. On my vacation it was stuck to the windshield of the rental car for two weeks. When I took it back home it was in excellent condition. It left no marks and was still sticky.

Make sure you wire it to your car battery not your "engine".
LOL

In my world, everything behind the steering wheel/panel is "the engine", lol

I'm going to be wiring in an extra circuit to a cigarette lighter socket behind my dash to connect mine to. It's possible to wire is straight to the battery, apparently, but that seems a bit... extreme for me.

You might need to put a bigger fuse in for that leg, but probably not.

920 owner here: returned it after a couple of days use- sat nav running drains battery faster than this can charge...making it completely useless as an in car charger. Really wanted to like it as well :(

I have not had that issue on my 920 with this

I'm wondering if this is an inherent problem with the phone. I've tried different car chargers, 2.1A models and "charge only" cables, with no luck. When navigation is running the phone still loses battery even when plugged in. I was thinking this wireless car charger wouldn't have a chance to keep the battery charged while using navigation. Isn't this a big oversight on Nokia's part? What good is this charger if the phone still loses power?

Interesting - I've had the same experience, even a 2.1A charger doesn't seem to keep it topped up. Based on one of the comments below, I wonder if it is a heat related issue. Do you have your L920 in a case? I do (the Nokia brand plastic coloured shell) - I'm wondering whether this stops heat being dissipated as well as a "naked" phone.

I use it without a case and L920 + Navigon means empty battery during the ride!!! And yes the phone gets warm, very warm!
Still haven't figured out a way to keep on navigating with my L920 :-(
So who knows a good car charger + cable so my L920 gets enough power???

I've heard the same thing. Not proved it myself yet, though.

I don't have any such problem. My phone remains fully charged even after using Nokia Drive+ for over 2 hours.

Yes, this is a problem I have experienced to. The problem is that my holder stops charging over wireless when it gets hot. The funny thing is that the phone shows the charging icon but you can se the charge dropping ever so slowly. As soon as the car cools down the charger works normally again. I am going to send my charger back for repairs.

I would buy it if it was free

I would buy it for you, if it were free.

I'm going to hold you too it. Buy 1 get one free deal

Correction you can't open any app, for instance you cannot open Music and Videos, and if you add audible the app will crash, other than that I love the thing, I mounted mine to a proclip suction base over the weekend, qi is a must for any phone for me from now on

I wish the Otterbox Defender was Qi capable.

I've already splashed out on one of these, and whilst I'm generally pleased with it I do have a couple of complaints which I don't think are justified at this price. Firstly, the NFC tag is at the bottom of the holder, when in a vertical orientation. It seems that in my Lumia 925 the NFC receiver (or whatever it's called) is at the top. So just putting the phone into the holder doesn't launch whatever app I've selected - instead I have to tap the top of my phone against the bottom of the charger before putting it in properly. Also, and this is a complaint about the phone not the holder, NFC seems not to do anything unless the phone is unlocked. The process of unlocking the phone and tapping the top against the bottom of the holder before mounting is slightly tedious.

Secondly, as I think has been mentioned, the Nokia app that is launched when the NFC tag is detected can be set to have a shortcut to any app EXCEPT the built-in XBOX music/video app. Which is the one I really want, of course. Very annoying.

Finally, although I can't verify this myself, I'm told that the power it outputs to recharge the phone's battery is less than the power drawn when using HERE Drive, so on a long journey your phone will still go flat if you're using navigation. And whether that's true or not, I can say for certain that my phone gets really very hot when I've been driving for more than a few minutes with it in the CR-200 charging.

I used my Nokia Lumia 928 (with a full charge) along with the CR-200 (modified to not hit the camera button) and Here Nav to travel from New Jersey to Delware in my SUV which took around 2-1/2 hours with traffic, then left my vehicle to take a college tour about 2-1/2 hours, got back in my vehicle, used Here city with CR-200 to find and then navigate to a restaurant to eat (30 minutes travel plus 1 hour dining time) and then traveled back to Jersey using Here Nav with the CR-200 which took over 2-1/2 hours and at no point did my phone run out of power. When I got home I still had around 75% charge on my phone.
I also used the Here Nav with my 928 and CR-200 to drive to Baltimore's Inner Harbor from New Jersey twice with no battery drainage issues at all. :)
I did however run into a major heat issue when I was looking for a place to eat using Here city Lens. The phone and charger were hot enough to cook on. This happened a few other times to me too but I realized that when I place the phone in the cradle and close the clamps, I need to make sure that I hold the phone from the bottom and push it against the back plate of the charger as I am closing the clamps. Then the phone only gets warm, not extremely hot. When I was holding the top of the phone while closing the clamp, I guess the back of the phone wasn't making good contact with the charger and caused the phone and charger to get very very hot. I am not saying that this is the main reason or a fix for why the phone and charger get hot but when I changed the way I put the phone in the cradle, it helped keep the phone and charger cooler.

Excellent! This is going on my Christmas wishlist. I just took 2 separate ling road trips last month and decided that I could REALLY use a mounted wireless charger for my phone when using navigation.

@Daniel,
Please get your facts straight: "The main Qi charging plate outputs a modest 750 mA while the USB accessory puts out 550 mA. That's a tad on the low side for the Qi-wireless"
that 750mA is at 12v so the input for the Qi. Qi is ALWAYS 5 watts when deliverd. It's the specs i'm not making that up.
Therfor the charge any Qi (low power) device receives is equivalent to a 1A charger at 5 v (USB happens to be 5v).

I got this about a month ago for my 928. And I love it because its VERY handy. Just put the phone in and go. The camera button issue is annoying, BUT workable. I found that if you gently close the clamps around the phone, it won't activate the camera. If you squeeze too tight, then it triggers it. What I'm trying to accomplish now is pairing this up with my Pro Clip mount. I've spent a small fortune over the years and want to keep using it. I've contacted Pro Clip about something that matches and they hooked my up with a piece from one of their windshield mounts. It doesn't quite work. So if anyone out there finds a solution, feel free to comment.

Be careful. I can tell you that not clamping the phone in tightly will lead to a phone flying into your face. Not pleasant.

ouch...sounds like your speaking from experience :P

I have it, It's excellent.

Excellent, I was kind of worried about the quality of it, but it looks really solid. Going to order one.....hell, I'll order two just to show my approval.

Can you use it in horizontally?

Don't like the car app. Defaults to Nokia Music and you can change it to another music app, but not Xbox Music? Ridic...

I have had this car charger over the summer, more than six weeks now. It works pretty much as you expect. But I have a problem with heat. I have confirmed that there are no problems with my phone and I have a second qi charger to verify that the phone is working. The car charger worked perfect at home in Sweden, but as soon as I started using it in hot Spain there where problems. As soon as the charger gets hot it stops charging even though the phone shows the charging icon. We have two Lumia 920 phones so when one emptied we just switched phone in the charger and saw the same problem with that phone to.
I am 100% shire that my unit stops charging when hot (and by hot I don't mean the heat generated when charging - no I mean the heat from sitting in the wind shield a hot sunny day).
I'm going to send my unit back for repairs and hope they will fix it, because I really love the charger, not only for making the jaws drop on my friends using iPhones :-)

Am I the only one who thinks it is not that expensive? It costs below 70€ where I live. Nice things cost money, that's just how it is...

clamps broken after a couple of weeks... and I blamed my wife for that! cr-200 is a crap instead: my love, please forgive me!

An another flaw is that you can not take any pictures or record a video while driving. Charger does block camera with all Nokia models. Sad. I would like to record traffic video while charcing.

I have a Nokia Lumia 928 and I can record video and take pictures while the phone is in the CR-200 cradle. It's a great feature and I love it. I can not claim that it works with other Nokia devices but it DOES WORK with a 928. Hope this helps. :)

I've had it for a couple weeks. It's nice and I've only had three problems:
1. It doesn't work when it's too hot so I have to let it cool down for a few minutes on hot days before it will reliably charge the phone.
2. The cord holders will detach from their stickers when the car is hot. If you push them back onto their sticker after the car cools down, they will stay stuck until the next time the car gets hot, then detach again.
3. The puck is absolutely worthless. The sticky stuff doesn't hold. The suction cup works great, but the puck came unstuck and sent the whole thing falling on its maiden voyage. I got rid of it and just stuck the suction cup directly to the dashboard and it's stayed put ever since.
Overall I'm happy and hope my clamp doesn't break like it has for others.

I too have been using the cr-200 and my lumia 928 for weeks. There was one instance where the charger was not charging my phone (on a long road trip) even though the charging icon was on the display. Since it was so hot out and the cradle was on the dashboard, I just put the a/c on defrost and it cooled down the unit enough to start charging again. :)

Had mine for a month, love it and it hasn't fallen off the dash once. Well done for explaining clearly that you don't have to use the puck.

I was really really looking forward to this hitting the us, but the price, and the amperage, I guess I'll have to pass and hope they release a higher powered on. I've learned on my 920, that in order to use it as a primary nav device, I have to use a rapid charger (greater than 3amps), the standard chargers (1.8-2.1a) don't cut it. I can only think of the battery devastation with .75a! :( :'(

I don't know anything about amperage, but based on my usage of the CR-200 with my Nokia Lumia 928 and Here Drive for around three weeks now, I have taken road trips that took 2-1/2 to over 3 hours each way and my phone never ran out of juice and I still had a decent amount of battery left to get through the remaining part of my day each time. :)

920 doesn't survive greater than 5 hours on my 2.1a charger, and on a long road trip, I don't want anything less than a full battery. My 3a charger holds the battery stable however, and does manage to get it to charge even when being used for nav. Again, I can't see .75a being viable, much less gambling $80+ on a 'maybe it might'. :(

You're right. Taking a gamble for 80+ dollars is a tough call. I had just assumed that the CR-200 would be able to handle keeping a phone charged while using NAV software since that is what most people would probably be using it for. I guess that is a bad assumption on my part. LOL!!! So far so good for me but I haven't taken a road trip longer than 3-1/2 hours yet. Glad you have the 3a charger to get you through your road trips. :)

What's the smallest detail been taking care of?

But will it work with the upcoming phablet? :-)

how does it perform on a hot or extremely cold day? Will nokia consider a second version with intetrated 2000 MaH intagrated battery within the cr200 chasis? Will nokia consider a redesign with the chariging cable part of the chasis and not as a dongle tail on the charging stand. The reason for the last is that it 1. impairs the degrees of freedom of the stand and 2. its utterly ugly and not a premium quality designstrategy.

This was a no-brainer purchase for me until I saw the length of the chord...that won't work for me and that's too bad.

It comes with a separate chord extender, so the chord length is NON-issue.

This has a design flaw, the piece for clamping broke. Should have made it with metal. That piece is very weak.

Yes, I already have a second charger in use. First broke after six weeks, second after four.
Very disappointing.


Yep, mine broke too. I love it however my new one is somewhere in transit...someone I am sure could make a mold of the plastic part...make a metal piece...no issues then. I'd do it but I am not eve remotely talented enough for that. I would buy the part though!

Be prepared for the clamp to completely fail after not that many clamp-release cycles. There is a design flaw with an internal plastic piece that breaks. Expect it to fail after about two weeks to two months of use. Unfortunate design flaw for an otherwise nice, but expensive accessory that extends the usefulness of a great cell phone.

This is a piece of junk. My clamp broke in two weeks of use. I loved it up until then.

Note that the breaking is not due to "user error" - I've been using a Nokia CR-123 car holder for a year now, and it's clamp still works with no problems.

Unfortunately, I had to go back to the CR-123 as the CR-200 broke after only two weeks of normal use.

Does anyone know how to get the CR-200 replaced or repaired?

My first post ever, anywhere Hope it helps Go to Shapeways website and search for Nokia CR-200 Replacement Cam.

Hi, I can't find Part 2 of this article which discusses hard-wiring the charger to the car - can anyone point me to it? thanks!

Too expensive, but tell me when there is a version with blutooth so I can use my Nokia in car mode.

FWIW -- Nokia's website now claims the CR-200 cradle has been "UPDATED" -- can't be sure what US retailers are carrying at this time, though. http://www.nokia.com/global/products/accessory/cr-200/

The base is a really sticky surface or has glue?, It Can damage the dashboard finish?

Hi... Who can tell me why CR-200 does not charge my Microsoft lumia 950? My phone even uncharge faster when connected to CR-200.
But it works great with my Nokia Lumia 925... where is the problem?
Windows Central Newsletter
Thank you for signing up to Windows Central. You will receive a verification email shortly.
There was a problem. Please refresh the page and try again.