Review - Nokia DC-50 Portable Wireless Charging Plate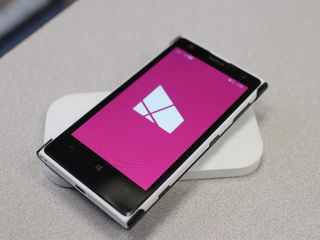 One of the primary attributes that I look for when shopping for just about any device is versatility. If I am spending my hard-earned cash, I want to get the most bang for the buck. So I am always happy to find a product that can fill multiple needs.
Enter the Nokia DC-50 portable wireless charging plate.
The Nokia DC-50 is a Qi Wireless-enabled charging pad that doubles as a portable power pack for your phone. When home, you can plug the DC-50 into the wall with the included wall-to-USB cable and use it as your primary phone charger. In that sense, it will be just like its non-portable sibling, the Nokia DT-900.
However, when you're ready to head out to the coffee shop to do some work, you can unplug the DC-50 and take it with you for some extra juice. That's because the 2400 mAh battery inside will help you keep charged up wherever you go.
Pros:
I really dig the idea of the DC-50. It is an all-in-one charging solution for any Qi-enabled phone. It is sizable enough for any smartphone to rest on comfortably, yet petite enough to fit in a pocket or bag.
There are also some thoughtful details in the design, like a quad-LED on the back near the USB port that acts as a battery level indicator. There is also a single LED on the front to confirm that it is charging your device.
The DC-50 can also be charged by another wireless charger, just by placing it on top of the charging pad, like you would your phone.
Cons?
There isn't much to the DC-50, so there isn't much to dislike. That being said it doesn't pack a whole lot of "wow-factor" either. The versatility of charging at home and on the go is certainly helpful, though the fact that you can charge your phone on the go without an extra cable is not overly impressive.
The biggest turnoff about the DC-50 is its $99.00 price tag, which is sure to be prohibitive for some. Portable power packs are relatively common these days, at very reasonable prices, so in many cases it would be cheaper to buy a wireless charger for home and a battery pack for the road.
Still, there is a novelty factor to the DC-50, not to mention that you can get one that will likely match your Lumia phone.
The DC-50 wireless charging pad comes in four colors: cyan, yellow, red, and white (pictured). You can pick one up at the Microsoft Store for $99.00.
Get the Windows Central Newsletter
All the latest news, reviews, and guides for Windows and Xbox diehards.