Review: Palringo Instant Messaging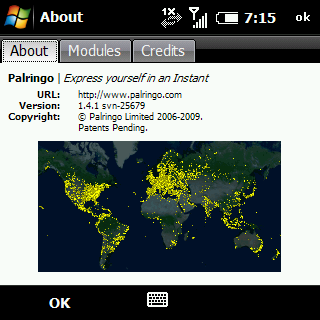 In our continuing series of reviews for Instant Messaging apps for Windows Mobile (see IM+ last week), we next take a look at Palringo, which has quickly become the darling of many WinMo users.
How does it stack up to IM+? What features stand out and which need some work?
Take a look after the jump for our review!
Palringo has been around for a few years now and has quickly become the favorite of many IM addicts. First of all it's free, which is always a nice selling point and second, it offers some unique features such as "Groups" and voice-clip ability.
Features
AIM
GTalk
MSN
Facebook
ICQ
Yahoo!
Gadu-Gadu
XMPP/Jabber
iChat
In addition, it connects up by default to Palringo's own service which you are required to sign up for when you setup the application. No MySpace or Twitter like IM+, though not a huge loss.
What makes Palringo unique is they have their own IM service, which also had a desktop client available. The mobile version runs on Windows Mobile, Apple iPhone, Symbian, Blackberry and Android (no WebOS yet). In addition, the desktop client works on Windows, Linux and MacOS. All of these are free. This is all relevant and important because to really take advantage of Palringo, you need as many of your friends on the service as possible.
For instance, if you enjoy sending voice-clips (more on that below), everyone needs a Palringo client to send. Likewise, to use "Groups" or some of the more advanced Geo-location services. This doesn't mean the app is useless without your friends/colleagues on board--it does after all work with all the aforementioned services, it just works better if everyone is on it, which is probably Palringo's strategy.
Voice Clips
This is a unique feature which I found interesting. In essence, you hold down a virtual-button that mimics push-to-talk devices. It records your voice message and then sends it to your recipient. But here's the catch: to ensure compatibility between services, if you send it to an AIM or GTalk contact, it shows up merely as a hyper-link, to which the user has to click and download the audio file to play (after opening Skyfire, it can play directly in there). Not very convenient, but what other choice is there?
However, if that contact is on Palringo as well (and you added them to your Palringo buddy list) you can send the audio message directly which plays automatically--this is very cool. For one, the quality is pretty darn good. Number two, it's quick--most audio clips are received with 10 seconds of sending. This really creates a true push-to-talk alternative for people.
Combined with this function with the desktop client, you can send/receive voice messages instantly from anywhere.
Gimmick or very useful? Depends on how you feel about it. I can see many uses for it in-real-life so long as you get everyone to use Palringo.
If you miss the message (or your phone is on vibrate/silent), you can re-play it anytime. Pretty cool.
Geo-location
Like IM+, you can have your location displayed automatically with your status messages (via GPS, triangulation or manually configured) for any of your subscribed services.
Once again, the Palringo service has more functionality here with a world-map that shows where you and your contacts are on the planet--it even looks up your coordinates and translates them to Town, Country (but no State?). If your Palringo friends denote their location, it sorts them in a new category, "Nearby", automatically with their distance calculated. Nice.
I'm a big fan of this function but it does have its quirks--the menu commands on are little awkward, specifically if you are setting the location manually. Also, I've had it pull down the map on my phone with the location right but the map put me in the ocean.
Send Photos
To repeat, there are two ways that this works: one for Palringo users and others. If your contact is on Palringo, you can very easily snap a photo or use an existing one and send it to them. The photo is embedded, which is looks very nice. If they are not on Palringo (AIM, GTalk, MSN, etc.) it just sends the photo as a hyperlink.
Groups
Only for Palringo users, you can create unique "Groups" for you and your friends to hang out in, as a meeting spot for your LARP group (j/k) or for co-workers. There are even general social-groups for interests and hobbies already created.
Yes, this is a way to "meet" new people you lonely basement dweller. That's because with your Palringo account you can (optionally!) add your age, interests, romance status and what you're looking to do. Personally, I found this latter aspect a bit weird but I suppose building "virtual communities" is all the rage these days. C'est la vie.
User Interface (UI)
This is probably my biggest gripe with Palringo. I just don't care for the layout--too cluttered, too much wasted space.
Granted on a 320x320 screen, there isn't much screen real estate, but still--do we really need nearly 1/4 of my screen at all times dedicated to showing my own name/status/location? As a result I only get maybe 3 contacts visible on my screen, meaning I have to scroll quite a bit (especially if you have many contacts).
Perhaps on VGA devices this is probably less of a concern but there should be either a more minimalist UI or an option to organize contacts in a smaller list (like IM+).
Notifications work quite well with vibrations and/or audible alerts. You also get a bright yellow evenelope on the Today screen and a pop-up notification. It'd be nice to actually see the IM when it comes in, like a SMS but alas, it isn't so.
Reliability/Battery life
Most of the time services stay connected with little or no issue. However, I have noticed AIM disconnect quite a few times. What's worse is there is no notification if this happens--you just open the app and "Whoops! I guess I'm not online anymore!".
On the plus side, battery life is actually pretty good--probably the best so far for an instant messaging app on WinMo. This due to Palringo's server-side handling of your accounts, which enables them to take off some of the load.
However, some friends (and even I) have experienced the our phones "heating up" where connection's are weak, more so than IM+--this has a detrimental effect on battery life. Your mileage may vary.
Conclusion
This should be obvious already: if you can convince all your IM buddies (or most of them) to switch to Palringo, it's a very powerful IM option. You can use it on your home computer, netbooks, various phones, etc. and get push-to-talk, Geo-location updates and send photos directly--all for free.
On the other hand, if you're the only one on Palringo, it is basically just-another-IM app. The UI in my opinion could be cleaned up a bit but the excellent battery life makes up for that criticism.
Palringo vs. IM+? Well, one is free the other is $39.95, sot that is certainly a consideration. With Palringo, assuming you have your friends on the service as well, you get free Push-to-talk (or Push-to-Annoy?) technology. IM+ has a nicer UI in my opinion plus MySpace/Twitter access and the "push-IM" feature. You also get a swanky and useful Today plugin with IM+, where Palringo has the out-dated "Tray Icon", which is a waste of space.
Really it comes down to unique features and if you like (need?) Groups, push-to-talk, etc. I'm on the fence about those last two myself.
Now excuse me as I'm off to convince all my friends to switch to Palringo, just what that company wants me to do. Curses.
Get the Windows Central Newsletter
All the latest news, reviews, and guides for Windows and Xbox diehards.
George is the Reviews Editor at Windows Central, concentrating on Windows 10 PC and Mobile apps. He's been a supporter of the platform since the days of Windows CE and uses his current Windows 10 Mobile phone daily to keep up with life and enjoy a game during down time.