Review: IM+ All-in-One Mobile Messenger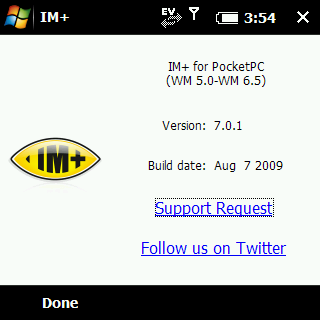 IM+ All-in-One Mobile Messenger from Shape Services is one of the top IM applications for Windows Mobile Standard and Pro (and increasingly its competition).
It is also hands-down the most expensive option, coming in at a whooping one-time fee of $39.95. At least that $39.95 is a lifetime license with free upgrades and even a transfer to another device-type (except iPhone). Is it worth it? Depends if you are an instant messaging nut -- if so, yeah as its a darn good app.
Curious about what changes have been brought with their 6.x and now 7.x updates? Read on for my full review.
For many of us old-school guys, nothing will beat VeriChat as the pinnacle of great instant messaging mobile programs. However, IM+ comes real close and with their frequent updates of late, the improvements and added functionality has made this a powerful program. First, lets go over the major services it covers:
Google Talk
Yahoo
Jabber
MSN
ICQ
MySpace (new)
Facebook (new)
Twitter (very new)
In other words, they cover just about all of it. Too bad no Skype-chat support though, for that you'll need their separate program (which they should really consider merging with IM+, just saying). Twitter support was just added with v7.x (see change log history) and while it works, it feels not as fun as Twikini or PockeTwit -- but, hey, better it be there than not.
IM Push Mode
This is probably the biggest improvement and is why I'm listing it first. Basically under settings you turn this on and specify an email address (or SMS address like @messaging.sprintpcs.com).
If your internet connection is lost, the servers for Shape Services will keep you logged in for X hours (user defined). When IM + reconnects to the server, your missed messages will be sent to you. Likewise, with the optional email function, you can be notified a new message is waiting.
But the best part? When in this mode,IM+ auto-responds to your buddies who are trying to contact you with "I'm logged in with IM+ for WM. Right now IM+ is closed and I will read your message as soon as I open it again." (You can even customize that message).
And it works too. As far as I know, no other IM service is offering such functionality and if messaging is a priority for you, this is something to consider.
Send Current Location
Basically this just allows you to specify your location via internal-GPS and post it as a link (via gpsed.com). You can send that info to an online buddy during chat or leave it up as part of your online-status. Pretty nifty.
Multiple Accounts
Yup, IM+ allows you to have multiple accounts of the same service, which is good for people like myself who have a personal and work Gmail account.
Today Plugin/Notifications
IM+ has arguably one of the best messaging plugins, as it separates the accounts, shows you how many are online and has a incoming message tally. Don't like the plugin? No problem as the program integrates itself into the traditional Windows Mobile notification system, meaning you get an icon in the Start bar and can configure the sound/vibrate options under system settings.
In use
IM+ has a real nice UI layout. You can choose the "Chat bubble" style for conversations that is reminiscent of the iPhone--personally I like this a lot as it makes the conversation feel more natural and the avatar support really personalizes the interaction.
The ability to send your GPS location or just leave it up as your status is a bit creepy for some, but personally I think it is a great addition. Sending photos during a chat is easy enough, with your photos appearing on imtransfer.im4mobile.com. Perhaps it would be better if you can send it directly instead of a link though.
The program takes up about 2.3MBs of storage space and is not too heavy on RAM consumption, but it's not the lightest either. The app runs fast and is quick to call back up. Formatting works well even on 320x320 devices and there is a very nice version for WM Standard which has all the same functionality and design--it ran very nicely on the Sprint Snap. Notifications always worked and the colorfulUI is really nice to work with.
Organizing your contacts works very well. You have the choice for "show online only", "show groups", "show services" and list by online-status. You can also have everyone's avatar show up or just list their name. While avatar option is nice, you can't have more than 6 contacts visible without scrolling on a 320x320 screen, whereas you can have 20 without their avatars. Finally you can also delete, rename and add contacts at your will, which is a nice touch.
Battery Life
This is always the big issue with instant messaging programs. Verichat got around this by using an SMS-relay system where their servers did all the work and a special SMS was sent to wake your device on wake-up. No one has done that yet, not even Shape Services, though the IM Push option above is close.
Still, having said that IM+ is actually not to bad on battery life. It still drains when left on and if in a weak-signal area, it will drain faster, but overall I was shocked sometimes that it was still running. One has to caution though and here is where their 7-day trial is a must, but overall I think they have really optimized this function.
Conclusion
I've been much impressed with IM+ as of late (hence this review). They have consistently come out with new features and updates to the program every few months--active development is very important when dropping $39.95 on an app and at least here, this seems to be the case. The program runs very well, has a ton of features (sometimes a bit overwhelming) and they basically guarantee you won't miss anIM no matter the situation. Pretty good idea. The inclusion of MySpace, Facebook and Twitter really keeps this program fresh and is a great way to keep up on various social networks.
The $39.95 is a lot though, but as mentioned above, it is a life-time license with free upgrades. You can also transfer it one-time to another device (e.g. to WM Standard, Blackberry, Symbian, Android, WebOS, etc.).
Any complaints? They should add Skype-chat and that funky new "Speech to text" feature whereby you can dictate your IMs--both of those are on the Blackberry version. And why make me buy a separate app for Skype? I can understand having a Skype-only version, but Shape Services should also have an IM+ with Skype on board--hey, charge me an extra $5 or $10 bucks, but give me the convenience.
So, finally, if you IM a lot and you "need this" function, then try IM+ for 7 days, it's a very good program that is constantly growing. If you are only the occasional chatterer then sticking with the "free" carrier versions is not a bad idea. Still, it is solid apps like this that makes Windows Mobile fun and I'd put in my top ten programs for the platform.
Get the Windows Central Newsletter
All the latest news, reviews, and guides for Windows and Xbox diehards.
Daniel Rubino is the Editor-in-chief of Windows Central, head reviewer, podcast co-host, and analyst. He has been covering Microsoft since 2007 when this site was called WMExperts (and later Windows Phone Central). His interests include Windows, laptops, next-gen computing, and for some reason, watches. Before all this tech stuff, he worked on a Ph.D. in linguistics, watched people sleep (for medical purposes!), and ran the projectors at movie theaters because it was fun.