Review: Sprint HTC Snap (S511)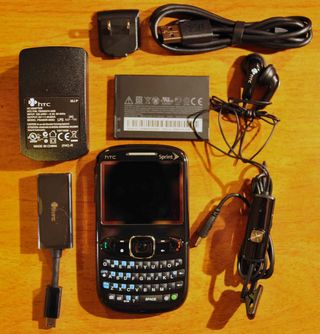 The Snap (S511) by HTC is replacing the venerable Motorola Q9c on Sprint and is its low cost Windows Mobile messenger device ($149 with contract; $399 without). Running Windows Mobile Standard 6.1, the phone packs quite the punch in terms of specs and features HTC's new offset QWERTY keyboard, meant to mimic a real desktop keyboard.
After three weeks of using the device and putting it through the works, we have our verdict. Read on for our full-featured review!
Hardware
The guts of the Sprint Snap are quite good for this class. Clocking in at 528MHz, sporting EvDO Rev A and a super sharp 320x240 screen, the device is quite speedy at launching everything from Outlook to Skyfire. Unfortunately, absent is WiFi and the trackball has been replaced by a standard 5-way.
Memory
Memory (both RAM and ROM) is not exceptional, with roughly 80MB of free RAM after a boot and 75MB of storage. But once again, for this class of device, it seems acceptable. After the last three weeks of usage I have about 21MB of internal storage left (after clearing IE cache), which is getting a bit on the low side for my tastes. RAM seems fine, although we do see some Windows Mobile 6.1 memory management going on when we run things like Skyfire, Kinoma Play and numerous other apps running concurrently.
Still, the device never slows down and rarely needs to be rebooted. It should go without saying that the Snap takes a microSD card for more storage (under battery cover).
Screen
Still chugging at 320x240, the Snap's 2.4-inch screen seems out of place with today's more common VGA resolutions. However, for what it is, it is very good. The screen is exceptionally sharp, bright and vibrant. Whereas the Moto Q9c's colors seem a bit washed out, the Snap screen is simply beautiful — in fact it easily is the nicest version of this type of screen that we've seen. Brightness is good enough at 2 tics (out of 4) and 4 just seems ludicrous, though perhaps it is need for outdoor usage.
The whites could be better though, as there is a slight yellow tinge to them that is only obvious when comparing to a pure-white source.
Two complaints here though: The Snap has a light-sensor, but only to auto-adjust the KB light and not the screen. If you're gonna fill Moto's shoes, at least do this right. Also, there is no easy direct way to change brightness, outside of going through to Settings.
Keyboard
The Snap's keyboard (as originally envisioned by HTC) seems like a much better iteration than the current Sprint version. The keys are somewhat small and are very "clicky" — you'll literally hear someone typing on the Snap in a quiet room. In a way, the audible feedback is nice. On the other hand, it can be quite annoying, too.
For some reason, HTC and Sprint thought it would be a great idea to put the CAPS key near the "a." This was a big mistake. I can't tell you how many "a" and "s" mistakes I make because everything is now shifted over one key. The shortcut keys at the bottom are convenient (camera/hold for video, Email, IE, and Inner Circle) and get the job done.
Of course, keyboard preferences are always personal and if you are thinking about this phone, I strongly recommend trying it out in a store first. And be warned: There is definitely a learning curve with this thumb-board. Personally, I'm mixed on the keyboard. It gets the job done yet I am certainly slower on this phone than on the Treo Pro.
Lights on the keyboard are OK, though brighter would have been better. The auto-adjust keyboard light is not worth it in my opinion, as all too often it is too dim. Best to disable under Settings>Power.
5-Way and other Buttons
The 5-way and top keys (two soft keys, Home, Back, Answer/End) are made of plastic and don't feel as elegant as the Treo Pro, but they are nicer than the Moto Q9c's. They have a nice range when depressed and feel "soft" to my thumb.
The volume rocker on the side is improved from the Treo Pro in that they angle lower in the middle, giving you a solid idea of which is up and which is down. Because these keys are used blindly when on a call, this is very important. These are the little things that matter.
Unfortunately there is no side-key nor a thumb wheel, which would have been a nice touch for this device, especially for e-mail and Web scrolling.
Speakers/Sound
Outstanding. The Treo Pro set the bar for sound quality in Sprint's lineup. The Snap outshines it. The rear speaker (offset slightly to the side, enough to just clear when placed screen up) can really crank it out and not have any crackle or distortion. In fact, the body of the phone actually resonates lower tones — whether accidental or planned, it feels very nice when playing music.
Likewise, the earpiece is quite loud and clear — probably the best I've heard on a Windows Mobile device.
There is no 3.5mm headset jack, so you have to rely on HTC's adapter. The adapter has a 2.5mm and a 3.5mm jack plus two mini-USB ports (one for headphones, the other for charging). While bulky and cumbersome, this at least gives you every option out there, and the sound with headphones is also exceptional. HTC also throws in its Audio Boost app, which is a fancy equalizer with a bunch of useful presets.
Camera/Video
No flash on board, but the 2.0MP camera is quite good for this class. The camera is fixed focus (boo). But maybe it is just us, it sure performs quite well in well lit areas. And yes, the camera launches in literally 1 second after click the dedicated camera button. Llikewise, the processing takes about 1 second as well, meaning this phone is great for simple captures or Twittering.
Holding down the Camera button launches you into Video mode, which also performs quite nice. No, it can't compete with a 3.2MP or higher auto-focus with LED flash, but it's a zippy little camera.
Reception/Speed
Cell reception is very good on this device. No dropped calls, and the phone instantly responded when calls came in. For many users, Windows Mobile Standard always was "a better phone" than Windows Mobile Pro, and the Snap continues that tradition. 3G speeds on Sprint's network were very fast, maximizing Rev A's full potential.
Battery
Rated officially at 4.0 hours talk time by Sprint, the Snap is powered by a 1500 mAh battery. Though the battery is identical to the Treo Pro's, it has different connectors. Interestingly, the Treo Pro is rated at 5.0 hours talk time. That seems quite odd to us as touchscreen devices always use more juice than non-touch ones.
From my experience, the Snap's battery is very good and will be more than enough for the users who pick this up. Simply put, there is no worrying when using this device throughout the day.
LED & Notifications
It is worth mentioning that HTC has finally enabled a blinking Green LED for all notifications (Email, SMS, missed calls, voicemail, & calendar). This is one of those things many have been begging for some time now, and it works very well here. There are no controls for this and no custom LEDs, but we'll take what we can get!
GPS
Standalone GPS is working here as well as QuickGPS (aka off-network aGPS). Satellite acquisition with QuickGPS data on a "cold start" is less than 15 seconds. Accuracy and speed are top-notch.
Software
The Snap comes with an impressive array of software titles. Most of these include HTC's own solutions to Windows Mobile limitations. These include an MP3 trimmer for making ringtones, AudioBooster (sound equalizer) for headphone use, QuickGPS, YouTube viewer, Bluetooth Explorer, HTC Album, Streaming Media, Voice Recorder and HTC's custom camera and video software.
All of these HTC apps function very well and really round out the Snap.
Inner Circle
The importance of InnerCircle is relative to how much e-mail you get on a regular basis and more importantly, the ratio of important to unimportant. For those who need a refresher, Inner Circle is an HTC innovation to triage your e-mail. You simply add contacts who you feel are worthy enough to qualify for your special attention either in the Inner Circle app or from Outlook (via submenus, nice touch). Thereafter, every time an e-mail comes from an Inner Circle member, you will get a neat little icon that appears on the top of the screen to let you know of its importance. In addition, hitting the dedicated Inner Circle key brings up the app with your filtered email.
It is certainly neat and does the job, but as previously mentioned, its usefulness is dependent on if you have many e-mail accounts and gets loads of e-mail. If you do get a tonnage, then filtering out your friends and family will be a great feature. If you don't or can manage it now, it will be a less remarkable feature.
HTC Home
HTC also includes its nifty custom Home Screen. Think of a combo of the Windows Mobile 6.1 Sliding Panels and throw in Touch Flo and you'll get the idea. For instance: It separates the lines for missed calls/voicemail from e-mail/sms. The latter will actually preview awaiting e-mail and test messages. While it looks pretty, it seems to take more clicks (3 clicks on the D-pad for SMS; 4 for e-mail) to preview the message than just say … using the dedicated email/SMS key and go right to it.
Another unique feature is HTC Weather, which gives current conditions and with a click, 5-day forecast. The weather app looks great and is very welcomed, but the cities are limited to the "major" ones — e.g. New York City but nothing on Long Island — as far I can find. Finally, you can have quick links to your IE favorites, which if you still use IE will be a major time saver.
Overall, HTC Home is a nice selling point for this phone and it gives the user everything they need upfront.
Internet: RSS Hub & IE6
RSS Hub is basically Illium's Newsbreak, which means it is pretty awesome especially since it is free. We love RSS here at WMExperts and RSS Hub works fantastically. Although I was harsh on IE6 for the Treo Pro (it is still awful btw), on the Snap dare I say it's not so bad. Skyfire is still the better solution for heavy browsing, but for dedicated mobile sites, IE6 does alright.
Finally, it also worthy to mention that the Snap comes with Microsoft's Voice Command built in. Once I figured out how to assign it to the green key, it's a great free feature to have as you can set your profiles (cool!) and check your battery in addition to dialing contacts.
Final thoughts and conclusion
The Sprint HTC Snap is a very nice, low-end dedicated messenger device. It won't blow away fans of the HTC Touch Pro. But for Motorola Q and Q9c users, it's a nice update.
Ironically, the keyboard is the major "buyer beware" point of this phone. Quite frankly, HTC (and indirectly Sprint) are capable of doing much better than this and while the keyboard is functional, it has a steep learning curve and may be the source of frustration for many. Definitely try before you buy.
Having said all of that, I'm still using the Snap on a daily basis. Fact is, it's a great phone that handles texting, e-mail, Twitter, that gets great battery life and is, pardon the pun, quite snappy. Audio quality is extraordinary for calls and makes streaming media (via Kinoma Play) a great experience.
Pros
Fast, fast, fast.
Pretty good camera.
Audio is incredible.
Sharp, bright screen.
Easy to use, little to setup or customize.
Great software package.
It just works.
Cons
Get the Windows Central Newsletter
All the latest news, reviews, and guides for Windows and Xbox diehards.
Phil is the father of two beautiful girls and is the Dad behind Modern Dad. Before that he spent seven years at the helm of Android Central. Before that he spent a decade in a newsroom of a two-time Pulitzer Prize-finalist newspaper. Before that — well, we don't talk much about those days. Subscribe to the Modern Dad newsletter!