Review: Samsung Jack (SGH-i637)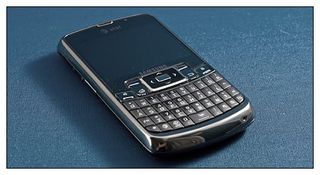 With the Epix released late last year and the Propel Pro earlier this year, some might have believed that Samsung had wrapped things up for a while with Windows Mobile. The Samsung Jack, the heir apparent to the BlackJack series, came out of left field for some and the time it took to go from announcement to appearing on the shelves was lightning-fast (shame HTC can't follow suit). We're not complaining, but it definitely took us by surprise.
Dieter introduced you to Jack a few weeks ago and shared a hands-on video of Jack. You've seen it compared to other Windows Mobile phones, and recently we had the chance to take the Jack out for a test drive. The latest Windows Mobile 6.1 Standard phone did impress us in several ways. Join us after the break.
Jack in the Box
The first impression you get when you first take the Jack out of the box is how light this phone is. Weighing only 3.6 ounces, the Jack actually is .08 ounces heavier than the Samsung BlackJack II. What masks the added weight is the smaller form factor and curved edges and corners. Blindfolded, it would be difficult to tell the Jack from the Blackberry Curve. Jack did have a plastic feel to it, but not in a bad way. Jack didn't feel like a "toy" phone but instead a solidly constructed device that felt good in the hand.
The Jack is packaged with the customary (and proprietary — grrrrrrr) charger, USB cable, software CD, owner's manual and headphone adapter. As Dieter pointed out in his hands-on video, the Jack doesn't come packaged with a headset, which really is no big loss. I would have liked to have seen (as would most) a 3.5mm jack on the Jack, but we can say that far too many phones.
The front-facing QWERTY keyboard on the Jack is patterned very similar to the Motorola Q9h, but it's smaller. It lacks the spacing of the BlackJack II's keyboard, but it does have similar hotkeys for e-mail, camera, GPS and Web browsing applications. There's also ringer mute key. Typing on the Jack's keyboard was nice, but the smaller size did take some time to get used to.
Just below the screen and above the keyboard is the Jack's center control panel. Here you'll find the answer/end buttons, two soft keys for on-screen menus/functions, a home and back button and a five-way control pad. Samsung calls the pad a "turbo" pad in that if you press and hold one of the directional arrows, the scroll speed accelerates.
Some of the center buttons pull double duty. Pressing and holding the answer button mutes a call; pressing and holding the home button pulls up the Task Manager. Tapping the end button brings you the Home Screen and pressing and holding the end button locks the phone.
On the left side of the Jack you have your power button and volume keys. Both buttons are flush with the sides of the phone. While it makes for clean edges, these two buttons aren't the easiest to manipulate. If you have a free hand, they work great. But they need to be a little more distinguished (e.g. slightly raised) to be more suited to one-handed operation. These two keys may very well be the weakest point of the Jack.
On right side of the Jack you have Samsung's proprietary charging/sync/headphone port. (Again, grrrrrrrrr.) To the rear you'll find a 3.2-megapixel camera and speaker.
Under the hood
The Jack sports a speedy 528MHz processor and 256MB RAM/256 ROM memory. There is an expansion port for microSD cards. But, unfortunately, it requires removing both the battery cover and battery to access it.
Speaking of the battery, the Jack is powered by a 1480mAh battery with a reported lifespan of approximately 7 hours' talk-time and 12 days of standby time. I was able to use the Jack heavily during the day (setting up e-mail, running GPS, installing apps, browsing the internet, etc.) with plenty of juice left over (about 50 percent) which which to head into the next day.
The Jack is fitted with Bluetooth, WiFi and GPS. With Google Maps, I was very pleased with the GPS performance. It does have assisted-GPS (aka aGPS) which will get you in the neighborhood of your location. In activating the GPS receiver, from a cold start, I pinpointed my location in less than a minute.
Software
The Jack is loaded with Windows Mobile 6.1 Standard and the customary AT&T bloatware (going to through in another "grrrrrrrr" here) such as AT&T Mall, Navigator, MediaNet and that pesky ExpressMail download. You also have a AT&T WiFi Locator that is supposed to help you locate hotspots, but it's not active yet.
The Jack's preloaded with Pocket Internet Explorer that launches you into AT&T's MediaNet home page. You can remedy this fairly easy by changing the home page in the Options Menu but as an alternative to PIE I took the opportunity to install Skyfire 1.0 and made it my default browser. I was really surprised how well it operated on a Windows Mobile Standard phone and it actually performed better on the Jack than it has on the touchscreen AT&T Fuze. Page load times were noticeably faster that Explorer and I didn't see hide nor hair of MediaNet.
Home screen options include the Windows Mobile 6.1 sliders, traditional view, and a few Samsung designed screens (Pop-up and Dual Clock). You still have the option of changing the color scheme and background image as well.
The Start Menu pulls up your program listings, seven applications at a time. To scroll through them you have to go page to page or use the directional keys to scroll through them. In the Home Screen settings menu you have the option to check "Show Recent Programs."
Out of the box, this option is turned off (which seemed odd) so don't panic if you don't see your recently used programs when you first hit Start. I like this option because it often eliminates the need to sift through four pages of applications to find the one your looking for.
One new feature on the Jack is the Message Ticker. When active, a pop-up ticker appears on your screen when new mail arrives, giving a snapshot of information. It felt like the pop-up bubble that appears on Microsoft Outlook or Windows e-mail when new mail arrives — but more annoying.
There are a few settings for the keyboard that I haven't seen on Windows Mobile Standard before. FN Key Settings gives you the ability to map a specific key to launch a predefined application of function when pressed in conjunction with the FN key.
Vanity dialing, reading directly from the option screen, lets your QWERTY phone dial a number like "1800SAMSUNG" from the home screen or dialer. You can use this feature after changing input mode to ABC via the FN key in the dialer. This feature simply saves you a little time in dialing the vanity numbers without the need to interpret how the letter corresponds to the dial pad. For example: Instead of dialing 1-800-356-9377, you can type out 1-800-Flowers.
One last note with regards to the software: In the news release announcing the Samsung Jack, Samsung mentioned it would be upgraded to Windows Mobile 6.5. We know that Windows Mobile 6.5 can handle non-touchscreen phones, but Microsoft hasn't made any official announcements yet. It may simply be an indication that the specifications of the Jack make it suitable for upgrade if and when that ever happens.
Performance
Again, the Samsung Jack feels really good in the hand. The curved edges and corners coupled with the light weight is just down right comfortable. The Smartphone Experts Side Pouch that I used while testing the Jack seemed to weigh more than the phone.
Call quality was good, about par (maybe slightly above par) for any other phone these days, and reception was equally as good. Where my AT&T Fuze had two bars, the Jack would have two to three bars.
The front-facing keyboard is suited for one-handed operation. And with the exception of the power and volume buttons, the Jack is easily handled one-handed. Windows Mobile Standard is a very capable operating system. And while I did catch myself tapping the screen from time to time, navigating around the Jack was a breeze.
Overall Impression
The more I used the Samsung Jack, the more I like it. Build quality was good and the phone feels comfortable in the hand. The only design nit I would pick with the Jack is that the volume keys and power button needs to be easier to access and manipulate.
The keyboard is smaller than similar phones such as the Samsung Blackjack II and Motorola Q9h. But then again, the Jack is a smaller phone. It did take some time to get used to the smaller keyboard, and I found it more receptive to fingertips than thumbs.
GPS, Bluetooth, and WiFi all are nice features to have on a phone, and the GPS receiver worked like a champ. I'm not a big fan of pulling up Media Net as your browser, but that was easily fixed by making Skyfire my default browser.
The Jack's biggest competition will likely come from the HTC Snap. The Snap (from what we know) should be a larger phone, which may give the Jack a slight edge with some Windows Mobile users. Additionally, the Jack will likely be priced under the Snap. Currently, the Jack costs $350 out of contract and $99 after rebates and a two-year contract. No word yet on the Snap's pricing but early over-seas pricing has it in the neighborhood of $500.
All in all, if you're looking to move to Windows Mobile Standard or replace that worn out Motorola Q or Samsung Blackjack, the Samsung Jack is worth serious consideration.
Overall: 4.5/5
Pros
Quality ConstructionComfortable in the handReally nice screenSpeedyGood Battery LifePrice
Cons
Volume and Power button a little testyNo 3.5mm headphone jackMicro-SD card slot in a odd locationAT&T bloatware - hard to escape from it
George is the Reviews Editor at Windows Central, concentrating on Windows 10 PC and Mobile apps. He's been a supporter of the platform since the days of Windows CE and uses his current Windows 10 Mobile phone daily to keep up with life and enjoy a game during down time.
With exchange push running I actually get a terrible battery life. :)

when i try to get on the internet on the blackjack i637 an alert pops up that says, the address is not valid check address and try again later but i cant figure out what to do can somebody help me....you can email me at eduard661@yahoo.com

I read that the Jack was software-locked, so unsigned apps couldn't be installed. Did that cause any issues durig the review?

You can unlock your registry settings, as well as the phone. I've unlocked mine completely, so I can put any .CAB that I would like that works on my phone.

Carly.. can't say that I've loaded any unsigned apps on the Jack. I installed GoogleMap, Skyfire and Screencapture which I doubt qualify. If you have something in particular in mind, I'll see what I can do.

Just curious, based on celio's response when i asked them about the propel pro, they indicated that the redfly wouldn't be compatible due to the unsigned apps issue. Assuming the Jack has the same software lockdown. If that's the case with the Jack, does internet sharing or wmwifi router work?

how did you take out the ringtone size limitations?

You can use Myxer.com to make your ringtone size smaller. I use Audacity to chop up a song that I like to make the ringtone, then upload the ringtone to Myxer and send it to my phone. It will make the size of the newly made ringtone smaller without truncating the ringtone. It's the best site for doing this, and it's really quick. There are a ton of other ringtones on there that you can download for free.

I'd had the Jack since May 30. About unsigned apps, for most of them you just get the "This program is not signed. Do you want to install anyway?" message common in most WinMo phones. I have installed Google Maps, Kevtris, Opera Mobile 8.65, Iris Browser, My Mobiler, SmartSS, MagiCall and Documents To Go, all without more trouble than said confirmation screen. That said, there are still things that won't work. If you have made CAB files out of registry mods, these will not install, even if they are mods in areas of the Registry that are not locked. Remote registry editors such as CeRegEditor will not work at all, while registry editors that run on the phone (such as PHM Registry Editor) do run - albeit with many areas of the Registry in read-only mode. At least I was able to take out the ringtone size limitation and a few Inbox-related registry mods. I even unlocked my Jack so it can use T-Mobile SIM cards. Just don't dream of unlocking network selection settings or with removing the bloatware. There are already programs built into the phone however, that will allow you to unlock the data settings and set the phone to GSM-only or 3G-only mode, after you punch in a few numbers

Hi, This is for Celugeek i bought the phone and was connecting to internet through my wifi connection at home but i received data charges is there any way to use only wifi?? Thanks

I've only got my jack for a few weeks as well, and I've gone as far as to unlocking it so that it can use T-mobile sims. I've also done research on security settings and such but haven't gone as far as actually doing it. But my big consider right now is getting all the perks! I'm currently using it as a T-mobile phone but it can't access wi-fi, can't send MMS, nor is my GPS of any use. SEND ME SOME HELP POOLLLLEASE!

Hi
Is there a way to set up the indicator light so it can flash red when there is a message? The blackberry does this.
thanks

there's a fuscia light that flashes when you receive messages

can you please tell me how to turn the fuscia light on when you receive a new message?

a few questions.... the jack comes with word, excel, powerpoint, yes?
how does it do when on the phone in the car moving from tower to tower?
does it do a good job of hand offs from edge to 3g and back?
if one long presses a keyboard key, does the second character on it come up?
compared to the jack ii, is it noticably faster with that larger cpu? many thanks for your help and a great review!

The Jack comes with Office Mobile: Word, Excel, PowerPoint and OneNote. That said, the versions of these programs for non-touchscreen devices are crippled when compared to those on the touchscreen devices. You can't create new documents out-of-box. You can't even change the font/font size in a Word document. Anyone really serious about handling Office documents on the Jack should buy Documents To Go, until Microsoft gets its act together and fixes the non-touchscreen version of their Office Mobile suite. 2G 3G handoffs work quite well. I still think AT&T has some issues with handoffs, but the Jack drops fewer calls and data sessions than the Tilt, Moto Q9h and Epix. Yes, holding down a key will bring up its symbol. Also, the Jack is all around noticeably faster than the BJ2.

many thanks for your answers! another few questions, if you don't mind. :-) - fingerprint magnet? rubberized surfaces?
- how is battery life?
- what is the micro sd card max size? i'm a longtime blackjack 1 (winmo 6.0) user. i looked at the epix, but it's been beset by all sorts of software problems, and it's about to get replaced/updated anyway. the other winmo touchscreen devices on att seem slow and bulky to me compared to my old blackjack. the iphone is really really tempting me, but i'm not a fan of putting itunes on my pc. still it may be worth the jump now for two years. at least i can count on a software upgrade in a year. :-) so, the new jack is very tempting for me. thank you again for your help.

I didn't find it to be a fingerprint magnet at all. The backing is a little slick and a rubberized surface would have been ideal. I'm hearing mixed signals about the battery life. Personally, it's been great. I'm on day three without a recharge. The first two days were with normal to moderate use and today, the phone's sat on the desk syncing with Google and pulling email every thirty minutes. Sd card max size....16GB.

George I posted the following a few weeks ago on the forum. Any input? By the way, thanks for the review...
...I have a crack in the screen of my BJ II. I really like the device and have no specific tech lust for another model. However, the crack has been migrating and I may need a new device. If so, I will likely get the Jack after it becomes available next week. My queries- will I still need to cook the ROM to allow me to use Google with the GPS? Will I be able to do so? Will my purchased applications that sit on the SD card be able to be inerted right into a new device? Any thoughts out there?

Google Maps worked like a charm with the Jack. I acquired a fixed location under a minute from a cold start and you won't need a patch. I'm not sure what you're asking about apps on the SD card but if you are running them from the SD card, I think you'd have to reinstall them on the Jack. If your asking if the formatted SD card used with the BlackJack will work in the Jack without the need for formatting, the answer's yes. I keep all my .cab files on a micro SD card and use that as an installation disc for the WM phones I test and have yet to have problems going from one phone to another. If I had to choose a WM Standard phone to replace the BlackJack, it would be either the Jack or the Snap. Haven't handled the Snap but the pricing on the Jack is definitely budget friendly.

many thanks again for answering questions so quickly.!

The Jack is now app unlockable. A Google search will bring up the link.

How much the prcie of it in the market ?
When it comes in Indonesia ?
I have read the blackjack's good side, i believe it has the badside too ?

What is the case pictured in the last photograph? Where can I buy it?

After 5 days, I have found this cool new device to be much to my liking. It has all of the hardware joys of a BB Curve but also the snappy power of WM standard. I have moved away from the heavier, laggy, HTC WM Pro slider devices and am new to WM standard. The battery icon is deceptive in that it appears to drain very rapidly but when you go into the Power Mgt. utility the graphic slider bar still shows over 65%+ remaining eventhough the little battery icon shows only 1 bar on the home screen. The Jack felt a bit slippery so I added a thin rubber case jacket from the ATT store and the grip is so nice now. This case adds zero weight and heft to this very light device. Great new offering that should sell very well. -THP

I have the exact same problem with the phone. I've gone through three different Jacks and two headsets. The same problem with each and every combination. The people at the store have no idea what it is. Help me please! I'm losing my mind!

I am also having the same problem with my phone. Has anyone found a solution to this problem?

I have this phone and love everything about it except one thing! I have successfully paired 2 different bluetooth headsets to it and the phone shows the pairing. The problem is that when I make a call the phone switches back the handset mode, as soon as I disconnect the hands free icon displays again. I know the headsets work properly with 2 other phones so I am wondering if the phone I have is defective. Did you successfully pair and use a bluetooth headset hands free device in your review?

I have the exact same problem with the phone. I've gone through three different Jacks and two headsets. The same problem with each and every combination. The people at the store have no idea what it is. Help me please! I'm losing my mind!

I have used and tested this phone and it is a very nice improvement over the BlackJack II. I installed TrickerTracker on it and it worked perfectly. For those wondering, technically this is an un-signed app and it installed without any problems on a phone on the AT&T network. The program allows you to do real-time GPS tracking for free. Once you start the tracking function, you can simply run it as a background application and track the device from the website. http://www.TrickerTracker.com

I also have problems pairing the Jack to a Pioneer (AVIC-D3) bluetooth car accessory. Sony Ericsson, Nokia, Motorola, other phones worked fine. The Jack thinks things are fine but the Pioneer reports either "connection error" or "invalid device". Similar issues have been reported on HTC WM phones and there is aftermarket software (jetware) that will address it. Not for the Jack.

How come my new Jack's camera functions have no zoom option?

I tried the link and it did not work. I would like to know how to unlock some of these features

Check out the following link. It will solve the security problems that are installed on the Jack. It will let you edit the registry, change ringtone size limit, and let you put 3rd party apps on the phone. Works great. Just copy and paste the following link.... http://pocketnow.com/index.php?a=portal_detail&t=news&id=7565

Got the new Jack a few days ago and was able to successfully unlock it today. My biggest gripe - coming from the Moto Q9h as my last phone - is the lack of ability to default the save location for file, movie, music downloads to the sim card, or to at least be given a soft key "save as" option during a download. Any idea how to get this done (even if through a third party app or a hack) on the Jack???

Hi I have on plan to buy one very soon. Can I use the phone as a modem to conect my laptop to internet? Is easy to do? I have T mobile and I want to know if I can buy and continue using the phone with my laptop. All phones unlocked has ATT logo in the phone? Thanks

I just unlocked mine to work on T-mobile. However, I cannot get it to send Picture Messages. Has anyone gotten this to work? Much thanks.

do you think you could help me unlock mines?

Alex, do you have internet with the Jack usisng T Mobile? Are you using as a moderm to connect your notebook for internet?

Hi, how do i set my camera up to save all pictures on my SD card by default? KD

Is it possible to unlock the GPS receiver on the Jack like I was able to do with the Q9H so that thirdparty software can utilize the GPS receiver?

I have just purchased the Jack but haven't received it yet. I am upgrading from the ATT Tilt. My husband has the BJII and so far i have not been able to set up specific ringtones for certain contacts like i can on my TILT. Is this even a possibility in the BJII or Jack?

Hi.
I just got mine.
i cant figure out how to choose when i wanto to use 3g or my own internet service at home is there an operating manual online?
it doesnt come witn a printed one.

The only bad thing I noticed so far was problems installing any of the TomTom versions for Win Mobile, nether 6 or 7 were able to be installed on the device, the message I am getting is something related to the umarshaller.exe and that is it, so no real good GPS apps like TomTom can not be installed, I am not sure about Garmin, but will try that too.

Anybody has tried WMWifiRouter on the Jack?

I had the first blackjack. I am use to t9 texting. How can I find this application on the jack? I have looked everywhere on the ohone. This is an important feature I want to add to this phone

It's jack capable of playing the flash content with the build in IE?

has anyone had problems with the blue tooth headsets. I have connected 3 different blue tooth headsets and get the same results. When I make a call the blue tooth headset disconnects and I have to put the phone to my head. I can switch this back to hands free but only after it started ringing. In comming calls work just fine.

I have the exact same problem with the phone. I've gone through three different Jacks and two headsets. The same problem with each and every combination. The people at the store have no idea what it is. Help me please! I'm losing my mind!

I'm a long time WinMo user and I like (not love) the Jack. In comparison to a Nokia E71x (which I like not love) these are my thoughts: E71x
1) voice quality is better on the E71x.
2) speaker phone is better on the E71x.
3) GPS reception is better on the E71x. It loads the AT&T Nav software faster and grabs the sats in short order.
4) Camera on the E71x is smoking good and has a flash. The autofocus is awesome.
5) Form factor is roughly the same yet the E71x has a better heft/weight to it and the case feels less breakable than Jack.
6) Symbian is for geeks and it's cool, but requires some hours to be a power user. All that said and I'm a Jack user. Jack
1) Jack is lighter
2) Jack is winmo
3) Jack works with Microsoft MyPhone
4) Threaded SMS
5) Native support for Exchange/Active sync
6) MS has listened to consumer feedback on what features people use and where to place them on the keyboard and how to access them
7) Jack works well with Windows Live
8) HTML email . . . not Roadsync etc.
9) I would like more ability to customize app placement in folders etc
10) Jack is better with music sync etc
11) WinMo works like Windows desktop OSes. There really isn't much to learn to become a power user. If I wasn't having problems with the bluetooth stack on the E71x I would still be using it. It's a great phone with a great camera. The Jack is just a solid good phone. Can't wait for 6.5 and the Zune interface. Now if they'd just let us use the Zune software to sync music to the Jack that would rule.

Ok, I'm really interested in buying the samsung Jack for my new phone when my upgrade comes around in a month. Im wondering how the phones works. Ive read the pros and cons of the phone, 1 think im curious to know about the phone is how the text messages come in? Are they messenger type messages or single messages? And also, ringtones, Are you capable of assigning ring tones to the phone?

I am having terrible issues with my phone dropping calls even in places where I never had the issue with previous phones. Is anyone else having the issue and is there a fix?

I CRACKED THE SCREEN ON MY SAMSUNG JACK AND AM TRYING TO FIND OUT IF I CAN GET A REPLACEMENT SCREEN FOR MY PHONE SINCE I JUST GOT IT A LITTLE OVER AMONTH AGO? LOVE MY PHONE BUT DONT WANT TO BUY A NEW IF I CAN FIX IT FOR LESS

Mine cracked too and I've only had it for two weeks. Went to two AT&T stores and also called AT&T service but no one will help.

yaa i had the same prob. cakk samsung directly and tell them. ur under warranty for a year. itll be about $90 for them to fix it.

I have a Jack coming within the week to replace my BJII. What is the current speculation on WM 6.5's availability on the Jack?

one day i went shopping outside ?and in an links of london store?I found some kinds of links of london i love most?they are: Links of london mens bracelets Links of london mens bracelets Links of london mens bracelets Links of london mens bracelets Links of london mens bracelets Links of london mens bracelets Links of london mens bracelets Links of london mens bracelets Links of london mens bracelets Links of london mens bracelets shopping Links of London Bracelets shopping Links of London Bracelets shopping Links of London Bracelets shopping Links of London Bracelets shopping Links of London Bracelets shopping Links of London Bracelets shopping Links of London Bracelets shopping Links of London Bracelets shopping Links of London Bracelets shopping Links of London Bracelets

one day i went shopping outside ?and in an links of london store?I found some kinds of links of london i love most?they are: watch Links of london bracelets watch Links of london bracelets watch Links of london bracelets watch Links of london bracelets watch Links of london bracelets watch Links of london bracelets watch Links of london bracelets watch Links of london bracelets watch Links of london bracelets watch Links of london bracelets charms for Links of london bracelets charms for Links of london bracelets charms for Links of london bracelets charms for Links of london bracelets charms for Links of london bracelets charms for Links of london bracelets charms for Links of london bracelets charms for Links of london bracelets charms for Links of london bracelets charms for Links of london bracelets

I have a Samsung i637 phone.
I have problems with Wizpro. When I receive a sms, I can read the sms, but when I try to return to home page (wizpro), I can not see it.
After some minuts, the wizpro does not appear, and instead appear the message "Anything home screen theme was found".
I have unlock security in the phone. I have changed to multimedia home screen, but I need use the Wizpro. What could be cause this problem??? Also when I see pictures, some pictures do not see correct.

We have the Jack's now as our corporate phones. We came form BJII's. Lots of complaints about ability to hear the other person. Same as you describe. Did you ever resolve it adn how can we fix this? Thanks for your help.

I recently purchased a Jack and love it so far. But I do have one complaint. I can not hear the callers. They can hear me just fine but I have trouble hearing them. Is anyone else having these problems?

I'm very interested in buying the samsung jack except I have T-Mobile, not AT&T. I want to know if I am able to buy it from AT&T alredy unlocked or if I am able to buy it then how to unlock it and how much this would cost. If you know anything that would answer my quesion, it would be very helpful, thank you.

This phone has the worst Bluetooth functionality I have ever seen. Never auto switches "outgoing calls" to Hands Free Link in Car. Several others have compalined about this and no perm fix from Samsung. Also cannot handle 2 paired BT devices gracefully. These are very major problems when all is considered.

I love the Jack, as I used to carry a PDA and a RAZR, now everything on one unit. Also, like being able to use phone and open Outlok without have to end call. Only problem is I miss the "name dial" feature on the RAZR, especially when driving. Anyone know if there is something on the Jack I am need ot activate, or if is there an app. available?

I lock my phone but accident and do know what I did
how do you unlock the phone

I have had issues with 2 different Samsung Jacks dropping calls every five or ten seconds. I bought the first one and had it swapped out within 8 weeks. The second one worked fine for about a day and then began dropping calls every five or ten seconds again.

I just got the Jack, I used to have the BJII with an 8gb Micro SD card and about 3gb (700 songs) of music on it. I put the card into the new Jack and it takes the media plaeyer about 30 seconds to respond to any key. Has any one else had these problems? I want to know if you guys have been able to play large amounts of music on it to see if its just my phone and exchange it. THANKS!!

I agree. This phone has the worst Bluetooth functionality I have ever seen. On my 2010 Honda Accord, it doesnt auto switch "outgoing calls" to Hands Free Link in Car. Being an AT&T phone, its funny that when connecting to an AT&T Teleconference Bridge #, the "p" pause function fails to work. Both these issues make this a most unsatifactory experience when driving. This is a crappy corporate phone.

I deleted files in an effort to get back my Storage space. I deleted 'My Music' and now can't use an mp3 as a ringtone because I don't have this folder. Every time I try to add the folder, it says it can't be created because it's already in 'Favourites' (spelt weird). I've tried searching for 'Favourites' but can't find that or 'My Music'. How can I add this folder back so I can use a ringtone I have made instead of the preinstalled ones? Thanks!!!

I have a samsung jack i637, I am trying to use the internet sharing option so that I can use it as a modem and get the internet on my laptop, the user manual does not cover this. I have this option on my HTC Tilt, and it works great.

Hello,
Please I Get The Samsung SGH-I637 From US And Im In Lebanon, Is There Anyway To Unlock The GSM ? Because It Can Not Be Unlocked From Lebanon ! HELP

Despite my fondness for Samsung products, when the time comes, a new smartphone, and I am probably going to Samsung Sound quality is very good, when you use the phone. The camera takes pictures very great good.

Hi there, I live in costa rica, i bought the samsung i637 jack unlocked but its seems the software is locked.. I cant use the internet because the cel phone tries to use the predetermened gprs conection which is the at&t one.. but i need to use my own because we have a private internet service.. so for my internet to work they said, i need to erase the gprs conection that already come with the phone.. but when i try de delete them, i dont have the option to.. they have a "lock" symbol beside them...
How can i delete these factory gprs conections that come with the phone and just leave my own?? thank You.. If possible, please send answer to my email: ilmenaglar@hotmail.com

how do i customize the text message sound to music and not these lame beep sounds, iwant my songs i have to be my text message sounds, how do i make it that way? please help thanks

how do I set email, text, phone on messages so they all come up at once like blackberry when I scrool thorogh messages?

Thank you for another interesting post. Where else can people get that kind of information in such a perfect manner of writing? I have a talk next week, and I am on the look out for such information. bwin

I recently bought a Samsung Jack for my boyfriend. It WAS working good up until we realized that he is not getting all of the text messages that people are sending to him. We reset all the features in case he pressed something he shouldn't have but he still isn't receiving all of the text messages. Why would this be? Do you have any suggestions?

I have installed Google Maps, Kevtris, Opera Mobile 8.65, Iris Browser, My Mobiler, SmartSS, MagiCall and Documents To Go, all without more trouble than said confirmation screen.

How can I turn the internet off so I dont have data charges?

I'm angry. My phone came in the mail but they didn't sent the manual or the software disk. My wifi doesn't work even though I'm connected. Could this be because I'm on a go phone plan? I got really excited for this phone and its great. I just wish I would have gotten everything I needed with it.

the manual is probably on the software disk. The manuakl and everything on the disk can probbely be downloaded or you can call CS and try to get it taken care of. They may be able to answer you wifi question as well.

im going to an at&t store later today to get it. and my bf found out the problem with the wifi. my security was all the way up or something like that. thanks

I have this phone and I love it, I just recently got a SD card for it since there isn't much memory on it. BUT it keeps saying SMS message will not be receive if the phone doesn't free storage space, my storage space is full and I have deleted all picture, all messages, I have no idea how o just free storage space? HELP!

I just found the Samsung Jack Zoom. While in camera mode, use the volume control. I found it by downloading the Samsung Jack manual.

there may be a wm std version of memmaid o clearram check here in the WME store for software

I have the Jack, and it has been working properly, but yesterday some keys stoped working and when I tried to restart the phone, it stoped working, there is a windows mobile green screen that stays forever, ¿any sugestions?
Windows Central Newsletter
Get the best of Windows Central in in your inbox, every day!
Thank you for signing up to Windows Central. You will receive a verification email shortly.
There was a problem. Please refresh the page and try again.