Samsung Jack Hits AT&T on May 19th for $99 after Contract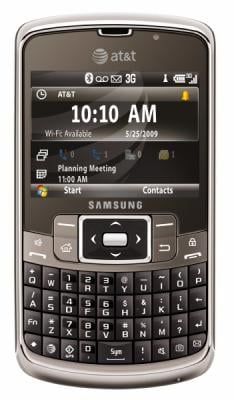 Oh, hello Samsung Jack on AT&T. You'll be available on May19th for $99 after contract? Sounds good! You're actually a big upgrade to the Blackjack II? How's that? Oh, we see:
Windows Mobile 6.1
Wi-Fi 802.11 b/g
Tri-band HSDPA (850/1900/2100) and Quadband Edge (850/900/1800/1900)
aGPS
528 MHz processor, 256MB ROM/256MB RAM
Display: 2.4 inches, 65k, TFT, Color, 320 x 240 pixels
5-way navigation with Turbo Scroll
3.2MP camera
Dimensions: 4.4" L x 2.4 W x 0.5" D/Weight 3.6 oz.
1480 mAh battery - Talk Time: 7 hours/Stand-by Time: 12 days
Connectivity options in Bluetooth 2.0 EDR and USB 2.0
16GB external memory support via microSD
3.5mm Headset Adapter
An arguably better keyboard
shorter than the BJII
Well, let's be fair, Jack, not all of those features are new. But we're liking your looks and we're happy to see WiFi is in the mix. Very happy to meet you. Still no 3.5mm headset jack, Jack? That's ok, we still think you look very svelte. We're curious to hear about this "Turbo Scroll" thing too, do tell someday, ok?
What's that, you have a corporate-sponsored hands-on video? Sure, we'll post it after the break. Anything for you, Jack. A press release and a side shot too? Shucks, Jack, you bet.
(Update: Jack, you sly dog, the press release says you're upgradable to Windows Mobile 6.5. We don't see a Windows Start flag button, though -- can you explain that one, Jack?)
AT&T COMPLETES ITS FULL HOUSE OF SMART DEVICES
WITH THE NEW SAMSUNG JACK™
Compact, Elegant Handset is Powered by Windows Mobile 6.1 and features Wi-Fi, 3.2 Megapixel Camera and Integrated aGPS Technology
DALLAS, May 14, 2009 — Smartphone fans have an ace in hand with the latest Windows Mobile device from AT&T and Samsung. AT&T* and Samsung Telecommunications America (Samsung Mobile) announced today the May 19 availability of the Samsung Jack™, the next generation Windows Mobile 6.1 smartphone available exclusively to AT&T customers in the U.S and powered by the nation's fastest 3G network.
The Jack is a sleek and compact handset with an optimized keyboard for easy and accurate messaging, including SMS, instant messaging and access to multiple e-mail accounts. Microsoft Direct Push is available for enterprise and small business users, while AT&T Xpress Mail offers access to most major personal e-mail accounts. The Jack also features over-the-air synchronization of contacts, calendars and task lists with Microsoft Exchange Server or Xpress Mail.
"The Samsung Jack will be another hit crossover smartphone in the tradition of the Blackjack and Blackjack II," said Mike Woodward, vice president, Mobile Phone Portfolio, AT&T Mobility Corporation. "The Blackjack series has been the number one selling franchise in Windows Mobile history."
The Jack combines the familiar look and feel of a Windows desktop with a stylish, streamlined device ideal for customers looking to simplify and increase the productivity of their business and personal lives. Additional key features of the Jack include 256 MB RAM, a 3.2 megapixel camera with video-capture capabilities, Wi-Fi (802.11 b/g) to connect with home or office networks, and built-in aGPS for use with AT&T Navigator, AT&T Navigator Global Edition and other GPS-based applications for personal and business use. AT&T Navigator is available to try at no cost for 30-days. Data usage charges apply.
"Samsung has a long tradition of bringing award-winning smartphones to our customers and the Jack is our next flagship device," said Bill Ogle, Chief Marketing Officer, Samsung Telecommunications America. "The Jack takes the best messaging features, coolest multimedia options and cutting-edge productivity tools and packs them into a high-tech phone."
Make Your Life Easier with Pocket-Sized Productivity
Windows Mobile 6.1 puts your desktop computer in the palm of your hand. Microsoft Office Outlook Mobile on the Jack keeps enterprise and small business customers connected with synchronization of schedules and contacts, Internet Explorer Mobile provides improved quick and easy Web browsing and Office Mobile enhances productivity with the ability to manage Word, Excel and PowerPoint documents. Additional Windows Mobile 6.1 features on the Jack include threaded SMS messaging, and Voice Command.
The Jack also supports Microsoft's System Center Mobile Device Manager 2008, an enterprise-grade mobile solution for managing and protecting Windows Mobile 6.1 phones. Mobile Device Manager provides users with software distribution capabilities and security-enhanced access to company data while they are away from the office. The Samsung Jack will also be upgradable to Windows Mobile 6.5.
Entertainment On-The-Go
Style meets substance with the robust feature-set of the Samsung Jack. AT&T Mobile Music, an integrated, on-the-go music experience that delivers "your music, your way" by providing simple access to a robust collection of music content, including access to XM Radio Mobile™ and more.
For the visually oriented, CV (Cellular Video) from AT&T gives viewers access to thousands of video clips — news, sports, weather, entertainment, and more — via streaming video. The Jack also includes features such as stereo Bluetooth® technology, Windows Media Player 10 Mobile and microSD™ memory card slot for external storage of up to 16GB of data.
AT&T offers the best wireless coverage worldwide, offering the most wireless phones that work in the most countries. AT&T customers can use the Jack to make or receive a phone call in more than 215 countries and check e-mail, browse the Web or perform other data functions in more than 170 countries, including in more than 80 — such as Japan and South Korea — that have deployed 3G networks.
Pricing and Availability
The Samsung Jack will be available May 19 through select AT&T retail locations or at www.wireless.att.com for $99.99 after mail-in rebate with a two-year service agreement. (Pay $199.99 and after mail-in rebate receive $100 AT&T Promotion Card. Two-year agreement and voice plan of $39.99 or more, plus a Personal PDA data plan.)
For the complete array of AT&T offerings, visit www.att.com.
Windows Central Newsletter
Get the best of Windows Central in in your inbox, every day!
Wow the brought the Motorola Q9 back!
Oh wait... (: Glad to see WM Std getting some love.

It looks really nice...though very similar to the Moto Q9 series of devices. But I can't go back to QVGA...once you've moved on going back just isn't an option. I really hope Microsoft will add Half VGA and up support for Windows Mobile Standard soon.

Just when the Treo Pro starts to make headway at AT&T, Samnsung releases basically the same device (sans touchscreen) for way cheaper. lol This will even undercut the HTC Willow on Sprint. BTW, I think MS relaxed the requirement for upgrades to WM6.5, so I believe Samsung here.

I prefer the Blackjack II, especially its D-pad that doubled as a scroll wheel. The handset differentiated itself from the other smartphones on the market. Now it looks like a hybrid Moto Q9/Blackberry Javelin. At least the camera got a decent upgrade.

Yawn. I've owned the BlackJack II for a long time. This Jack is not compelling at all. Perhaps they are discontinuing the BJ2 and it gives them sometime to easily slot in to replace. In general, this is a boring phone given the current set of phones from HTC and Apple on the market.

Yes first comment is the great keyboard, which indeed looks like the Motorola Q9h keyboard. Hopefully Samsung will bring the device also to Europe !!

Hmmm... Looks interesting. More interesting than the "Propel Pro" - that joystick it uses is a bother. Question: shiny reflective plastic??? Finger-print magnate?

Looks alot like my Motorola Qpn (Napoleon) The keyboard will be a huge improvement over the BJII. MOTO Q9 has the best keyboard out there but this looks very similar.

Tell you what, if AT&T's network was as good as its PDA lineup, they would be unbeatable.

Now we just need to see the Touch Diamond 2 join the crowd over at AT&T.

Brick walls are there for a reason:
they let us prove how badly we want things.
Windows Central Newsletter
Thank you for signing up to Windows Central. You will receive a verification email shortly.
There was a problem. Please refresh the page and try again.