Review: Seidio 3500-mAh Extended Battery for the Mogul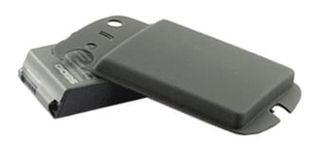 Nearly a year ago I reviewed Seidio's OEM sized 1650-mAh extended battery (opens in new tab) and was fairly impressed. The advantage of that battery is that it was the same size as the one that shipped with the PPC-6800/Mogul; the disadvantage is that even though it delivered on its promises and what it was designed to do, it did not offer a massive improvement to the battery life.
Seidio now also offers a higher capacity battery that has the potential to make a real difference, but the trade-off is that it is a larger battery, giving your PPC-6800 that hunchback look.
The question that follows: Is it worth it? Does the Seidio 3500 mAh extended battery ($69.95) make that much of difference? Read on to find out.
Overview
Anyone who owns a PPC-6800 knows that the default 1500-mAh battery that came with the phone often can't make it through a busy day. With the Seidio 3500-mAh extended battery, you will be giving yourself a 133% increase in battery capacity on paper. But how does it really hold up? When I first installed the new battery and looked at the extra 5-6 millimeters it added to the back of my phone, I thought there was no way I was going keep this battery unless it really knocked my socks off. So I decided to test it out.
With Seidio's OEM sized 1650-mAh extended battery (opens in new tab) I could usually make it through a day OK, but I certainly could never forget to charge it each night. So I wanted to see how long I could go without charging the Seidio 3500-mAh extended battery. Two and half days later (roughly around 60 hours), it finally hit the 5 percent mark. During that time I had 69 phone calls, talked 2 hours and 39 minutes, kept Bluetooth and push ActiveSync on, typed and sent over 45 emails, downloaded multiple large attachments from my emails, browsed the web for about 20 minutes, kept my screen between 80-100 percent bright, and drove in several low-reception areas hours at a time.
Needless to say that I was more than a little impressed.
Keep in mind that with the extra depth to the phone, it may not fit in a cradle, windshield or vent holder, or in a hard case, unless they are designed to support an extended battery.
Everyday Use
I am on the road a lot, so I am always trying to find an outlet at an airport, making sure my phone is charging while driving, etc. Now it's nice to know that I can make it more than two full and long days without having to scramble to find an outlet or USB port to charge my phone. All of a sudden that hunchback hump on the back of the phone started to look like a small bump.
So, is the Seidio 3500-mAh extended battery worth the money and the extra 5-6 millimeters of thickness to your phone? If you're having problems with your current battery making it through the day, then the answer is, "Yes it is certainly worth it."
Just the Facts
3500mAh - More than double the capacity of the original.
Includes a black extended door with our soft-touch "rubberized" texture to improve grip.
Works with both Sprint and Verizon versions.
Extends the thickness of your phone by only 5-6 millimeters.
Ratings (5 out of 5)

5 stars out of 5

Pros

Extends the battery life to several days (relative to individual use).Comes with a molded back for the phone to fit the extra-sized battery.

Cons

Increases the thickness of the phone by 5-6 millimeters because of the extended battery "hump" with a battery that is physically larger than the original.
While it may be a great battery, the price tag is unjustifiable. I went the Seidio route with my 6700 and paid the money, and it was great.
But when my Mogul's original battery started to die a couple months ago, I decided not to spend Seidio money because I anticipated that I would get the Touch Pro sometime soon (still haven't). So I bought a cheap 2400 mAh battery from China off of some shady yahoo store for $20.
And guess what? After heavy use, my phone is at 80% at the end of each and every day. For $20. Save your money and buy generic, especially now that the Mogul has been out for a while.

What website did you buy your battery from?

here you go:
https://www.windowscentral.com/e?link=https2F%2Fclick.linksynergy.co...
I've had if for two months now and I never have to worry about my battery going dead. I don't know when the honeymoon will end, but for $25, I'm already satisfied.

my only word of advice is quality control. a pourly made battery can damage your phone or worse. personly i generally do not have many concerns with alterantive brands but with batteries i will alway use a name brand.

Can I fit my ppc 6800 into a belt holster with this extended battery?

I worked great with this clip holster:http://www.wmexperts.com/reviews/cases/review_seidio_clip_holster_for.html
But if you are looking a side case then it will depend on which specific one you are looking at. Some will and some will not.

Quality control? Is that why my Seidio 3200 mAh extended battery for my 6700 literally expanded after less than a year of use?
By expanded, I mean that the battery had expanded inside of its housing. The bottom surface is now convex and it barely fits inside of the 6700, even with the extended battery cover.
Also, an update on my cheap battery: I took my phone off of its charger on Thursday, December 11th at 11:00 AM. It is now 9:00 PM on Saturday, December 13th. I haven't charged my phone for the last 58 hours, have used semi-heavily to surf the web, make calls, text, and have used it as an alarm for the past two days. The battery is at 14%.

I just purchased the Seidio 3500mah for my xv6800 and was wondering if the Seidio rubberized cover for their extended batters will fit with this even larger battery. Here is the case and it doesn't say that it will not fit; I just want to be sure. http://store.wmexperts.com/seidio-rubberized-hard-case-for-extended-batt...

tiffany & co Cuff links tiffany & co Cuff links tiffany & co Cuff links tiffany & co key ring

This battery is an upgrade for a very decent standard battery that comes with the robot Iris. However, to make the phone twice as thick. Batteries have been other periods of the different phones for their life of 3-4 times.
micro sd card
Windows Central Newsletter
Get the best of Windows Central in in your inbox, every day!
Thank you for signing up to Windows Central. You will receive a verification email shortly.
There was a problem. Please refresh the page and try again.