Sony's convertible Windows 8 laptop, the VAIO Flip 13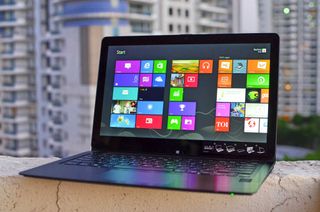 Sony's latest Windows 8 convertible, VAIO Flip , is a premium device that brings a unique form factor design to the VAIO portfolio. It features a unique hinge that makes it capable of converting between laptop, tablet, and viewer modes by flipping the display over the hinge.
The Sony VAIO Flip is available in 13-inch, 14-inch, and 15-inch sizes, and I spent a couple of weeks with the Sony VAIO Flip 13. Read on for our overall experience with the device and a comprehensive review.
Design
There are a lot of convertibles in the market, each with a unique flip mechanism. While some of them flip or twist in a functional manner, many of these are just oddly designed or a performance compromise.
The VAIO Flip 13 though impresses with its unique design and build quality. It features an elegant double-hinged design with brushed metal finish that lets the screen flip over so the laptop can be closed with the screen facing outwards. Sony claims that the flip mechanism has undergone significant testing and the chassis can effortlessly withstand reasonable lateral pressure. The metal finish of the upper lid and the keyboard though makes it highly prone to smudges and fingerprints and because it is otherwise so beautifully designed, the fingerprints are even more of an eyesore.
While the laptop mode and the tablet mode are the obvious facets of a convertible, the VAIO Flip also offers a viewer mode where the display can be flipped over so that you can share the experience of watching a video with another person or give an instant presentation anytime. In fact, I happened to use the viewer mode more than the tablet mode, essentially because it offers the experience of a tablet with a stand.
The quality of construction is impressive and the hinge is not just well-designed, but also well executed. A rubber diaphragm at the pivot protects the screen from the hinge in case of a little rough handling. The magnets keep the screen in place and flips only when intended. There's also a latch to lock the screen position when using as a laptop, however, once you get a hang of the flip mechanism you might never use it.
The sides, made of a soft-touch matte plastic, feature two USB 3.0 ports, one HDMI socket, an SD card reader, and a 3.5mm headset jack. There's also the power button and the volume rocker, and a slim speaker grille is placed on the either side.
The keyboard looks beautiful, and is backlit. While the keys are well spaced out, it still doesn't make for a very comfortable typing experience. It's not bad, but the thin chassis restricts the press and mechanical feedback, although most people would get used to it.
Apart from the construction quality, the choice of materials is striking and at just 1.3kg, the hybrid laptop is very light. The keyboard deck is just 3mm thin at the edges and that enhances not just the appeal, but also the ergonomics of the device.
It's unusual that a device review includes a mention of the charger but Flip 13's deserves it. The power brick is small and pretty light, and includes a USB port so you don't have to carry a charger for your phone or other devices when traveling. The power connector has an interesting lock and while it stays intact even if you yank the wire hard, it doesn't appear to attach firmly and feels like it's going to fall out all the time. Maybe, it is just a matter of getting used to the thing.
Hardware
The best thing about Sony VAIO Flip 13 is that it does not cut corners on hardware like most convertibles in the market. It's a premium device not just in design, but on the specifications sheet as well.
Powered by an Intel Core i5-4200U CPU running at 1.6GHz, Intel HD 4400 GPU graphics integrated into the CPU, and 4GB of DDR3 RAM it is a solid device. The 128GB solid-state drive of course aids the performance and multitasking.
The 1920x1080 display borrows Sony's trademark features from Bravia brand – the Triluminous display promises a wider color gamut and X-Reality claims to make moving images more clear. While those are pretty much marketing pitches, the apparent outcome is quite great. The colors are bright and vibrant, and 1080p videos played smoothly.
Sony also brings audio processing technology from their Hi-Fi brand and includes equalization settings and virtual surround sound. However, all that doesn't transcend into impressive sound. The speaker output is decent, but not enough to watch a movie or enjoy a gaming session.
The VAIO Flip 13 gives about 6 hours of battery life which is good enough for current ultrabooks, although it's something that I disapprove of when it comes to hybrids. Along with portability, long battery life is an advantage that tablets bring to the table and that has to transcend to a hybrid device as well.
The Flip 13 tends to get a little hot when playing HD videos or playing graphically-intensive games. It doesn't get uncomfortable to hold in the tablet mode but the fan spins audibly.
Software
The review unit I received ran Windows 8, although you can update to Windows 8.1 for free from the Windows Store. There are also some nifty apps like VAIO Clip (image organization), VAIO Paper (note-taking), and VAIO Care (after-sales support) pre-installed. There's also the needless 60-day free trial of Norton Online Backup and three months of Trend Micro Titanium security.
The Sony JIVE app includes three months of unlimited music downloads. The service has a huge catalog of Indian and International music but the user experience is poor. Also, for a premium device, I'd hope Sony would include a longer complimentary subscription like Nokia does for their flagship Lumia smartphones.
Sony also packs in a very useful VAIO Control Center app that gives you quick access to settings concerning the battery, fan speed, keyboard backlight, external displays, sound effects, and others. It also allows you to save your network settings for different wireless networks that you connect to at home or at work.
Summary
The Sony VAIO Flip 13 has great aesthetics and the design and construction quality are impressive. The innovative hinge design is also quite refined as compared to the competition and nicely implemented. The performance too is reasonably good, and would accommodate most business scenarios. It's not a developer workstation by any measure though.
However, if a convertible is not a requirement, the cost of the Flip 13 may make a more traditional ultrabook a more attractive option. At INR 99,999 in India ($1300 in US) it's a tad expensive, no it's actually very expensive, but it's hard not to see value in the versatile device. If you are not on a budget and are looking for a hybrid device that is easy to lug around, the Flip 13 is a great choice.
You can buy the Sony VAIO Flip 13 directly from Sony or through various third party retailers.
Windows Central Newsletter
Get the best of Windows Central in your inbox, every day!
I thought Sony was getting out of the PC market and killing the VAIO brand?

Yeah, I had heard the same thing some days back...

It's actually like this: They sold the Laptop department to JIP (Japanese Industrial Partners), who will be releasing laptops for Japan and surrounding countries only. According to various reports, VAIO brand will be used for SONY mobiles running WP.

This device was in production prior to the decision to get out of the PC market.

Search the net...lots of problems with WIFI and support will be problematic with Sony getting out of the PC business. I passed on this one and got a Lenovo instead.

Sony is not killing VAIO brand, they have sold the VAIO division to a Japanese company which will continue making VAIO laptops but they are aiming mostly at Japan and other Asian markets at first according to their Press Release.

Beautiful.... Truly.....:)

Any suggestions for good windows convertibles for business?

In tablets u can go for surface 2 and in pc Dell

Convertibles preferably with full Windows, surface isn't available in india

I find this very expensive. Good if u can buy

Surface Pro 2 or Lenovo Yoga 2 Pro

definetly the thinkpad yoga

I saw surface 2 pro at ₹60,000... India

Fujitsu T904 - Wacom stylus (not the less usable Ntrig, which is what I tihnk the Sony uses, but could be wrong about that) with garage (in fact, one of the only Windows 8 convertibles with a stylus garage, which seems ridiculous to me -- what does everyone expect you supposed to do with the stylus when you're not using it??? lose it so you have to buy replacements?), 13.3" flip screen, about 3 lbs, 8-9 hours battery life, 2560x1440 display, fingerprent sensor for login, SD card slot, etc. On specs and the very, very sparse reviews, it looks awesome. It is expensive. With 8GB RAM and only an i5 processor (i7 available for more money, but can't go beyond 8GB), it's something like $1,800. I just ordered one, but haven't received it yet, so can't report any first-hand experiences yet. Comes with both Windows 8.1 Pro and Windows 7 Pro. For business use, if you can justify the expense, and want a stylus on a hi-resolution convertible with long battery life, it looks like this is the best option currently avaliable.

Wow beauty like surface 2

I propose WPC to change its name to Windows Central. Who's with me on this?

Agreed. Makes it gain more reputation around the world

No, at least not yet. Majority of the news here still revolves around Windows Phone, with Windows 8 being in 2nd. Phones are still the top-dog here, and the name implies that perfectly. Lets not change it, at least, not yet. :)

Will wait for the next tablet from Microsoft. Can't imagine nokia's hardware and the next generations of Windows. Plus that the surface (or whatever you wanna call it) will be even thinner with the introduction of the new USB port (that will look something like the iPhone 5 charger) now this is gonna be sick !

That with NVIDIA's latest K1 processor... oh man...

Why just windows 8?? Not 8.1??

Or Windows 7? Hahaha, jk.

Heck...why can't windows just run mac? Lol!! #AppleSucks

It's beautiful but the price will kill it.

The main problem with devices like these that are essentially a full laptop that flip is that they are too heavy to hold as a tablet for an extended time. Detachable tablets in my opinion are much better for weight and use in this category, but they seem to sacrifice power to do so since some laptops have discrete graphics cards, but that will be virtually impossible with a detachable.

I hear this line of VAIOs are noisy. Did you hear any of this?

It is, solved usually with a graphics card update or via repair if issue persists.

I personally like the VAIO Flip 11 better. If I needed a full fledged laptop/tablet I'd get that one. But currently I can't justify the over 1000€ they ask for it.

Flip 11 is currently being recalled for Panasonic Battery problems, varying from overheating to explosions, wait a month before purchasing.

I bought the Acer Aspire R7 last week, and LOVE IT! Great 15.6" convertible. Well built machine. It's not for everyone though.

I have the VAIO Flip 13. Have been using it since Xmas. The convertible works great. Very light. Wasn't cheap!

Good things are rarely cheap.

Haha I love how $1300 is considered expensive now. I remember, arguably the first laptop, the Galivan SC, which was the first to be light enough to sit on your lap and actually use battery power, started at $4000 in 1983. Adjusted for inflation, that would be $9213 in today's dollars. It's so amazing how far technology has come, and at what ridiculously low prices we get them for. A $69 Lumia 520 runs at 6600MIPS, while the computer Apollo 11 used to calculate all the realtime data for a successful moon landing ran at an incredible 0.16MIPS (estimated). So a $69 Lumia 520 is 41250 times more powerful than the computer used to land Apollo 11 on the moon. Technology is crazy.


Well at least we aren't going backwards!

I rather have a Samsung convertible, not decided on,which one but it'll be great...

A Samsung? You've got to be joking...

What's wrong with Samsung? I like them better than Sony or Dell.

One sentence: anything Samsung except memory sucks


+1
I'd put my money on Sony quality over Samsung any day. I bought a consumer grade VAIO back in 2009, not a thin and light, but still a good laptop, and it has been a solid machine. Only the battery wore out. Replaced it and it is still performing like new. No problems whatsoever. I'm sad to see Sony leaving the PC business. Would have definitely consider another VAIO when my current is due for replacement. All Samsung laptops I've seen feel very flimsy and fragile. They might last, but I don't really like them or their designs.

This looks like a smaller version of the Acer Aspire with the easel display.

Actually, it's very similar to the Acer Aspire except for the track pad placement. On the Acer the pad is behind the keyboard so that you can pull the display up by the keys. I think it would be difficult to do this on the Sony. The funny thing is that people give bad reviews to the Acer for the track pad placement in the back. But why would someone want a track pad in front of a touch screen anyway?

I want to replace my laptom with a convertible: i would love a 12-13 surface pro, but i am not sure where will this be out. Till now, the most suitable for me seems the asus transformer book 300, any thoughts about that?

ThinkPad 8 review? @Daniel

my cheapo Lenovo laptop (with Realtek sound card and custom EQ) has much better speakers lol

Dell XPS 12 with Haswell, anyone?

I always have a vote on Sony's design. These are the type of designs that will get you slapped if a Junior or even Senior product designer in a mid-end company proposes to the boss. Great sync of design + engineers allow this to come to market. Seriously considering one for the digitizer (hard decision vs Yoga). Btw Abhishek is the Vaio FLIP and Vaio FIT just different names for different regions?

Fit is a laptop range, while Flip is a convertible.

I bought my wife the 14" model and to be honest even with a surface pro, I can't help but be jealous of this laptop... It's honestly one of the best versions you can get for a full Windows 8.X experience... TBH with the 14" model you wouldn't be holding this as standard tablet you would place it in your lap or use the view mode rather than use it as you would a surface/ipad/note... the 14" model runs about $799 at bestbuy and you can find it normally on sale for $699... the 13" they had on sale for $1050 this weekend and the 15" run anywhere from $1250-1399...